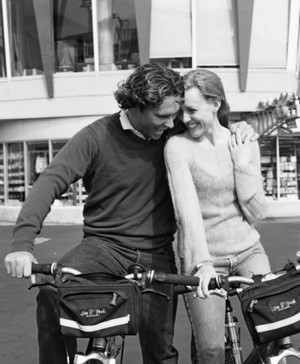 It's a lovely night after a domestic day of buying the odds and ends that make an apartment a hobby, the windows held open now without smashing back and forth against the plants on either side, the trickle from the hose in the shower gone, the promise of filling the holes where things didn't work out right with the borrowed drill, which was an uncontrollable rotary hammer and not the sweet domestic power tool that makes a house a home. Is this the moment to quote Robert Frost or William Service—and if so, who would know, care, or think it made any difference, so why bother? Time to get on with life as it is.
Sure enough, except for the fatigue that hits me just below the knees and about two inches above the waist and lays me out. No, I guess I'm not going to the cool restaurant with the unaccountable American name on a street just north of Saint Germain but not close enough to smell the river even on a warm Parisian evening. Another time, promise.
But for now, sleep or deep rest, and so the dinner reservation passes from me while the others sit at the table in the loud restaurant, eat and drink and talk to everyone around them because this is a place where the confab is on the menu more prominently, and at lower cost to the patron, than the sturgeon pépi poached from a shady bank under a willow on the Charente late yesterday afternoon. Still, you know, the best laid plans—or, for all that's worth, the deepest nap—go a-gley or drive off the road and into a ditch, the same thing, if you think about it. That is, I'm up, hungry, housebound—and bound to get out, and so I do.
Alone, tout seul, all by myself, I hit the streets of the Sixth Arrondissement, where you can't find a decent roasted-chicken joint to save your life, and head over a couple of blocks where a dim street has bright restaurants, and maybe things will be okay. I'd like to bet I will find just the thing, the meal, maybe the companion, that I would want if I had had a clue what I wanted, still being bleary from sleep, but there's no one here to fade me, so I'm on my own, playing my table stakes out of my pocket.
In other words, a seat at a table in an Italian restaurant where the fillette of Chianti costs just barely more than the very good fresh pasta and makes it a bargain. To my right there's a couple, and I can't begin to figure them at all. He's a fairly big guy, no more than thirty, I'd guess, with too much Eurotrash growth on his cheeks and especially on his upper lip to make much sense. Does he want the I-am too-cool-to-shave-just-to-be-seen-in-public-by–you look or is he growing a beard and a moustache? But his mystery is smaller than hers—though she is a very small woman. For love, money, or to save my neck, I can't tell how old she is. She could be his age with a middle-aged face or middle-aged with a middle-aged face or… can't tell. She's plain, and has made her appearance a bit odd with an out-of-date bouffant hairdo that's too short on the sides. Though near me, they speak so low, he with his hand near his mouth, that I'm not sure what they are talking about. They are familiar enough, smiling and, I think, joking from time to time, but not completely at home with one another.
I look for wedding rings. She seems to be wearing three, unless it's one monster of une alliance in the form of three pipes soldered together and wrapped around her finger, going right up to the knuckle. I have a hard time seeing his hand and, realizing that I have probably made them self-conscious, give up, guessing he has none. Mother and son? No resemblance at all, but that often means little, and anyway before the waiter comes she pulls out her credit card and hands it to him. When the waiter brings it back with the machine for her to put in the code, he hands the card to her. Sugar mommy? Doesn't quite fit, does it? I think he thanks her for the meal.
Out on the street, they turn left and pass in front of me, no physical contact between them. Perhaps she is speaking—I see some movement around her mouth—but he seems to be looking off to the side. Well, so what? It's an ordinary wholesale mystery, you can have them by the dull carload anywhere in the world on any day. Paris is no different—but I suppose I still have the lingering desire after many years to think of the city as mysterious, yet an open book to me, once I have flipped a few pages or consulted my references in la Bibliothèque des Cigales.
Nothing doing that way this evening, and that goes for the two burly guys on my left who are mumbling over their red sauce and Cokes, so I pay, get up, and go, taking a different route home. Between the two pizza place on this cheery little street a few blocks from the restaurant where I had dinner—you wonder, have the Italians taken over?—there's a dogleg to the right I almost never walk on. It's a dull street, boasting a gloomy restaurant with specialties from the Indian Ocean, and for the rest it's small buildings or the backs of houses with the trash cans out for the morning pickup…
…And this evening, a boy and a girl seriously making out: I fear for her ass the ways he's squeezing it, but she isn't complaining. No mystery here—but no more interesting than the indecipherable couple in the restaurant. If they had a place to go and get into bed, they'd be there. The ambiguous and the obvious—they don't really meet, I guess, but here they are this evening adding up to the same thing. They are really not interesting and just a little sad when I'm in no mood to feel sad or particularly sympathetic.
I can't blame either couple for failing to provide me with an evening's entertainment: it's not their trade, and mine is finding it in unlikely places, but I always like someone to do my work for me—at least help. All I can say is I pried myself out of bed, had a good meal, kept my eyes open as usual, and got exactly what I paid for—dinner—and not a thing more. Pitié.
Not moping, but feeling a little let down, I start down the long street to my front door. I can hear a whirr of wheels and look over my shoulder to see them coming. They are riding down the middle of the street on the ordinary bikes that the French ride—a touch rusty, with none of the chic or serious power of the urban American mountain or road bike. No, not at all, but old-looking things, like the Rudges and the Raleighs that boys, and some girls, of my age in that ancient age thought were the rockets of tomorrow, the best today, the best day ever after all, could ever offer. What do they care? They are riding side by side and holding hands, her right in his left, and he starts to sing. It's a mud pie on his lips, a mumble, but felt from his toes and higher up—you can hear that even if he's a quarter flat. Then she picks up the song, a song I don't know, can't place, can't quite figure, except it's about you and me and what else is there in the world tonight in the middle of this lovely quiet street that we're peddling our bicycles down under the moon that stopped being full just last night or was it the night before? And she sings her love song—what else do you think it could it be?—with the silver of Joan Baez in her voice, that shiny metallic quaver that cannot be learned, caroming off the staid fronts of the buildings de grand standing with no thought in the world of prestige or net worth, but a song to sing to the man who is holding her right hand in his left.
I want to run into the street and shout, What a beautiful voice you have, madame, come back and sing. But it's her movie—or theirs, hers and her boyfriend's. I push open the gate to my building, climb into the squat and claustrophobic elevator, and up I go, hoping maybe to sleep, maybe to dream, maybe that she'll come and sit on the windowsill and sing to me.
Paris Shuttle is the leading provider of pre-bookable airport transfers in Paris. Book your airport transfer with Paris-Shuttle.com and save up to 30%.