Le Patio, La Cantine Des Tontons 2, Michelin & A Night at the Opera Buzz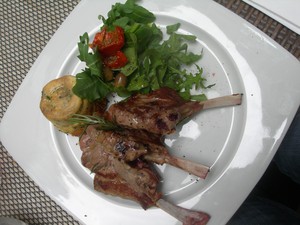 When Le Patio launched last February it quickly became a celeb favourite not only for its flexible opening hours and alternative ways of eating, but also because owner Valérie Saas-Lovici is a film producer with an A-list address book. We're not naming names, because Le Patio is a discreet address across from the Garnier Opera House and opposite the soon-to-open W Hotel (April 2011).
Saas-Lovici who, not like you and I, sees life as a series of movies, decors and costumes, decided she needed a restaurant that would be like going to the movies without having to sit in the dark for two hours, although there is a screening room/art gallery in the basement and Le Cantinetta, the little bistro next door, is punctuated with posters from Saas-Lovici's favourite films and often with the actors who star in them.
Le Patio, a listed Haussmann building, divides into roughly three areas around a bucolic tree-lined courtyard which will be covered in winter, so it's possible to eat dans le jardin all year round. You won't see the celebs; they're seated discreetly behind giant olive trees.
The menu, created with passion, is based on Italian and Corsican specialities by Florentine chef Andréa Pierattini. Velouté de tomates légèrement acidulé avec une cuillère de ricotta, accompagné d'une petite verrine de légumes croquantes. Follow with seiches (cuttlefish) "which recall lunches and dinners enjoyed around the port at Ajaccio", explains Pierattini. "All the perfumes of Corsica are in my dishes. I'm using my grandmother's recipes and also Valerie's mother-in-law's", he admits. Wines include the fabulous Clos Canarelli reds and whites (39€); now you're really on vacation.
Best book for lunch and if you arrive late, no problem, there's a Spuntino Veloce Della Cantinetta menu to choose from. Gaspacho, Bruschetta, Focaccia, Assortiment de charcuterie Corse, San Daniele. Assiette de fromages Corses et Italiens affinés, confiture de poivron. And a menu from 18hrs before the Opera, served until 23hours, after the Opera. Don't miss fresh pastas, carpaccios and finish with Tiramisu d'Andrea (grandmother's recipe). Bear in mind that Le Patio is not just a restaurant, it's another very different and enjoyable way of life and while there you're starring in your own movie.
5 rue Mayerbeer, 9th
Metro: Opera
Open Monday-Saturday from 9.30 am to midnight
Menus: La Dolce Vita – 18€ Il Toscano – 21€ + wine
A La Carte – different options all day long
Special lift for people with mobility problems
Don't look for a website for Les Cantines des Tontons 2, just open in the 14th arrondissement, there isn't one. Owner Jean-Guillaume Dufour makes no excuses, just doesn't do internet anymore than he does air-conditioning, "bof! for one week of the year, if it get's too "ot" I'll close", he shrugs. Each Tonton has a vintage theme with upbeat contemporary menus. Alert readers/eaters will remember the fantastic tartares at TonTons 1 and  2 (address below), the buffet at La Cantine des Tontons; the latest Tontons 2 follows the same theme.
Dufour and designers Clémence and Clément transformed a run-down pizzeria into a family-style bistro, with zinc bar, where you're visiting Tante Claire or Tonton Jacques. The decor's rustic, flea-market finds everywhere, reindeer heads, old black and white family photos and portraits in oils, mismatched china tableware and scrubbed wooden tables, chairs and benches. There are tables d'hôte for eating "en famille", which also means if you go alone you're sure to make new best friends.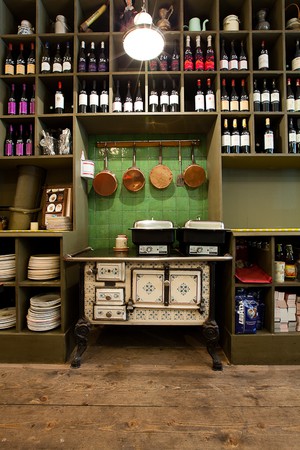 Chef Serge prepares fresh buffets every day, where you serve yourself. It's all laid out on an antique dresser, above which sit bottles of excellent wine, Petit Pont, Coteaux du Languedoc (14€50) Côte de Bourg bio du Château de Cots (25€). Begin with, say, Céleri rémoulade, carottes rapées, oeufs dur en gelée, terrines et rillettes maison, harangs, salades de betterave et artichauts. The plats du jour, with fish on Friday, simmer in silver containers, say, Boeuf Bourguignon, Poulet et riz or Blanquette de Veau which Dufour's son says is "not as good as granny's".
Desserts, buffet style, include: Pots de Crème caramel et chocolat, flan maison, salade de fruits, tartes faҫon grandmère, beignets de banane. To be enjoyed with an eau-de-vie.  Dufour plans to continue his Tonton concept, so with a bit of luck they'll be one opening near you soon. In the meantime:
La Cantine de Tontons 2,
3 rue Mouton-Duvernet 14th
Metro: Mouton-Duvernet
T: 01 45 42 29 59
Shut Sunday night August then 7/7
17€ lunch + wine
23€ Dinner including cheese
Also at:
73 rue Brancion T: 01 45 33 87 22 (M: Convention)
38 rue Losserand T: 01 43 21 69 45 (M: Pernety)
36 rue de Dantzig T: 01 48 28 23 66  (M: Convention)
Diary Date:
In the fairytale setting of the Belle Epoque Villa Ephrussi de Rothschild, Saint Jean Cap Ferrat, romantic nights at the opera throughout August are a must if you're in the South of France.
T: 04 93 56 51 41
Working on the premise that the fastest route to the heart and mind of a country is via your stomach, Michelin Food and Travel have joined with Roadtrips, Inc., to create exciting bespoke gastronomic trips just for you. Get up close and personal with chefs, super-chefs and their teams, by way of private kitchen sessions, visits to local markets, truffle hunts. No one knows hotels and restaurants better than Michelin. You're guaranteed VIP access to all areas.  Sounds fascinating and delicious.

Fat Tire Bike Tours are great for seeing Paris in a different light. You'll see more, have more fun, and not feel tired at the end of it. These are highly recommended and truly a great thing to do during your stay.
Leave a reply
Your email address will not be published. Required fields are marked *