Roasted Kabocha Squash Salad: La Cucina di Terresa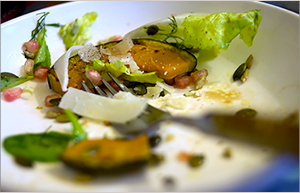 November: Chestnuts; pears; pomegranates; quince; persimmons; grapes; apples—varieties unending; clementines; early navel oranges; Brussels sprouts; broccoli—its autumnal sweetness; parsnips; rutabaga; winter squash—of every shape and color, texture and sweetness; Savoy cabbage, topinambur, a plethora of chicories: escarole, catalogna, selvatica, castelfranco, radicchio di chioggia, radicchio di treviso—precoce and tardivo; unshelled walnuts, almonds, hazelnuts from this year's harvest… Just as the earth would curl up for its long winter slumber, it offers up a cornucopia of fruits and vegetables that, much as a colorful garland, festoon the marketplace stands throughout Paris and humbly enhance our daily repasts with their seasonal fragrance. In amidst all these flavors and forms, I recently discovered Kabocha squash, a Japanese variety of winter squash (considered in some cultures to have aphrodisiac properties). Its sweet, nutty flavor and moist, creamy texture are a true delight. Rich in beta-carotene, iron, vitamin C, and potassium, it serves our bodies well during the wintry season. Now something that was only recently brought to my attention, and which initially quite surprised me, is that the skin of many winter squashes is more than edible, as it softens during cooking, and actually enhances the flavor, texture, and color of each bite. In the salad recipe below, I roast slices of Kabocha squash with its skin, a gentle green-patina, intact. And I can't imagine eating this squash any other way. So give it a try, even with butternut squash. You'll be surprised at what you've been missing by peeling and throwing away that protective skin. On another note, but always in the sphere of cuisine and nourishment, I thought I'd pass on a
podcast
I heard on the Commonwealth Club radio program last month. Daphne Miller, MD and associate professor at UCSF, talks of her travels to learn of the foods and healthy diets of indigenous people around the world, and the collection of recipes in her recent book
The Jungle Effect
. Seems we're always being brought back to the understated fact that eating simple, seasonal, local, and a traditional or 'instinctive' diet is the best prescription for a healthy body, spirit, and planet. I also want to mention that I'll be giving a
5-day cooking class series in the San Francisco Bay Area
in March 2010, and a
4-day cooking class series in the Loire Valley
in April 2010. Tell all your friends and come join in the party as we stir up marvels for the palate that celebrate the earth and the hands that toil it. You can stroll through my website
La Cucina di Terresa
; and feel free to
subscribe
to my
Conscious Palate Newsletter
.   Roasted Kabocha Squash Salad – serves 4 500 gr (1 lb) Kabocha squash 4 handfuls escarole 2 sprigs fresh dill leaves 2 sprigs fresh chervil (optional) 1 handful arugula or lambs salad 4 generous tablespoons fresh pomegranate seeds 4 generous tablespoons roasted pumpkin seeds 1 clove garlic, peeled 2 generous tablespoons extra-virgin olive oil, plus extra to brush squash 1 generous teaspoon lemon juice 1/2 teaspoon balsamic vinegar Unrefined sea salt and freshly ground pepper Pecorino Sardo (or Parmigiano Reggiano) shavings for garnish Turn on the broiler. Wash the skin of the Kabocha squash with a vegetable brush and dry. Wash and dry the greens and herbs. Tear the escarole into uniform pieces. Pinch the leaves off the dill and chervil sprigs. Remove any extra long arugula stems. Cut the squash in half and scoop out the seeds and stringy membranes. I roast the squash without removing the skin, scraping off any knotty areas, as it gives a savory depth and texture to the squash. But feel free to remove it if you prefer. (And don't throw away the seeds… drop them into a pot of water along with a bit of carrot, onion, discarded escarole leaves, fresh thyme, and a bay leaf, and simmer until everything is soft (30 minutes or so). Strain and you'll have a tasty vegetable stock.) Place the halves face down on a cutting board. Cut off the rounded ends, and then cut the squash crosswise into 1/2–inch slices. Rub each side of the slices with the garlic, then lightly brush with olive oil.  Place in a baking dish, without overlapping the pieces. Set on a rack in the oven positioned 5 inches from the broiler. Roast for approx 4 minutes on each side, or until just browning.  Remove from the oven and sprinkle with sea salt to taste. Rub the garlic clove around the inside of a salad bowl. Combine the olive oil, lemon juice, and balsamic vinegar in the salad bowl.  Add the different greens and herbs and lightly toss. Season to taste with sea salt and freshly ground pepper, adding a drop or two more lemon juice if needed. Divide the salad up between four salad plates. Cut the roasted squash slices in half and arrange them on top of the salad in a flower pattern. Garnish with the pumpkin and pomegranate seeds, a few Pecorino shavings, and a twist of freshly ground pepper. Wine note: This salad pairs wonderfully with any number of white wines from the Loire Valley with their generous play of acidity and mineral tones. Uncork a bottle of La Pente de Chevigny (100% Sauvignon) from
Mikael Bouges
, a natural wine vintner in Faverolles sur Cher, or a Calligramme (100% old-vine Chenin Blanc) from
Domaine de Bellivière
in Jasnières. Bon appétit – Terresa   Please post your comments or questions and let them flow. Register
HERE
to do so if you need a user name and password.
SUBSCRIBE
ALREADY SUBSCRIBED?
BECOME A BONJOUR PARIS MEMBER

Gain full access to our collection of over 5,000 articles and bring the City of Light into your life. Just 60 USD per year.

Find out why you should become a member here.

Sign in

Fill in your credentials below.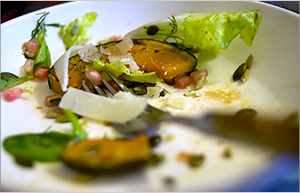 November: Chestnuts; pears; pomegranates; quince; persimmons; grapes; apples—varieties unending; clementines; early navel oranges; Brussels sprouts; broccoli—its autumnal sweetness; parsnips; rutabaga; winter squash—of every shape and color, texture and sweetness; Savoy cabbage, topinambur, a plethora of chicories: escarole, catalogna, selvatica, castelfranco, radicchio di chioggia, radicchio di treviso—precoce and tardivo; unshelled walnuts, almonds, hazelnuts from this year's harvest…
Just as the earth would curl up for its long winter slumber, it offers up a cornucopia of fruits and vegetables that, much as a colorful garland, festoon the marketplace stands throughout Paris and humbly enhance our daily repasts with their seasonal fragrance.
In amidst all these flavors and forms, I recently discovered Kabocha squash, a Japanese variety of winter squash (considered in some cultures to have aphrodisiac properties). Its sweet, nutty flavor and moist, creamy texture are a true delight. Rich in beta-carotene, iron, vitamin C, and potassium, it serves our bodies well during the wintry season.
Now something that was only recently brought to my attention, and which initially quite surprised me, is that the skin of many winter squashes is more than edible, as it softens during cooking, and actually enhances the flavor, texture, and color of each bite. In the salad recipe below, I roast slices of Kabocha squash with its skin, a gentle green-patina, intact. And I can't imagine eating this squash any other way. So give it a try, even with butternut squash. You'll be surprised at what you've been missing by peeling and throwing away that protective skin.
On another note, but always in the sphere of cuisine and nourishment, I thought I'd pass on a podcast I heard on the Commonwealth Club radio program last month. Daphne Miller, MD and associate professor at UCSF, talks of her travels to learn of the foods and healthy diets of indigenous people around the world, and the collection of recipes in her recent book The Jungle Effect. Seems we're always being brought back to the understated fact that eating simple, seasonal, local, and a traditional or 'instinctive' diet is the best prescription for a healthy body, spirit, and planet.
I also want to mention that I'll be giving a 5-day cooking class series in the San Francisco Bay Area in March 2010, and a 4-day cooking class series in the Loire Valley in April 2010. Tell all your friends and come join in the party as we stir up marvels for the palate that celebrate the earth and the hands that toil it.
You can stroll through my website La Cucina di Terresa; and feel free to subscribe to my Conscious Palate Newsletter.
Roasted Kabocha Squash Salad – serves 4
500 gr (1 lb) Kabocha squash
4 handfuls escarole
2 sprigs fresh dill leaves
2 sprigs fresh chervil (optional)
1 handful arugula or lambs salad
4 generous tablespoons fresh pomegranate seeds
4 generous tablespoons roasted pumpkin seeds
1 clove garlic, peeled
2 generous tablespoons extra-virgin olive oil, plus extra to brush squash
1 generous teaspoon lemon juice
1/2 teaspoon balsamic vinegar
Unrefined sea salt and freshly ground pepper
Pecorino Sardo (or Parmigiano Reggiano) shavings for garnish
Turn on the broiler.
Wash the skin of the Kabocha squash with a vegetable brush and dry. Wash and dry the greens and herbs. Tear the escarole into uniform pieces. Pinch the leaves off the dill and chervil sprigs. Remove any extra long arugula stems.
Cut the squash in half and scoop out the seeds and stringy membranes. I roast the squash without removing the skin, scraping off any knotty areas, as it gives a savory depth and texture to the squash. But feel free to remove it if you prefer. (And don't throw away the seeds… drop them into a pot of water along with a bit of carrot, onion, discarded escarole leaves, fresh thyme, and a bay leaf, and simmer until everything is soft (30 minutes or so). Strain and you'll have a tasty vegetable stock.)
Place the halves face down on a cutting board. Cut off the rounded ends, and then cut the squash crosswise into 1/2–inch slices. Rub each side of the slices with the garlic, then lightly brush with olive oil.  Place in a baking dish, without overlapping the pieces.
Set on a rack in the oven positioned 5 inches from the broiler. Roast for approx 4 minutes on each side, or until just browning.  Remove from the oven and sprinkle with sea salt to taste.
Rub the garlic clove around the inside of a salad bowl. Combine the olive oil, lemon juice, and balsamic vinegar in the salad bowl.  Add the different greens and herbs and lightly toss. Season to taste with sea salt and freshly ground pepper, adding a drop or two more lemon juice if needed.
Divide the salad up between four salad plates. Cut the roasted squash slices in half and arrange them on top of the salad in a flower pattern. Garnish with the pumpkin and pomegranate seeds, a few Pecorino shavings, and a twist of freshly ground pepper.
Wine note: This salad pairs wonderfully with any number of white wines from the Loire Valley with their generous play of acidity and mineral tones. Uncork a bottle of La Pente de Chevigny (100% Sauvignon) from Mikael Bouges, a natural wine vintner in Faverolles sur Cher, or a Calligramme (100% old-vine Chenin Blanc) from Domaine de Bellivière in Jasnières.
Bon appétit – Terresa
Please post your comments or questions and let them flow. Register HERE to do so if you need a user name and password.
More in American expats, Bonjour Paris, culinary tourism, culinary travel, Dining in Paris, Eating in Paris, Food Wine, France cuisine, France travel, French recipes, Paris, Paris cuisine, Paris travel, Wine pairings
---
---