Relais de l'Entrecote: Best Traditional Steak-Frites in Paris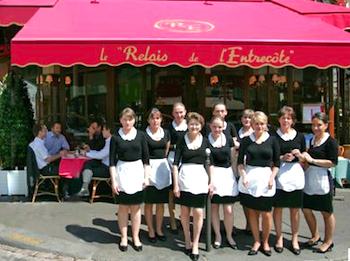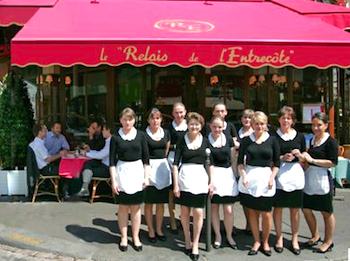 French gastronomy can be overwhelming to even the seasoned Paris visitor. If you've had your fill of crêpes jambon-fromage, your wallet can't handle Le Cinq or you want to experience a classic French dish in a convivial setting, surrounded by locals, then Le Relais de l'Entrecôte could be perfect for you.
Le Relais is a classic gem located on rue Saint-Benoît in the Paris 6th, a block from Métro: St. Germain-des-Prés and just up the street from Café de Flore.
Time-saving tip: how to beat the dinner rush
Open at noon for lunch and 7pm for dinner, locals typically queue for an hour or more for a dinner table. To avoid such a delay, get in line at about 6:45pm and you will have your choice of tables when the doors open in fifteen minutes. When you walk out, full and happy, a couple hours later and see the line snaking down the street, you'll be glad you opted for an early dinner.
Menu? What menu? One question: how do you like your steak prepared?
No menus will be handed to you when you're seated. Your waitress in her classic black dress and white apron will rattle off some incomprehensibly fast French as she places a plate of baguette slices on your table. She is asking how you'd like your meat cooked. That's all you need to know when dining at Le Relais because they only serve one dish: steak-frites. Simply inform her bien cuit (well done), à point (medium), saignant (rare) or bleu (nearly raw) and she will write your orders on your paper table liner.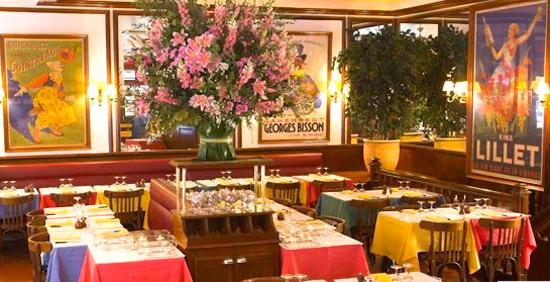 Though they have a complete wine list, the house red, served by the glass, demi-bouteille or bouteille is well priced. It's served slightly chilled and it perfectly complements your meal, which starts with a greens-and-frisée salad topped with walnut pieces and a tangy, mustardy vinaigrette. It's light and bright and perfectly prepares your palate for the rich plat principal to follow.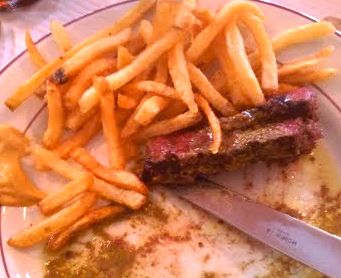 Your server will next appear with platters of melt-in-your-mouth, thinly sliced entrecôte (a thin rib-steak or sirloin or, in French, a contre-filet) and heaping piles of steaming hot frites. She will serve your meat onto your plate and spoon the unbelievably tasty sauce over it. Don't be afraid to ask for more sauce, she will spoon to your heart's content. The plate is then completed with the frites, crispy and golden. And whatever you do, do not ask for ketchup. They don't have any and your server may be offended by the mere inquiry. Besides, frites this good don't need ketchup.
Just when your mood saddens a bit as you contemplate the last bite of steak and last frite on your plate, your server will whisk back to the table with—surprise!—the second half of your entrecôte, kept warm for you while you ate, along with another pile of frites and, bien sûr, more sauce!
French cooking is all about the sauces and the sauce served here can do battle with the best of them. Dip your frites in it, dip your baguette in it, and of course, it's positively luscious on the steak. A Google search for the Le Relais sauce recipe reveals that it's a closely guarded secret many are trying to crack, with limited degrees of success.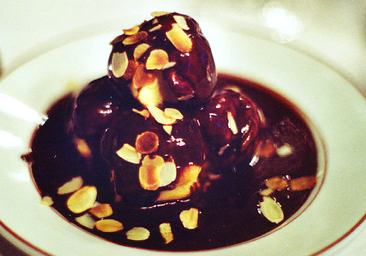 If you have room for it—and you probably won't—there is an extensive dessert menu and they are known for their profiteroles.
After dinner, you can take in the lovely nighttime St. Germain-des-Prés street scene, which often features a jazz quartet or other musicians, as you walk off some of your meal.
Dinner will run you 25-32 euros per person depending on how much wine you order.
Bon appétit!
PRACTICAL INFORMATION:
Le Relais de l'Entrecôte [English site]
Tél: 01 4549 1600
20, rue Saint-Benoît, Paris 6th
Métro: 4, St Germain-des-Prés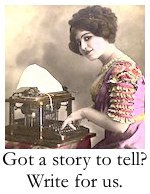 Open: Daily  Lunch 12-2:30pm; Dinner 7-11:30pm
Casual, no reservations
Other Paris Locations:
Tél: 01 4633 8282
101, blvd du Montparnasse, Paris 6th
Tél: 01 4952 0717
15, rue Marbeuf, Paris 8th
PHOTO CREDITS: Publicity photos from Le Relais de l'Entrecôte
Shannon George is a writer and producer in the entertainment industry. This longtime Francophile and traveler has dreams of living in Paris … we're putting money on her making it happen. Please click on her name to read more of her stories published here.


Subscribe for
FREE

weekly newsletters with subscriber-only content.
BonjourParis has been a leading France travel and French lifestyle site since 1995.
Readers' Favorites: Top 100 Books, imports & more at our Amazon store
Find new Paris favorites…click on image for more info
Thank you for using our link to Amazon.com…your purchases support our free site.
Leave a reply
Your email address will not be published. Required fields are marked *