Moulin Rouge: History Behind Pigalle's Red Cabaret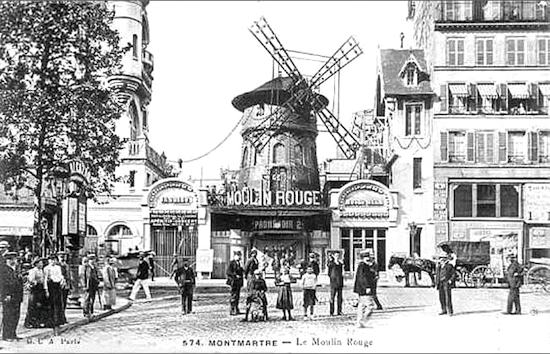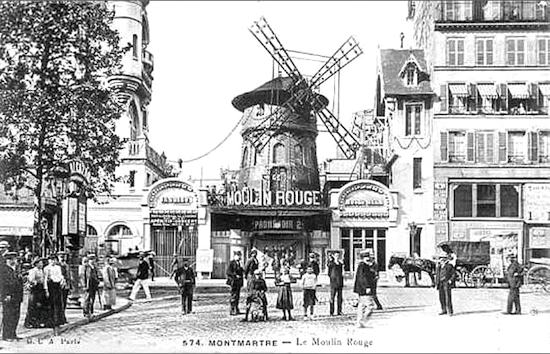 Visitors waiting on line for admission to the Moulin Rouge may be forgiven for not noticing the Histoire de Paris building plaque, which they still might not understand even if they noticed and then took the time to try to translate it. They'd be left with baffling references to "Oller and Zidler," a "White Queen," a giant wooden elephant, a "Dream of Egypt" and someone called "Missy."
This incomprehensible text was one of the reasons we chose to write Paris by Plaque, and to adopt the strap-line "All will be revealed…". The stories we found hidden within these plaques are, quite simply, enchanting. No translation of them had been published, however, let alone with an explanation of the content. So we wrote it ourselves, starting with Le Moulin Rouge.
Next time you pass the entrance to this famous cabaret, allow your mind to drift back 120 years. The date is 1889, and two businessmen, Joseph Oller and Charles Zidler, are planning a new venture. Impressed with the commercial success of the wildly popular dances at the Élysée Montmartre, the pair decided to open a rival dance hall in the run-down area of Pigalle. Even at their most optimistic they could not have imagined that the enterprise would become one of the most visited tourist attractions in Paris over a century later.
Oller and Zidler took a gamble in buying the old White Queen Dance Hall (La Reine Blanche) with its crumbling, peeling façade and seedy reputation to match the surrounding area. In need of total renovation, the White Queen was an unlikely venue for a rival to the Élysée, which had cornered the market in the wild and risqué dances that drew the crowds. The Can-Can we are familiar with today developed out of these wild quadrilles, typified by women somewhat lacking in the underwear department, whirling their skirts around in a dizzying high-energy dance display.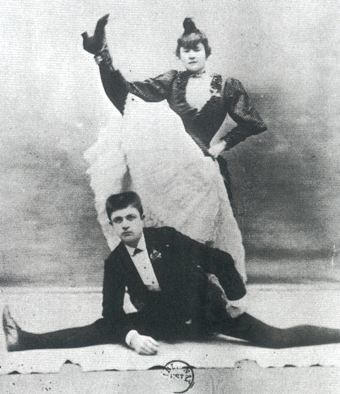 Undeterred, Oller and Zidler set to work and with bold showmanship they erected the huge wooden windmill above the entrance and painted it red. Over the years this red windmill (moulin rouge) was to become an icon of Parisian nightlife. Emblematic of Montmartre's rural past—when windmills dotted the hills around Paris—the red windmill with its slowly turning sails intrigued dancehall regulars. Queues began to form.
Oller and Zidler's next business coup was to poach the top dancer from the Élysée Montmartre, one Louise Weber, or La Gouloue (The Glutton) as she was known for her love of alcohol. She was the wildest, most outrageous and daring of the dancers and a huge favorite with crowds. Fiercely provocative in her dancing style, she would swirl past tables, snatching drinks off patrons' tables and whisking their hats off with her high-kicks. She was soon the main attraction at The Moulin Rouge too and her show, with her extraordinarily limber dance-partner Valentin "The Boneless," was the hottest ticket in town. Toulouse-Lautrec was a nightly visitor to the venue and it was here that he sat watching while drawing some of his most famous images of Paris nightlife. Louise, Valentin and their successor, Jane Avril, all feature in his paintings and posters from this time.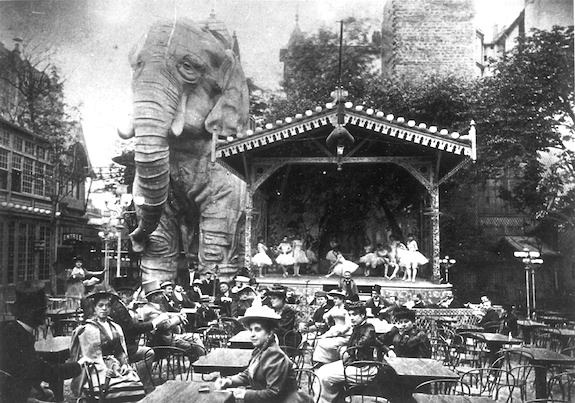 More drama was to follow from Oller and Zidler. They purchased a huge wooden elephant from the Exhibition Universelle (World's Fair) of 1900 and installed it in the gardens. They made a spiral staircase entrance to it inside one of the legs and, on a stage housed in its stomach, dancers would perform sensual belly dances for a male-only audience. Later this elephant would feature in the contemporary Hollywood musical film Moulin Rouge, as a setting for Nicole Kidman and Ewan McGregor's love story.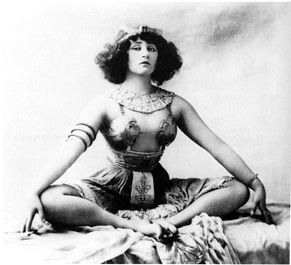 Back in 1907, however, a million miles from Hollywood glamour, the Moulin Rouge continued to provoke and challenge. The semi-nude dancing sometimes gave way to a provocative show of another kind, such as the "Dream of Egypt," put on by the writer Colette and her girlfriend, Mathilde de Morny, or "Missy," as she was known. Colette dressed herself as an Egyptian mummy and had Missy, dressed as a male archeologist, unwrap her. They finished the scene with an amorous kiss. The audience—made up mostly of Mathilde's outraged aristocratic brother and a mob of his friends—were so outraged by the spectacle that they rushed the stage, forcing the performers to run and lock themselves in the box office until the police arrived.
Take a little time to visit the Museum of Montmartre, where you will see some original posters by Toulouse-Lautrec. His depictions of dancehall nightlife live on in our memories so powerfully. Today dancer Louise Weber lies buried in the Cimetière de Montmartre where there are usually fresh flowers on her grave. Something of her energy and daring still touches us through the passage of time, and the promise of the thrill she engendered still draws visitors by the thousands to see the Moulin Rouge today.
But next time you pass the entrance and its plaque, just let your mind drift back 120 years…
PRACTICAL INFORMATION:
Tél: 01 5309 8282
Place Blanche
82, boulevard de Clichy, Paris 18th
Métro: Line 2, Blanche
Anna Meakin is the author of Paris by Plaque – Montmartre Vol 1 (The Complete Guide to the Historic Plaques of Paris) and this is her first article for BonjourParis. Paris by Plaque is available at her website, the Museum of Montmartre and here at our Amazon.com Boutique.

Subscribe for
FREE

weekly newsletters with subscriber-only content.
BonjourParis has been a leading France travel and French lifestyle site since 1995.
Readers' Favorites: Top 100 Books, imports & more at our Amazon store
We daily update our selections, including the newest available with an Amazon.com pre-release discount of 30% or more. Find them by starting here at the back of the Travel section, then work backwards page by page in sections that interest you.
Support our site by clicking on this banner for all your Amazon.com browsing. Merci!
Leave a reply
Your email address will not be published. Required fields are marked *