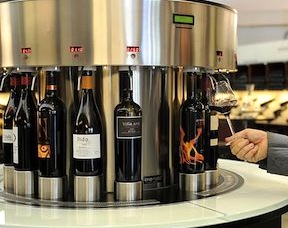 Who dares open a multi-story wine store in Paris with an enormous inventory of international wines and stated aspirations to be the largest wine store in Europe? Thierry Servant and Pascal Chevrot did just that when they opened their first Paris Lavinia wine store in 2002 after their Madrid and Barcelona stores were up and running. The huge Paris store was considered a curiosity back then, but no more.
Lavinia at Madeleine is an enterprise that must be explored by visitors as locals—where else can you find friendly, well-trained wine experts (most are sommeliers) who offer information with generous complimentary sips from over 5,000 bottles of wines and spirits beautifully displayed yet properly stored on three expansive floors? French wine, of course, but also wines for every budget from Argentina, Australia, Chile, Greece, Hungary, Italy, and so on through the alphabet until you reach the USA. Red, white, bubbly or flat, Kosher, organic or mass market, Lavinia stocks more wine choices than you likely even knew existed. Prices are unbelievable at both ends: €3 at the base to over €36,000 per bottle. Wine sold by the glass costs about €10 at the automated Italian Enomatic wine vending machines like those increasingly found in the U.S. and around the world.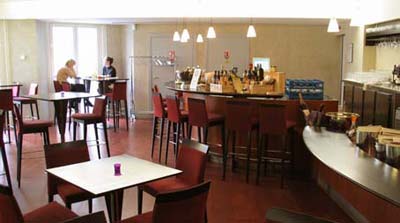 Special events are regularly held with smorgasbords of food samples that pair well with wine. Indeed, wine shopping at Lavinia Madeleine is a bit like grazing at a U.S. Whole Foods store the last Saturday before December holidays, if you know that delectable experience. See Lavinia's website for complete schedules for wine-tastings, wine club memberships, wine classes for oenophiles with all levels of knowledge and budget, promotions and discounts. There's even a bookstore on-site.
Forget about lunch or afternoon tea at Fauchon and Hédiard, choose your wine, bubbly or booze and march upstairs to Le Restaurant Lavinia. Lunch from a full menu will set you back about €35 per person. Go early for happy hour or you might only stare at others nibbling on tapas plates chosen for their ability to highlight wine, such as duck foie gras with Sauternes, Ibérico ham with a white Burgundy or grilled vegetables and mozzarella with a glass of Puligny-Montrachet. Two or more can easily make an early dinner out of a bottle of wine with their cheese or meat plates. If port is your preference, there are chocolate desserts (and others) calling your name. Wine is sold for retail cost with no added corkage fee.
Take a video tour of the Madeleine store (video credit: ©Lavinia)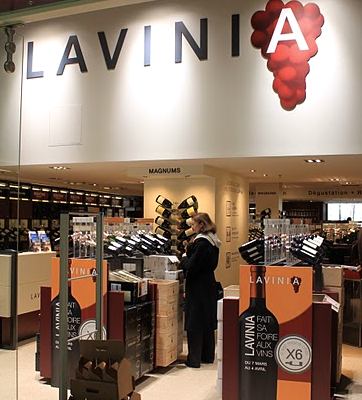 In March 2011 Lavinia opened a smaller store in the CNIT shopping mall at the La Défense business district of Paris. The store's shelves and chillers hold over 1,000 bottles. Choose from 24 daily choices for free wine samples or buy a glass of wine for €3-10. This store also has an Enomatic wine vending machine with wine sold for under €10 per glass. The Champagne bar is perfect for those happy with nothing less than a flute of Moët. There's also a tapas bar with a menu developed by chef Angel Garcia from the Lavinia store in Madrid with prices starting at about €7 per plate. Tables with seating for 36 are full at lunch and happy hour with "suits" and workers from neighboring towers. Like the Madeleine store, bottles purchased here may be enjoyed in the store with no corkage fee.
The Lavinia store near Place de la Madeleine is now the largest in Europe and today the owners aspire to conquer the world with stores in Barcelona, Geneva, Kiev and Madrid and more planned.
PRACTICAL INFORMATION:
Lavinia Madeleine
Tél: 01 42 97 20 20
3, blvd de la Madeleine, Paris 1st
Open: 10am-8pm, Mondays through Saturdays
Métro: 8, 12 & 14; Madeleine
RER: A; Auber
Lavinia La Défense
Centre Commercial le CNIT
Tél: 01 40 90 43 21
2, Place de la Défense
Transit by Métro, bus, RER, etc. at CNIT site
Open: 10am-8pm, Mondays through Saturdays
Facebook has photos, videos & more

©Dali Wiederhoft 2011
Dali Wiederhoft is the executive editor of BonjourParis. Please click on her name to read more of her stories published in BonjourParis.

Subscribe for

FREE

weekly newsletters with subscriber-only content.
BonjourParis has been a leading France travel and French lifestyle site since 1995.
Readers' Favorites: Top 100 Books, imports & more at our Amazon store


Waste no time, you'll be in Paris! Click on an image for details.
Thank you for using our link to Amazon.com…we appreciate your support of our site.