BUZZ: Red Carpet Ready for Xmas
75 minutes from Paris, Orly, arrive at Marseille, 2013 European Capital of Culture. A car from the airport : destination : the shiny, opened last April, Hôtel Dieu and Spa by Clarins.
The listed monument is poised like a beacon on a hill above the vieux port, in the Panier quarter. The hotel took seven years and 120 million euros to transform from, hospital (circa 1593) to 5-star 194- rooms and suites hotel.
While excavating, many features from the middle ages were discovered and beautifully incorporated into the incredible decor by architect Jean-Philippe Nuel, now working on La Piscine Molitor, Paris. « For me it has been an enthralling architectural odyssey » says Nuel. No kidding!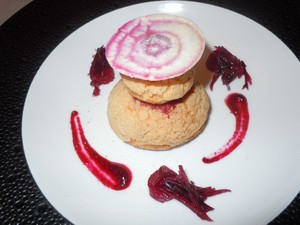 Executive chef is Lionel Levy (ex- Une Table au Sud, Marseille) and lunch is served in Brasserie Les Fenetres with airy bare stone wall decor. The menu's local Mediterranean with Levy's spin on bouillabiasse as in Milkshake de Bouille-Abaisse. Catch of the day, simply grilled, market fresh vegetables : Sea scallop risotto : Sardine Pissaladiere : Stuffed squid, finish with cheese & « Comme un Snickers or the dark n'handsome Religieuse à la betterave.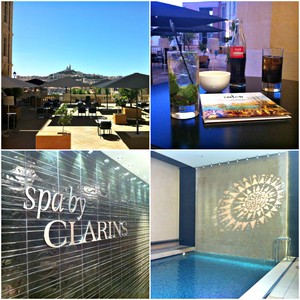 Pamper central awaits in the lavender scented state-of-the-art Clarins Spa, choose from the extensive spa-menu, depending on the bits you want to improve. Accents are on flavours of Provence, say, a 1hr 30 minute treatment (170€) using herbs, plants and honey. The plan is to stimulate the senses with gentle scrubs, read rub n'roll. Skin Blitzer treatment for Jean (120€)
At night, aperitifs in Le Capian Bar, the  prelude to an elegant gastronomic experience in Lionel Levy's Alcyone Restaurant with a daily changing tasting menu matched with lovely local wines such as Clos Saint Magdeleine, Cassis, or Château de Pibarnon.
Intercontinental Marseille, Hotel Dieu,
T : 04 13 42 42 42 42
Rooms & Suites from 220-5000€
Brasserie Les Fenetres & Restaurant L'Alcyon,
Spa by Clarins
1 place Daviel, Marseille
Play the star on La Croisette, Cannes
You may not be Harvey Weinstein, Brangelina, Roger Moore, Madonna, Woody Allen, Sharon Stone or Ines de la Fressange but everyone's a star at the Art-Deco style Le Majestic, built in 1923 on La Croisette and now part of Group Lucien Barrière: the place to be during the Cannes Film Festival.
Recently "Her Majestic" has undergone a 72€million facelift and added La Petite Maison de Nicole, designed by Jacqueline Morabito, only open for dinner.
The eponymous Nicole Rubi's family recipes, based around sharing, include beignets of courgette flower fritters, tiny stuffed vegetables, whole roasted chickens to share, truffle scrambled eggs, fried local mullet, roasted royal Mediterranean lobster and calamaretti fritti (Italian fried squid), warm bread arrives in brown paper bags, and fresh seasonal vegetables to nibble, dot the tables. Read, generosity Mediterranean style.
Claude Ducrozet, Le Majestic pastry chef,  creates divine desserts, tiramisu with white chocolate mousse and seasonal fruit… to share or not !
Lunch is at Le Fouquet's where "Le Tout Cannes gathers" daily, so remember to reserve. Check out the stunning black and white photographs of your favourite movie stars punctuating the walls and corridors on every floor.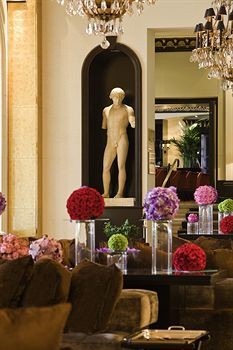 At the sumptuous Spa My Blend by Clarins your Spa Coach awaits ready to create your own personalized state-of-the-art beauty chart, give you that Hollywood glow with Clarins Signature Treatments. For Jean, "the Facial Firmer" (150€)
"Life changes so change the life of your skin" and book "The Red Carpet treatment" including tri-active facial (290€) so, leaving the marvellous Majestic lobby the paps will snap you, because you're a star darling.
Hotel Majestic Barrière,
Rooms and suites from : 210€-39,000€
Restaurant Fouquet's & La Petite Maison de Nicole
Spa by Clarins
10 Boulevard de la Croisette, Cannes
T : 04 92 98 77 00
And God Created St. Tropez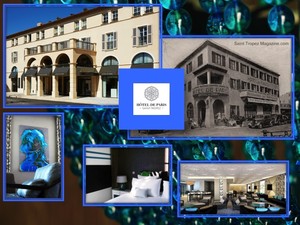 L'Hotel de Paris, shuttered for 20 years, re-opened last March.
Totally re-worked by architect François Viellecroze and interior designer Sybille de Margerie, there are 52 rooms and 38 suites. Showstopping features include the roof-top suspended pool, indoor/outdoor bistro and hip bars, upstairs and downstairs, where mixologist Eddy Montana shake, shake, shakes his welcome to St. Tropez cocktails, juices, wines, bubbles and spirits.
Le Café Suffren by Georges, with olive tree studded terrace, serves food by 3-star chef Georges Blanc, interpreted by top talent Philippe Guérin (Alain Chapel : Château du Domaine Saint- Martin, Vence).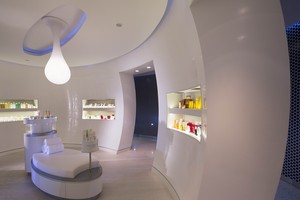 The Pure white Spa by Clarins, designed by Sybille Margerie, has five treatment cabins, one is a double for both Jean and Mme Cazals. Massage is sublime and softening using Clarins pure plant based oils, the masseuse finding and soothing spots you never knew existed. Try the « Bikini-Ready Sea-Slim & Sun » treatment (190€) for dissolving cellulite and stock up with the miracle Double Serum.
Jean should book the Body Energizer Exfoliator (150€) there's also sauna, steam room, and fitness center with Technogym. Or consider My-Blend, cutting-edge tailor-made creams and treatments by Dr Olivier Courtin.
L'Hotel de Paris, St. Tropez
1 Traverse de la Gendarmerie
T : 04 83 09 60 00
Café Suffren by Georges & Roof Bar with award-winning barman Eddy Montana
Le Spa by Clarins
Rooms from 270€
Meanwhile back in Paris : Slim and Trim Where Can the Fêtes begin ?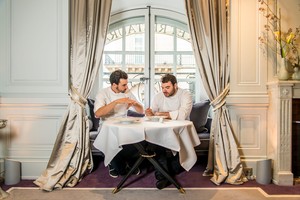 Try Le Noël Alsacien de l'Hôtel Vendôme. The « Christmas style region » inspires chef Josselin Marie to create a superposition of flavours, sugar and spice, anchored in tradition, revised and corrected for the chic Parisien clientèle. Desserts are by Franck Wenz, Chef Pâtissier at L'Ecole du Grand Chocolat Valrhona, so expect scenes from Charlie and the Chocolate Factory. The end of Christmas (4th January) showcases traditional Galettes des Rois, with a twist, bien sur!
Hôtel de Vendôme,
1 place Vendôme, 1st
M : Concorde
T : 01 55 04 55 00
Menu Dégustation Alsacien 100€ + wine
From Tues-Sat Lunch & Dinner
Brunch & Menu for New Year's Eve
Leave a reply
Your email address will not be published. Required fields are marked *