Virtual Tour of Paris: 17th arrondissement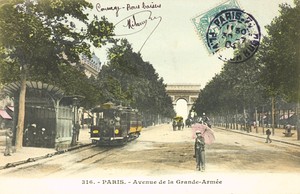 Welcome to the 17th arrondissement, the neighborhood that first saw the Statue of Liberty. From 1882–1884 the Atelier Monduit et Béchet—the foundry on rue Chazelles—cast the statue's copper sections. During construction a walk past the atelier became a favorite promenade for Parisians.
Baron Haussmann, who saw the area as the perfect place to build for the up-and-coming middle class, replaced cornfields and hunting grounds with inexpensive housing that lured the impressionists, who flocked here at the end of the 19th century for the cheap rents and abundant sunlight (it was they who eschewed the tradition of painting indoors).
Typically Edouard Manet would hold court every Thursday with Zola, Degas, Monet and Renoir at the Café Guerbois. Today the neighborhood remains primarily working class.
Some great chocolate can be tasted and most deliciously drunk at Huashis (53 rue de Tocqueville) whose specialty is le chocolat chaud à l'ancienne. It's a secret recipe of  hot chocolate mixed with subtle flavors like banana, mint, or even rose!


Christopher Measom combines his love of history, art, and travel to create books like "Paris, Wish You Were Here!" and "The Little Big Book of Ireland." He spends most of his time in New York (an artsy historic place) working on all kinds of books for Night & Day Design.
Leave a reply
Your email address will not be published. Required fields are marked *