Virtual Tour of Paris: 18th arrondissement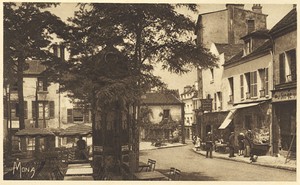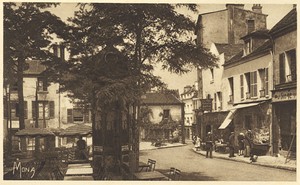 Up we climb now to the top of Paris; up the butte de Montmartre, the hill overlooking Paris in the 18th arrondissement—a neighborhood of both sinners and saints.
As with many of the arrondissements on the outskirts of the city, innkeepers and taverns set up shop just outside city gates to avoid taxes, and Parisians would partake of drink and entertainment at a discount. The tradition of both partying and praying on Montmartre goes back at least to the Romans, who built a temple to Bacchus (the god of wine) on the hill. And in the 12th century a Benedictine abbey was founded (thus the metro station Abbesses), and the nuns, who had a wine press, went into business—a very lucrative one. All that ended in tears, however, when the frail, blind, and deaf mother superior was sent to the guillotine during the revolution. A sad but apt story from the "mount of martyrs."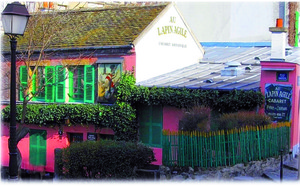 Somehow though, the two traditions continue. The Moulin Rouge, the tawdry Pigalle, the Erotic Museum are all here, but so is the Basilique Sacre Coeur, the 19th century meringue confection overlooking Paris. Today the basilica is surrounded by artists chasing tourists and turning out goofy charcoal sketches, and while wine is still made on Montmartre, it has a very bad reputation. As for entertainment, at the corner of rue St. Vincent and rue des Saules is a small, sort of dilapidated, century-and-a-half old cabaret called the Lapin Agile where you can drink the traditional cherries in brandy and sing all the old chansons like Picasso and Toulouse-Lautrec did in days gone by.


Christopher Measom combines his love of history, art, and travel to create books like "Paris, Wish You Were Here!" and "The Little Big Book of Ireland." He spends most of his time in New York (an artsy historic place) working on all kinds of books for Night & Day Design.
Leave a reply
Your email address will not be published. Required fields are marked *