The Perfect French _______ (fill in the blank)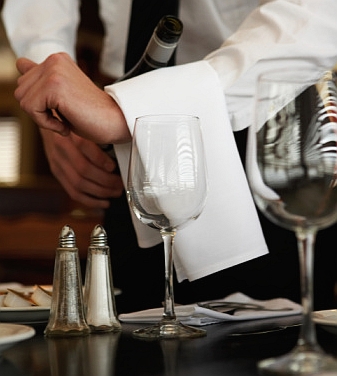 All of us want to find the perfect French bistro, restaurant, bar-café, etc., and I probably get more questions in this vein than any other. What do we all mean? Well, I think it means the place has the feel of genuine Frenchness and conveys the essence of Paris, welcomes you warmly whether you're a regular or a newcomer, foreign or local, looks elegant, old and has nice paneling, genteel service, classical food, reasonable prices and a good wine list. But isn't this every place in Paris, John? Alas, no. Since I've been writing these essays there are several places I've called "the perfect ________ (fill in the blank)." I think they have all the above ingredients and the day I wrote this I revisited another I hadn't been to in at least 25 years – Chez Georges in the 2nd. But I'm getting ahead of myself. Almost a year ago I called the Café Cartouche the perfect French bistro and did so largely because of its fare: the terrines, gizzard salad, sausage, ris d'agneau, bavette/frites, pintade, prunes, figs and an apple gratin as well as good affordable wines. But you know, I could equally have singled out the original Regalade or Chez Josephine and indeed in another essay suggested Chez Ami Jean was the perfect place to start appreciating bistro food. Then a week later I said that Au Petit Marguery was the perfect French restaurant because of its "décor, napery, service and management if not the food."  It has the perfect welcome, look, choice of dishes, roll, wine, service and so on and so on. But you know I could have named a few other places such as Drouant and the Violon d'Ingres as well as the more modern looking 122 and le Marcab. There is also much interest on the web in what is the best wine bar in Paris, and a place that really impressed me was La Cave Beauvau. As I explained before, lots of places with a slew of bio, natural, etc., wines have nice charcuterie and cheese platters but to also have good warm food is a bonus. But again, it's not the only possibility – there's also Les Papilles, Louis Vins and Chapeau Melon and I could go on. Then there's the perfect restaurant of a different kind, breaking the rules by trying new combinations of ingredients with exotic veggies, spices and herbs and presenting dishes simply but cleverly. And here my champion is Ze Kitchen Galerie with Gilles Choukroun's MBC and Ledeuil's #2 KGB not far behind. The perfect fish bistrot: that's easy – the Bistro du Dôme; the perfect fish resto – Rech. The first has a real fish bistro feel to it as does the Fables de la Fontaine, and the second is almost equaled by Les Débats, at least until they bumped their prices into the stratosphere. The perfect brasserie? It doesn't exist. This is one area which has been passed on the highway of the 20th and 21st centuries by bistros and restos.  It's sad but the fungibility and Flo-ization of Paris brasseries has dumbed them down to a shadow of their once vaunted position. Finally, how about a place that's the perfect "simple" place, where the ingredients are all well-known and identifiable, combinations are logical and the presentation seemingly so easy one says "I could do that myself," except you cannot, only Daniel Rose can at the new Spring. Here I'm stumped for a second choice, although maybe Frenchie and Hidden Kitchen (where I've only been to tastings) qualify. So I started out by saying that I'd had another "perfect" X place revelation today at Chez Georges. Why do I say that?  Well, I'll let my dining companion answer. He writes reviews and a feature of them is he lists the Pluses and Minuses of each. So at the end of the meal I said, "What are you going to say are its minuses?" He looked at me – "I don't know." The places discussed here are : Chez Georges 1 rue du Mail in the 2nd (Metro: Sentier I suppose) T: 01.42.60.07.11 Closed weekends and holidays, A la carte 60-80 E. Cartouche Café 4, rue de Bercy, 12th (Metro: Cour St Emilion) T: 01.40.19.09.95 Closed Saturday noon and Sundays A la carte about 30 €   Au Petit Marguery 9, Blvd de Port Royal, 13th (Metro: Gobelins) T: 01.43.31.58.59 Closed Sundays and Mondays Lunch menus at 23 (2 courses), 26 (3) and dinner for 30 (2) and 35 (3) €.   La Cave Beauvau 4, rue des Saussaies in the 8th, (Metro: Madeleine or Miromesnil) T: 01.42.65.24.90 Open lunch Monday-Saturday and dinner Thursday and Friday A la carte about 25-30 €.   Ze Kitchen Galerie 4, rue des Grands Augustins, 6th (Metro: Saint Michel) T: 01 44 32 00 32 Closed Saturday lunch and Sundays. Menus: 27, 30 and 35, a la carte 30-50 €.   Spring 6, rue Bailleul in the 1st (Metro: Louvre-Rivoli) T: not connected yet Open for dinner except Sundays and Mondays and lunch, probably Thursdays and Fridays. Lunch boullion 23 E, small plates 6-7, dinner 60 some E.   Bistrot du Dôme 1 rue Delambre, 14th (Metro : Vavin) T: 43 35 32 00 Open everyday except Sundays and Mondays in August A la carte about 50 €   Rech 62, ave des Ternes,17th T: 01.45.72.29.47 Closed Saturday lunch and Sundays A la carte about 50-60 €.   For an authentic taste of France delivered directly to your door, try
zChocolat
's exclusive selection of handmade French chocolates. Paris Shuttle. The leading provider of pre-bookable airport transfers in Paris. Book your airport transfer with
Paris-Shuttle.com
and save up to 30%
SUBSCRIBE
ALREADY SUBSCRIBED?
BECOME A BONJOUR PARIS MEMBER

Gain full access to our collection of over 5,000 articles and bring the City of Light into your life. Just 60 USD per year.

Find out why you should become a member here.

Sign in

Fill in your credentials below.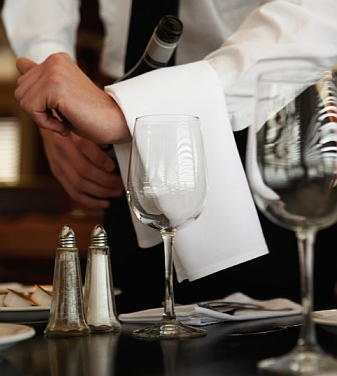 All of us want to find the perfect French bistro, restaurant, bar-café, etc., and I probably get more questions in this vein than any other. What do we all mean?
Well, I think it means the place has the feel of genuine Frenchness and conveys the essence of Paris, welcomes you warmly whether you're a regular or a newcomer, foreign or local, looks elegant, old and has nice paneling, genteel service, classical food, reasonable prices and a good wine list. But isn't this every place in Paris, John? Alas, no.
Since I've been writing these essays there are several places I've called "the perfect ________ (fill in the blank)." I think they have all the above ingredients and the day I wrote this I revisited another I hadn't been to in at least 25 years – Chez Georges in the 2nd. But I'm getting ahead of myself.
Almost a year ago I called the Café Cartouche the perfect French bistro and did so largely because of its fare: the terrines, gizzard salad, sausage, ris d'agneau, bavette/frites, pintade, prunes, figs and an apple gratin as well as good affordable wines. But you know, I could equally have singled out the original Regalade or Chez Josephine and indeed in another essay suggested Chez Ami Jean was the perfect place to start appreciating bistro food.
Then a week later I said that Au Petit Marguery was the perfect French restaurant because of its "décor, napery, service and management if not the food."  It has the perfect welcome, look, choice of dishes, roll, wine, service and so on and so on. But you know I could have named a few other places such as Drouant and the Violon d'Ingres as well as the more modern looking 122 and le Marcab.
There is also much interest on the web in what is the best wine bar in Paris, and a place that really impressed me was La Cave Beauvau. As I explained before, lots of places with a slew of bio, natural, etc., wines have nice charcuterie and cheese platters but to also have good warm food is a bonus. But again, it's not the only possibility – there's also Les Papilles, Louis Vins and Chapeau Melon and I could go on.
Then there's the perfect restaurant of a different kind, breaking the rules by trying new combinations of ingredients with exotic veggies, spices and herbs and presenting dishes simply but cleverly. And here my champion is Ze Kitchen Galerie with Gilles Choukroun's MBC and Ledeuil's #2 KGB not far behind.
The perfect fish bistrot: that's easy – the Bistro du Dôme; the perfect fish resto – Rech. The first has a real fish bistro feel to it as does the Fables de la Fontaine, and the second is almost equaled by Les Débats, at least until they bumped their prices into the stratosphere.
The perfect brasserie? It doesn't exist. This is one area which has been passed on the highway of the 20th and 21st centuries by bistros and restos.  It's sad but the fungibility and Flo-ization of Paris brasseries has dumbed them down to a shadow of their once vaunted position.
Finally, how about a place that's the perfect "simple" place, where the ingredients are all well-known and identifiable, combinations are logical and the presentation seemingly so easy one says "I could do that myself," except you cannot, only Daniel Rose can at the new Spring. Here I'm stumped for a second choice, although maybe Frenchie and Hidden Kitchen (where I've only been to tastings) qualify.
So I started out by saying that I'd had another "perfect" X place revelation today at Chez Georges. Why do I say that?  Well, I'll let my dining companion answer. He writes reviews and a feature of them is he lists the Pluses and Minuses of each. So at the end of the meal I said, "What are you going to say are its minuses?" He looked at me – "I don't know."
The places discussed here are :
Chez Georges
1 rue du Mail in the 2nd (Metro: Sentier I suppose)
T: 01.42.60.07.11
Closed weekends and holidays,
A la carte 60-80 E.
Cartouche Café
4, rue de Bercy, 12th (Metro: Cour St Emilion)
T: 01.40.19.09.95
Closed Saturday noon and Sundays
A la carte about 30 €
Au Petit Marguery
9, Blvd de Port Royal, 13th (Metro: Gobelins)
T: 01.43.31.58.59
Closed Sundays and Mondays
Lunch menus at 23 (2 courses), 26 (3) and dinner for 30 (2) and 35 (3) €.
La Cave Beauvau
4, rue des Saussaies in the 8th, (Metro: Madeleine or Miromesnil)
T: 01.42.65.24.90
Open lunch Monday-Saturday and dinner Thursday and Friday
A la carte about 25-30 €.
Ze Kitchen Galerie
4, rue des Grands Augustins, 6th (Metro: Saint Michel)
T: 01 44 32 00 32
Closed Saturday lunch and Sundays.
Menus: 27, 30 and 35, a la carte 30-50 €.
Spring
6, rue Bailleul in the 1st (Metro: Louvre-Rivoli)
T: not connected yet
Open for dinner except Sundays and Mondays and lunch, probably Thursdays and Fridays.
Lunch boullion 23 E, small plates 6-7, dinner 60 some E.
Bistrot du Dôme
1 rue Delambre, 14th (Metro : Vavin)
T: 43 35 32 00
Open everyday except Sundays and Mondays in August
A la carte about 50 €
Rech
62, ave des Ternes,17th
T: 01.45.72.29.47
Closed Saturday lunch and Sundays
A la carte about 50-60 €.
For an authentic taste of France delivered directly to your door, try zChocolat's exclusive selection of handmade French chocolates.
Paris Shuttle. The leading provider of pre-bookable airport transfers in Paris. Book your airport transfer with Paris-Shuttle.com and save up to 30%
More in John Talbott Paris, Paris restaurants
---
---