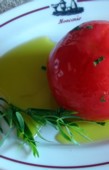 I've felt like a bit of a gypsy lately, moving 3 times in the last year. My new apartment, however, seems to feel a bit more like home. I can walk to so many places. This past Saturday, I grabbed my market basket and walked a couple of blocks down the tree-lined street to a fantastic farmer's market. As I walked, I almost felt like I was 21 again and walking down the rue de Longchamp to the President Wilson market in Paris. The stalls were loaded with fresh tomatoes, eggplants, multi-colored peppers, and herbs. Ratatouille for dinner perhaps? Another stall had fresh goat cheese, crème fraiche and mozzarella. There were a few vendors with beef, chickens, fresh eggs and even a few charcuterie makers. The only thing missing was the musical sound of the French language. I lugged my purchases home that day and was a bit too tired to tackle ratatouille. So I did what the French do best with summer-fresh products: I kept it simple to allow the flavors to shine through, et voilà:
Tomatoes with Tarragon, Olive Oil and Fleur de Sel
tomatoes
fresh tarragon
fleur de sel
extra-virgin olive oil
How to peel tomatoes: Put some ice and cold water in a large bowl and place by the stove.  Bring a large pot of water to a boil. Make a shallow "X" on the bottom of each tomato (not the stem end). Place the tomato on a slotted spoon and dip into the boiling water for about 3 – 5 seconds.  Plunge the tomato into the ice bath. The edges of the "X" will have curled a little, allowing you to grasp the end and peel off the skin.
Chop some of the tarragon.
Place the tomato stem side down on a small plate. Drizzle with the olive oil. Sprinkle on the salt and tarragon and serve.

I had a little bit of goat cheese and a few slices of sausage made with lavender and herbs. A perfect summer taste sensation.
For an authentic taste of France delivered directly to your door, try zChocolat's exclusive selection of handmade French chocolates.