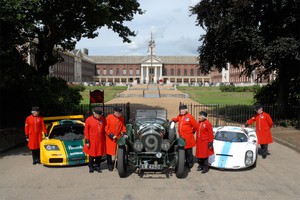 On a recent visit to London to celebrate the 70th anniversary of Charles de Gaulle's World War Two BBC broadcast, which rallied the French against Nazi Germany, President Sarko and his fab First Lady lunched at the Sir Christopher Wren-designed Royal Hospital Chelsea. Built in 1692, Wren's design was based on the Hôpital des Invalides, Paris.
Accompanied by 300 French vets, they came on a specially chartered Eurostar emblazoned with images of de Gaulle. The presidential couple obviously enjoyed the meal because they presented 500 pints of the best beer to the delight of the pensioners.
It could have been a delicate situation because in the Hospital grounds sit canons captured by the Brits at Waterloo. However, "L' Entente Cordiale" was intact as Sarko presented the Légion d'Honneur to 3 British and 3 French WW2 vets, before an audience of 1,500 people (including David and Sam Cameron).
Sarko expressed appreciation for British support "when France had been overwhelmed and betrayed by its leaders". A Spitfire, a Typhoon and a French Air Force Rafale made a flypast, while red-coated Chelsea Pensioners (all war vets) and guards in plumed helmets mingled with tip-top brass. Soldiers from both countries formed a joint guard of honour. "It was the most wonderful speech, supporting Britain, from the President; we were all extremely moved with emotion", said Major Peter Currie, the Hospital's Lieutenant-Governor. Following the London trip Sarko laid a wreath at statues of de Gaulle on the Champs Elysées, Paris and Winston Churchill on Avenue Winston Churchill.
The recent publication, to raise much-needed funds for the Royal Hospital, of "A Salute to Cooking", 120 recipes by celebs, Knights and Dames, sports personalities, luvvies and superchefs, compiled by Angela Currie, wife of the Lieutenant-Governor, has inspired a fund-raising event called Chelsea Auto Legends.
"I bought the book and loved it", says Michael Scott, Chelsea Auto Legends organiser. "And I knew there was an opportunity to showcase a delicious collection of prestige, exotic and supercars from both road and track, Aston Martins, Bentleys, Bugattis, Ferraris, Lamborghinis, Jaguars, Maseratis, Porches and many other stunning marques, a Chelsea Flower Show for cars".
Scott, a Chelsea local, has organised smaller "Rendezvous" gatherings for car enthusiasts in the Royal Hospital Grounds. "I've always dreamed of creating a spectacular annual auto event in this fabulous setting, to raise much needed funds for the Chelsea Pensioners, now that dream will become a reality".
The one day event will showcase the Le Mans 24-Hour Race, with collectors cars to die for. Adding to the excitement and drama will be the celebration of the 40th anniversary of Porsche's first win of the French race as well as the filming of the epic Le Mans movie, which starred Steve McQueen. Many of the drivers involved in the making of the movie will be there to share their memories including Richard Attwood who actually won the 1970 race, not Steve McQueen as in the film!
There will be stands featuring exotic car-related products, and local restaurants and cafés will be providing delicious barbys and roasts, fresh-baked breads, and cupcakes, obviously inspired by Ms Currie's excellent book. Perhaps HRH The Duchess of Cornwall's Haddock à la crème. Gordon Ramsay's Vanilla Almond Shortbread, Pink Floyd's Nick Mason's Bouillabaisse, Chelsea Pensioner Joe Brittain's Creamed Rice Pudding, Mayor Boris Johnson's Cheese on Toast, David Cameron's Mackerel Pâté or HRH Prince Phillip's stuffing for freshly shot grouse. Did someone send a copy to President Sarko and Carla?
A Salute to Cooking,
Celebrity Recipes in aid of Chelsea Pensioners £14.99
Chelsea Auto Legends – Sunday 5 September 2010
Royal Hospital Chelsea
Nearest Tube Sloane Square
Tickets £12 – under 15's are free
Take trips, not chances. For peace of mind each and every time you travel, enroll for MedjetAssist evacuation services. If you're coming to France (or for that matter anywhere) you can reserve your hotel here. To rent a car, Bonjour Paris recommends Auto Europe.