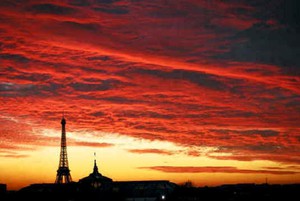 Everyone owns some shamelessly sentimental Paris moment. Having lived in the city a long time, I have several. Of course, you're with someone you care for– at a moment like this: you're on the Passerelle des Arts, under a Fragonard sky, barges gliding below, and the sun is grazing the cupola of the Institut de France, the acme of grace. Suddenly your mind extrapolates, from the intimacy of a walker's city, the illusion that the splendor, the city and the world itself are all yours personally. The presence of truth in that epiphany is from the axiom that beauty is truth. But the city is just playing her lovely role as a world-class backdrop for personal fantasies. Getting to know the truths of Paris is another matter.
Paris is not a city that unbuttons her stylish bodice to you. Paris is elegant, but she's not a particularly sensuous city.  The chestnuts whose blossoms help create the emotion of April lose their leaves as early as late August.  The Fragonard sky turns putty gray for months, while the Eiffel Tower often disappears in mist. Paris' row on row of pale limestone buildings create an engaging dignity softened with sweet décor, but in contrast, for example, we always remember Rome in the sensuous Technicolor that defines that relatively uneventful city on just a visual level.  Parisians, though, define their city with their own, active presence, keeping fresh a love affair of vigor with this coy mistress.
We Americans are wont to depict the French as simultaneously snippy and enviable–people who can carry off absurdity with panache. France indeed seems often absurd. Where else on earth, until not so long ago, was it considered standard protocol for ministers to hand themselves and their employees envelops of cash, so they would not have to pay taxes to the same government they worked for? Where else, but here, does a newly elected president of the republic amnesty all parking tickets as one of his first important acts in office?
Once my wife Joanne and I began to write a list entitled "Things the Parisians know that you and I don't know".  It began: "Moonlight is bad for the furniture". And it included such revelations as: "Breezes can be dangerous. Milk in coffee will ruin your liver, but alcohol is good for both the appetite and the digestion."
We went on to add some unwritten rules of public life in Paris, including:
"Do not drive the wrong way on a one-way street, except in reverse. Although sidewalks exist naturally for parking, you should not drive on them unless traffic is too thick in the roadway. This restriction does not, of course, apply to motorcycles."
What does "Parisian" mean?  I thought of Parisians I know and what they have in common that makes them exemplary embodiments of the city's personality.  Things are changing fast, but so far Parisianism is still partly collective singularity.  Everyone who has a choice here seems to be doing what he's doing for no better reason than confidence in the worth of the private endeavor. Parisians are the world's amateurs par excellence. The root meaning of amateur is of someone doing his thing for the love of it. I think at the heart of this attitude are pre-industrial values that survive—for how long I can't say– in a city whose culture, like the cityscape, is not a palimpsest but an often enriching aggregation.
The courtisans of the Ancienne Régime practiced stylish pleasure as the ultimate raison d'être. The middle class that swept them out of power with the Revolution glorified knowledge, science, progress… and new wealth. Yet living stylishly never lost its place in an amalgamated value system that gave learning and art new importance.  It has its flaws.  It is a setup that admits insider privilege, although there is greater mobility now than in even the recent past.  Cues on egalitarianism and bottom-line ethics—the good and bad of American culture—are coming from the United States.  And the media-driven rush to be branché, to conformity– that sometimes shady Doppelgänger of equalitarianism–is an ever-growing force.  And yet…
In this city that invents fashions delights that have a past remain stubbornly in style. My children, who are grown now, loved the same donkey rides in the Parc de la Muette that children still adore, the same puppet show. And the boy Marcel Proust delighted in both. The cackle of the puppeteers in their little wooden theater, the donkeys with their worn saddles and unworldly patience—all that is the same as it always was.
Lucky the teenager who can wear her mother's Saint Laurent tuxedo or her grandmother's Chanel suit. Parisians pursue novelty and more and more often let themselves be seduced by keen marketing and media hype. Every month, there sprouts a good handful of those new hangouts that are fun to try. Nouvelle Cuisine is old.  We have the fun of "fooding" in places with the latest "look" in design. But if you asked me which are the restaurants and cafés most frequented by the artists, writers, filmmakers, actors and people in various positions of power, all of whom define the culture — I'd have no trouble in giving you a quick answer. The brasserie Lipp, the upstairs room of the Café de Flore, the Select, Stresa, Taillevent, Laurent, and le Voltaire. They've all been hot for the better part of a century or more.
Paris is France's Hollywood. Yet the film world here goes about its life with far less fanfare than in Los Angeles. Catherine Deneuve shops in her neighborhood stores with no one pleading for autographs. The paparazzi cluster at the hotels where visiting American stars arrive. Hollywood en voyage has the exotic appeal of Hollywood for Parisians, but within the life of the city itself, where everyone considers himself an exception of one sort or another, the exceptional is assumed with great naturalness.
The writers go on writing at the Select, the producers do their deals over lunch at Fouquet's or drinks at the Hôtel Raphaël bar, and the actors, inhabit apartments in and around Montmartre's avenue Junot, with its rows of Art Déco and Belle Epoque townhouses.  No crowds are out there for autographs in that cozier counterpart of Beverly Hills.
Businessmen in Paris are getting more and more like Harvard MBA.'s, but when I try to think of a very Parisian homme d'affaires, Pierre Bergé, who embodied the money side of Yves Saint Laurent's career, comes immediately to mind. In the many years I've known him, I have never known Bergé to be at his desk before eleven in the morning.  Between then and his dinner on the town, he managed to run his business life, which, beyond fashion, came to include owning a theater, publishing a magazine, and revitalizing the production of caviar in the Gironde river, among other things.  Once, when Squibb, the pharmaceutical behemoth, bought his company, he was asked to turn in a two-year plan. His response was to buy Saint Laurent's way out of Squibb.
The city is full of anonymous souls who share the amateurish Parisian attitude. I think of Pilar Galindo, the concierge of the building I lived in before moving to the Left Bank.  Not content to just clean and deliver the mail, she distinguished herself by turning our courtyard into a Garden of Eden with practically no means. She grew avocado trees from pits and once took a discarded Christmas tree and brought it back from the dead.
Rare are the Parisian buildings that surpass six stories. Everywhere in Paris, the heavens crown your view.  "Paris is about reasonable beauty," Andrée Putman, the noted interior architect once reminded me. I remembered that reason is so dear to the French that when a mother scolds her child she says, "you are not raisonable". A tradition of proportion runs through the architecture of Paris. Baron Haussmann glorified that tradition, even as he tore up most of the medieval city to create a capital for the age of industry,
Every city has its share of rude people. But Paris is a city where it's hard to feel lonely. In my mind, I see eight in the morning in a Manhattan luncheonette, with rows and rows of booths where individuals sit expressionless behind the morning's New York Times. In a Paris café at that same hour, everyone is elbow to elbow at the bar, chattering as they dip their croissants into tiny cups of espresso. And there's elbowroom in the conversations for strangers.
Exploring Paris, you're bound to cross the Seine over and over. The river that is so much a part of the city is an ever-present implication of what Parisians have always understood: Everything keeps flowing. Nothing is eternal, but the ephemeral can be insignificant. Paris is gloriously perennial.
by G.Y. Dryansky (This article appeared in a longer form in Condé Nast Traveler)
Joanne and Gerry Dryansky's latest novel, Fatima's Good Fortune
, which was published in the States by Miramax Books, throughout Europe and in Asia, is a quirky, modern fairy tale with a keen take on Paris life.
To read Joanne and Gerry's earlier article for Bonjour Paris, please click here.
Please post your comments or questions and let them flow. Register HERE to do so if you need a free Bonjour Paris user name and password.
If you're coming to France (or for that matter anywhere) you can reserve your hotel here. To rent a car, Bonjour Paris recommends Auto Europe.