Aizpitarte and Me; A Short History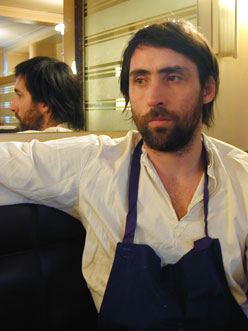 I've been meaning to write again about my experiences with Inaki Aizpitarte, not only because like the volcano, Eyjafjallajokull, his name is a tongue twister, but because he is one of the few chefs here with innovative ideas that often come off OK but sometimes do not. My initial meals that he probably had a hand in as sous-chef, were at Gilles Choukroun's Café des Delices on the Rue d'Assas, one of our favorite places in the late 1980's.  The cooking was Asian-influenced, used exotic ingredients and was inventive without becoming outre.  (Unfortunately, Choukroun wandered off the reservation at l'Angl'Opera, presenting items such as a ceviche of dorade with a side dish of a rhubarb sauce and another of a tempura of petits-pois, Saint Jacques a la vapeur, and Granny Smiths & a quirky catsup sauce served by waitresses in goofy jump suits, a goofy menu (veggies first, protein last) and goofy names for drinks (e.g., O'Bordeaux).  Fortunately, he's back to Café des Delices levels at his new place MBC – but back to Aizpitarte.) I was first aware of who he was at La Famille, a place not far from where I live, which was quirky when it opened in 2004 but intensely friendly.  I had dropped by when the paint was still wet and came to eat by myself almost as soon as it opened.  I liked it.  Later, I brought a very old and good friend and experienced home chef from Geneva and he expressed some fears that the cooking was pushing the envelope too far.  But I went back again alone and at this point I think was tagged as a "regular," meriting Aizpitarte's sending me various items to taste and tell him if I approved.  The one I most clearly recall was a large shrimp whose tail was burnt, the middle halfway cooked and the head raw.  I insisted Colette and our downstairs neighbors come and they thought I and Aizpitarte were crazy.  And I had to agree, the preparations were now over the top. The next Spring (2005) I ate at Le Refectoire, which Aizpitarte and the La Famille gang were rumored to have had an interest in (how much I never figured out) and while the reviewers were laudatory, its concept, the recreation of an old school cantine's atmosphere and cooking, was off-putting.  Anyway, here, I deserved what I got, knowing what I knew in advance. The day I went I had roast chicken with frites; the chicken was alright, but at double the price it is at the rotisserie on my street and the fries while thick and inviting looking were banal and tasteless.  To top it off, the chopped fruit dessert was about on a level with the breakfast compote on United Airlines they throw in front of you at 5 AM and the waitstaff were very nice, young, unprofessional, clueless but enthusiastic types who, one would know, in Greenwich Village, were your college roommate's grandkids. Just about a year later (we're now in December 2005) Aizpitarte opened Le Transvзrsal in the MAC-VAL (Musee d'art contemporain du Val-de-Marne), Dept. 94, way to hell and gone and he was definitely in charge of everything from the menu design to food preparation.  The food was deconstructed to the "nth" degree and the menu was a series of some 40 numbered ingredients/products grouped under veggies, soups, salads, cold-cuts, cooked meat, fish, cheese and desserts that one then constructed a meal from.  I'm exaggerating just a bit when I say that, for example, you had to order and take items 32, 31, 9 and 11 together – to arrive at two veggies, miso soup and cheese.  Two of us had the following: olives (which came with the apero/wine), dried tomatoes Lirgurian, three kinds of warm beets (very sweet, good sweet, not cloying), rillettes of rabbit (outstanding), scallops both raw and sautéed (great), wonderfully affinated comté cheese, fabulous cooked bananas and a "Mikado" (whatever that means) of chocolate with desserty bread sticks.  But they also had bizarrely named items, a pot a l'ectricité (whatever that means) = pot au feu and a plat d'exposition (linked to a show in the museum), which they were out of, called a Mono Lapin (whatever that means).  As we were leaving, one of the staff revealed that Aizpitarte would be leaving soon to revive Le Chateaubriand, without specifying if he'd remain involved at MAC-VAL. When I went to Le Chateaubriand in the Spring of 2006, I felt he had, for the most part, gone back to the basics, serving items such as a tabouli of red cabbage, herring over potatoes in oil or a terrine of pork and mains like a saddle of lamb and a brandade but also had frou-frou desserts like a banana milk-shake – so I felt that he was still capable of his old tricks.  And finally, the Chateaubriand 13 E lunch was truly a bargain. More recently, in 2007, the La Famille bunch, which as I said, Aizpitarte was once part of, opened Cheri bibi in Montmartre, and I had a so-called vichyssoise, which was not the cool, thin, chives-enhanced delight but lukewarm lumpy Gulag potato soup. For my main I tried a spicy beef stew with salad: the beef, once one got through the gristle and fat, was fabulous, the sauce incredible but the salad was too bio for me and could have used a good washing to get the sand out. So what's the bottom line here?  I think it is that some innovation keeps the tastebuds excited (vide Ledeuil), too much pushing the envelope is beyond precious (see Choukroun) but that Aizpitarte has the potential to be great not just cute but that the La Famille group does more damage than good with their back-to-the-future stuff. However, if you want to catch the surfer's wave before the New York Times and New Yorker, go to places like : Le P'tit Caillou 2 rue…
SUBSCRIBE
ALREADY SUBSCRIBED?
BECOME A BONJOUR PARIS MEMBER

Gain full access to our collection of over 5,000 articles and bring the City of Light into your life. Just 60 USD per year.

Find out why you should become a member here.

Sign in

Fill in your credentials below.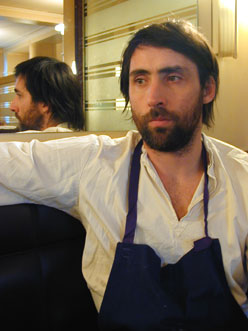 I've been meaning to write again about my experiences with Inaki Aizpitarte, not only because like the volcano, Eyjafjallajokull, his name is a tongue twister, but because he is one of the few chefs here with innovative ideas that often come off OK but sometimes do not.
My initial meals that he probably had a hand in as sous-chef, were at Gilles Choukroun's Café des Delices on the Rue d'Assas, one of our favorite places in the late 1980's.  The cooking was Asian-influenced, used exotic ingredients and was inventive without becoming outre.  (Unfortunately, Choukroun wandered off the reservation at l'Angl'Opera, presenting items such as a ceviche of dorade with a side dish of a rhubarb sauce and another of a tempura of petits-pois, Saint Jacques a la vapeur, and Granny Smiths & a quirky catsup sauce served by waitresses in goofy jump suits, a goofy menu (veggies first, protein last) and goofy names for drinks (e.g., O'Bordeaux).  Fortunately, he's back to Café des Delices levels at his new place MBC – but back to Aizpitarte.)
I was first aware of who he was at La Famille, a place not far from where I live, which was quirky when it opened in 2004 but intensely friendly.  I had dropped by when the paint was still wet and came to eat by myself almost as soon as it opened.  I liked it.  Later, I brought a very old and good friend and experienced home chef from Geneva and he expressed some fears that the cooking was pushing the envelope too far.  But I went back again alone and at this point I think was tagged as a "regular," meriting Aizpitarte's sending me various items to taste and tell him if I approved.  The one I most clearly recall was a large shrimp whose tail was burnt, the middle halfway cooked and the head raw.  I insisted Colette and our downstairs neighbors come and they thought I and Aizpitarte were crazy.  And I had to agree, the preparations were now over the top.
The next Spring (2005) I ate at Le Refectoire, which Aizpitarte and the La Famille gang were rumored to have had an interest in (how much I never figured out) and while the reviewers were laudatory, its concept, the recreation of an old school cantine's atmosphere and cooking, was off-putting.  Anyway, here, I deserved what I got, knowing what I knew in advance. The day I went I had roast chicken with frites; the chicken was alright, but at double the price it is at the rotisserie on my street and the fries while thick and inviting looking were banal and tasteless.  To top it off, the chopped fruit dessert was about on a level with the breakfast compote on United Airlines they throw in front of you at 5 AM and the waitstaff were very nice, young, unprofessional, clueless but enthusiastic types who, one would know, in Greenwich Village, were your college roommate's grandkids.
Just about a year later (we're now in December 2005) Aizpitarte opened Le Transvзrsal in the MAC-VAL (Musee d'art contemporain du Val-de-Marne), Dept. 94, way to hell and gone and he was definitely in charge of everything from the menu design to food preparation.  The food was deconstructed to the "nth" degree and the menu was a series of some 40 numbered ingredients/products grouped under veggies, soups, salads, cold-cuts, cooked meat, fish, cheese and desserts that one then constructed a meal from.  I'm exaggerating just a bit when I say that, for example, you had to order and take items 32, 31, 9 and 11 together – to arrive at two veggies, miso soup and cheese.  Two of us had the following: olives (which came with the apero/wine), dried tomatoes Lirgurian, three kinds of warm beets (very sweet, good sweet, not cloying), rillettes of rabbit (outstanding), scallops both raw and sautéed (great), wonderfully affinated comté cheese, fabulous cooked bananas and a "Mikado" (whatever that means) of chocolate with desserty bread sticks.  But they also had bizarrely named items, a pot a l'ectricité (whatever that means) = pot au feu and a plat d'exposition (linked to a show in the museum), which they were out of, called a Mono Lapin (whatever that means).  As we were leaving, one of the staff revealed that Aizpitarte would be leaving soon to revive Le Chateaubriand, without specifying if he'd remain involved at MAC-VAL.
When I went to Le Chateaubriand in the Spring of 2006, I felt he had, for the most part, gone back to the basics, serving items such as a tabouli of red cabbage, herring over potatoes in oil or a terrine of pork and mains like a saddle of lamb and a brandade but also had frou-frou desserts like a banana milk-shake – so I felt that he was still capable of his old tricks.  And finally, the Chateaubriand 13 E lunch was truly a bargain.
More recently, in 2007, the La Famille bunch, which as I said, Aizpitarte was once part of, opened Cheri bibi in Montmartre, and I had a so-called vichyssoise, which was not the cool, thin, chives-enhanced delight but lukewarm lumpy Gulag potato soup. For my main I tried a spicy beef stew with salad: the beef, once one got through the gristle and fat, was fabulous, the sauce incredible but the salad was too bio for me and could have used a good washing to get the sand out.
So what's the bottom line here?  I think it is that some innovation keeps the tastebuds excited (vide Ledeuil), too much pushing the envelope is beyond precious (see Choukroun) but that Aizpitarte has the potential to be great not just cute but that the La Famille group does more damage than good with their back-to-the-future stuff.
However, if you want to catch the surfer's wave before the New York Times and New Yorker, go to places like :
Le P'tit Caillou
2 rue Maleville in the 8th (Metro: Miromesnil)
T: 01.45.63.20.87
Closed weekends and Monday nights
Lunch formulas at 22 and 25, a la carte 41-51 €.
Chez Grenouille
52, rue Blanche in the 9th (Metro: Trinite)
T: 01.42.81.34.07
Closed Saturday lunch and Sundays
Lunch menus at 15 and 25 and a 40 E carte but they're cool about mix & matching
© John Talbott 2010
City Segway Tours are great for seeing Paris in a different light. You'll see more, have more fun, and not feel tired at the end of it. These are highly recommended and truly a great thing to do during your stay.
Please post your comments or questions and let them flow. Register HERE to do so if you need a Bonjour Paris user name and password.
More in Bonjour Paris, Food Wine, John Talbott Paris, Paris, Paris bistros, Paris cafes, Paris restaurants, Restaurant reviews
---
---