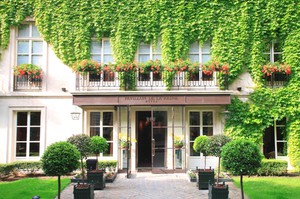 In the early 19th century, this luxury hotel served as private apartments. In its earliest incarnation this was the site of a stunning arcade which King Henri IV (Henri le Grand) built in homage to his wife Margaret.
Romanticism is courted by General Manager Tim Goddard who has been at the hotel for 18 years and oversaw its multi million Euro renovation. "We wanted to have a poetry-like feeling here of a different world, quiet and peaceful, an intimacy, as if time can stop." Time stopped for me when I entered my suite, La suite de la Reine, a sanctum of spacious rooms, high ceilings and fabrics that recalled the 17th century.  At the headboard was a huge lithography (a fac similé) in the handwriting of Arthur Rimbaud from his work Une Saison en enfer. In the suite's massive living room under a black ceramic Italian chandelier is Pierre Ambroise Choderlos de Laclos' handwritten segment from Les Liaisons Dangereuses.  It is hardly an irony that John Malkovich favors this suite on his visits to the city. The hotel has a prized guest book with comments from notables like Jane Fonda (who wrote in French), Jean Paul Gaultier and Jeremy Irons who scribbled:"What? Write in a book/Where gentleman look/And ladies spy/Not I, not I!"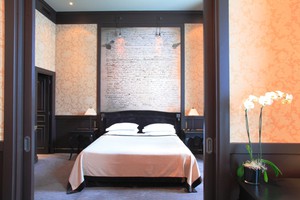 But you don't have to be rich and famous or chose a suite to feel like a Queen or King during your stay. Each room is different in its elegance, owing to Didier Benderli's (Kérylos Intérieurs) choice of fabrics and colors: white linens from Thorp of London, velvet copper-colored gaufré from Dedar mixed in with contemporary velvet armchairs.  Benderli told me, "The general spirit was to preserve the style of the 'square of Vosges' while leading  towards  modernity. We wanted to keep to the notion of this being a particular house not a hotel." The newly created spa is, to the inch, modern in pure white, accented with pots of white orchids and a trickling fountain. (Treat yourself to a facial after you take a sauna or hammam).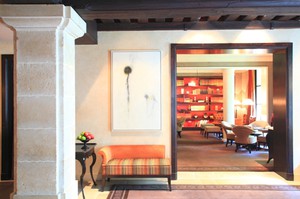 Place des Vosges is the oldest square in Paris in the heart of the Marais; in fact it is the oldest quartier in Paris. A neighborhood unto itself, it is suspended in time  yet keeps pace with time. Sounds like a contradiction? Start walking! Under the stone arches, you will pass the former residences of Mme de Sevigné who was born here, Victor Hugo who lived at #6, Théophile Gautier and Alphonse Daudet  who resided at #8 and at #21, the home of Cardinal Richelieu during the 17th century. Pop into the Galerie Lisette Alibert next to the hotel for whimsical sculpture and painting. The spaciously dramatic  Emmanuel Perrotin on nearby rue de Turenne has been compared to the Guggenheim in New York. Mount  its fantastic sweep of a double staircase (a la Gloria Swanson) and enter vast white rooms of  photographs, sculpture, exhibits of fabric and lighting art.
On mange bien ici, You will eat well, as they say. The hotel has very reasonably priced room service which you can also enjoy in the library, a room with a red wall, original stones and  a view of the formal courtyard's white stones and boxed linden trees.  I met a friend there for an early dinner. I ordered an omelet  (7 euros) so large I could not finish it and a glass of wine (an 'honor system' evening bar). For a gastronomical dinner, Johnathan, the in-the-know English concierge,  recommends Le Carre. For something more traditional he suggests Ambroisie, a long-standing multi star eatery.  Or take a side street as I did and discover the cozy GLOU, with its red brick walls and industrial lamps.
In the guest book, as a memento of his stay Christian Lacroix drew a queen in an elaborate 17th century gown. Today, you can wear jeans to Pavillon de la Reine. They will lend you the crown.
Pavillon de la Reine
8 Place des Vosges, 75003 Paris
Telephone:  + 33 (0)1 40 29 19 19
How to Get There
Metro St Paul or Bastille or Chemin Vert
Bus #96 or 29
Car Service can be arranged.
Things to Do:
Make time to sit in the Place des Vosges and soak up its life.  The square's architecture which is some of the most amazing in the world. You can read a brief summary of its history here.
Emmanuel Perrotin Galerie. 76 rue de Turenne,
Galerie Lisette Alibert, 26 Place des Vosges
Cafe des Musees, 49 rue de Turenne 01 42 72 96 17
GLOU 101, rue Vieille du Temple 01 42 74 44 32
Le Carré des Vosges, 15 rue St Gilles 01 42 71 22 21
Josephine Vannier Chocolates, 4 rue de Pas de Mule
Victor Hugo Museum, #6 Place des Vosges
Dammann Frères Tea Room, 15 Place des Vosges
Jacques Jenin Patisserie, 133 rue de Turenne
Musee Carnavalet, 23 Rue de Sévigné
If you're a shopper, some of Paris's most trendy boutiques are in the area. It doesn't take much wandering to find something you can't live without
Ma Bourgogne at 19 Place des Vosges is a neighborhood hangout that's a traditon and filled with regulars. Don't go there if you're looking for great food.  It's known for having some snarky waiters and is only accepting cash. But don't be surprised if you spot Jacques Lang (a member of l'Assemblée nationale) strolling by since he lives only a few doors away.
If you're intrigued by the neighborhood (and who isn't) and the elegant Pavillon de la Reine (palace) isn't in your price range, you might consider staying in one of these hotels:
Hotel Turenne Le Marais
Hotel Caron
Villa Mazarin

Subscribe for
FREE

weekly newsletters.
BonjourParis has been a leading France travel and French lifestyle site since 1995.