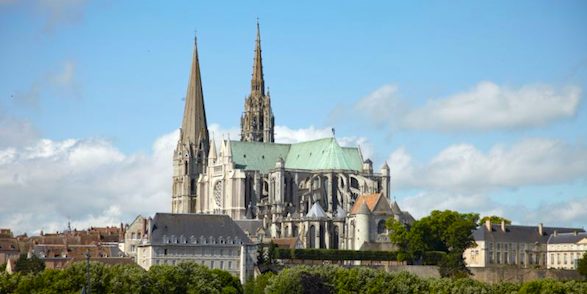 Parisphiles and first-time visitors understandably find it impossibly difficult to leave Paris, which is why it often takes a couple of return visits for some to venture beyond city borders. We know how it is, been there, done that, as they say. But if you can tear yourself away for just a day spent in the nearby picturesque town of Chartres, you won't soon forget your visit.
One caveat: like many touristic French small towns, many shops are closed on Mondays because they're open all weekend. The Cathedral will be open, but dining and shopping choices will be reduced.
If you like outdoor markets, go very early on a Wednesday or Saturday for the Chartres market on place Billard (it's open until 1pm or so).
The main draw is the Cathédrale Notre Dame de Chartres, one of the leading tourist sites in the Ile-de-France region and beyond. It contains an array of architectural, cultural and religious treasures and the stained glass is some of the most significant in the world. Don't forget your camera with a good zoom lens; the Cathedral gift shop rents binoculars, which you'll need to see the glass finer details.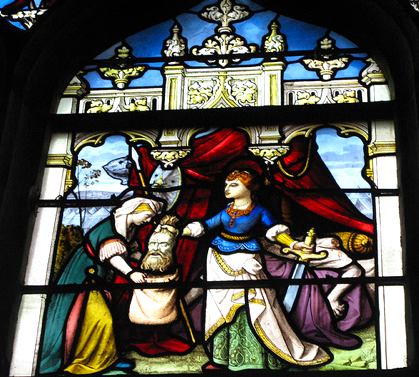 Arrive by 11:15 or so and stop by the Cathedral gift shop at the North Tower to see if Malcom Miller is giving a his 12pm and 2:45pm tours on this day. He will do so if a small group of 8 or so assemble and pay a fee of €10 per person (2011 rate). Miller is a legendary character (with no website—see contact info below) and he is undisputably the world's foremost authority on the Cathedral. He has given tours here for over 50 years and he knows every inch of the entire facility. For your first visit, it's highly recommended to take at least one of his tours (the two daily tours vary).
The Cathedral draws many visitors who study its 176 stunning stained glass windows, including the 13th century famed Blue Rose Window positioned between the two towers that rise majestically over the main entrance (and the charming town). Be sure to look for the famous "Chartres Blue" within these windows—a luminous color that has advanced the holy site's international renown.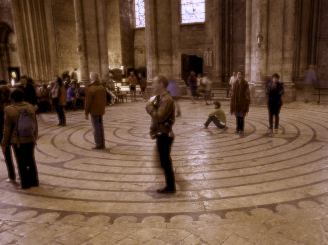 Among the other highlights of the 12th/13th century masterpiece is the interior stone floor with its labyrinth, known as the Chemin de Jérusalem (Road of Jerusalem), which you may walk with others on Fridays. On weekdays the church chairs cover the labyrinth—but don't let that deter you from going if that's when your travel schedule permits a visit. Outside is a garden version that can offer the same quiet moments if the crowds are small. The labyrinth is a symbolic passage believers feel is a path leading to God and it draws pilgrims from around the world. This mesmerizing, winding path distinguishes Chartres from the many other fine cathedrals in France and Europe. No matter your spiritual beliefs, walking the labyrinth offers travelers an opportunity for quiet contemplation.
Other must-see elements of the Cathedral include a 2nd century baptismal font, the Well of Strong Saints (of Gallo-Roman origin), many 11th and 12th century frescoes, a meridian nail in the north portal that the sun hits directly at noon on June 21st plus numerous sculptures outside and on the exterior of the cathedral.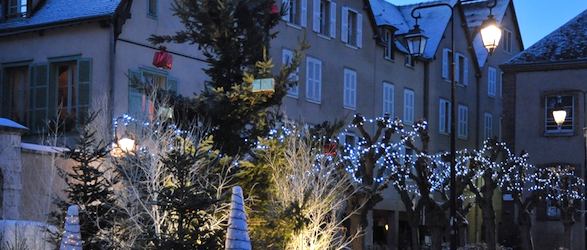 Chartres is particularly charming in the winter holy season, when the Cathedral and square before it are decorated with holiday lights. Try to catch the holiday market if you can for some nice gifts made by local food and craft artisans.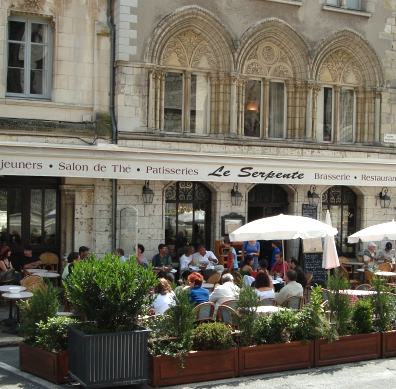 After your Cathedral visit, there are many local boutiques and restaurants worth your time. Two nearby restaurants to consider are Le Serpente or Le Parvis, excellent restaurants located across from the Cathedral. Both would be considered budget restaurants in comparison to dining in Paris with lunch combination plates priced in the €15-20 range.
PRACTICAL INFORMATION:
Rail travel from Paris: Start at Gare Montparnasse, direction: Chartres. 10 minute walk from station to Cathedral.
Rail fare in 2011: 22.70 euros round-trip; takes up to 75 minutes each way.
To reach Malcom Miller to arrange a private tour:
Tél: 02 3728 1558
Email: [email protected]
Cathedral Notre-Dame of Chartres (Cathédrale Notre-Dame de Chartres)
Tél:  02 3718 2626
Cloitre Notre Dam, 28000 Chartres
Open: Daily 8:30am-7:30pm
Mass schedule: Mon-Fri 11:45am & 6:15pm. Sat: 11:45am & 6pm. Sun: 9:15am Gregorian Mass, 11am, 6pm in Crypt
The North Tower:
September–April, Mon-Sat: 9:30am-12pm and 2-4:30pm. Sundays: 2-4:30pm only.
May-August: Mon-Sat: 9:30a-12pm and 2-5:30pm. Sundays: 2-5:30pm only.
Entry: €7 fee to climb 300 steps to top of the North Tower; under 18 free. Free for all first Sunday of every month.
Photo credits: some photos courtesy of Chartres Tourism Office.
Dali Wiederhoft is the executive editor of BonjourParis and Chartres is one of her favorite Paris getaways. Please click on her name to read more about her and her stories published here.
Would you like to submit a story or request a story topic? Your stories & ideas welcome.
NEW: exclusive content for subscribers in every newsletter. Subscribe for free.
Save an additional 5% on Auto Europe car rentals:

Auto Europe is your best choice for car rentals in France and Europe. Most competitive rates, no drop fees.
Bookmark & use our link for a 5% code discount here:  Auto Europe Car Rental
Don't overlook Auto Europe for international flights, click Auto Europe Flights