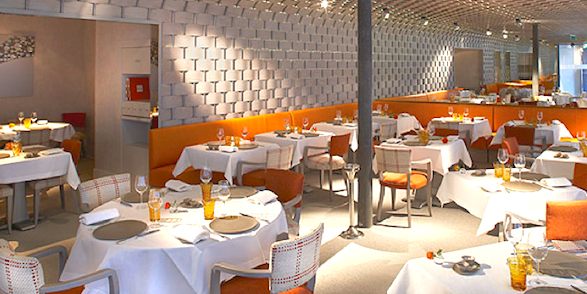 Les Tablettes de Jean-Louis Nomicos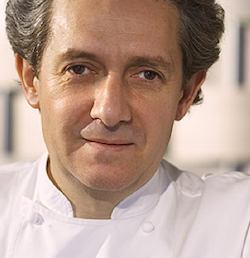 There's a buzz around avenue Bugeaud, just off Place Victor Hugo, where Chef Jean-Louis Nomicos just opened Les Tablettes. He came from Lasserre (Christophe Moret's taken over now) and follows Joel Robuchon, now aux Champs Elysées, at Le Drugstore.
The aura's silver. Anne-Cecile Comar has created a sleek metallic cocoon; mirrors at each end give depth. The tables are spaced, but there's plenty of table hopping—New York City comes to the 16th arrondissement. Nomicos, who lives in the Auteuil district of the 16th, says he loves this part of Paris, but agrees that every district has something to offer. For Nomicos, Tablettes is a dream come true.
"I could have stayed at Lasserre forever, but all chefs dream of seeing their name over the door of their own restaurant," he says.
He explains that since he was 18 he's worked for others. Not just any others: Alain Ducasse was his first boss at Le Juana, Juan Les Pins.
"From him I learned my way around the kitchens, the history of cooking, reflexes, the essentials, the marketing," he explains.
Nomicos stayed close to Ducasse for ten years, travelling in Asia when he was developing his restaurants and reputation in the East. Nomicos was just 27 when Ducasse suggested him for the prestigious post of executive chef at La Grande Cascade, Bois de Boulogne (Frédéric Robert is there now). Lasserre followed, but Marseilles-born Nomicos decided to continue his journey.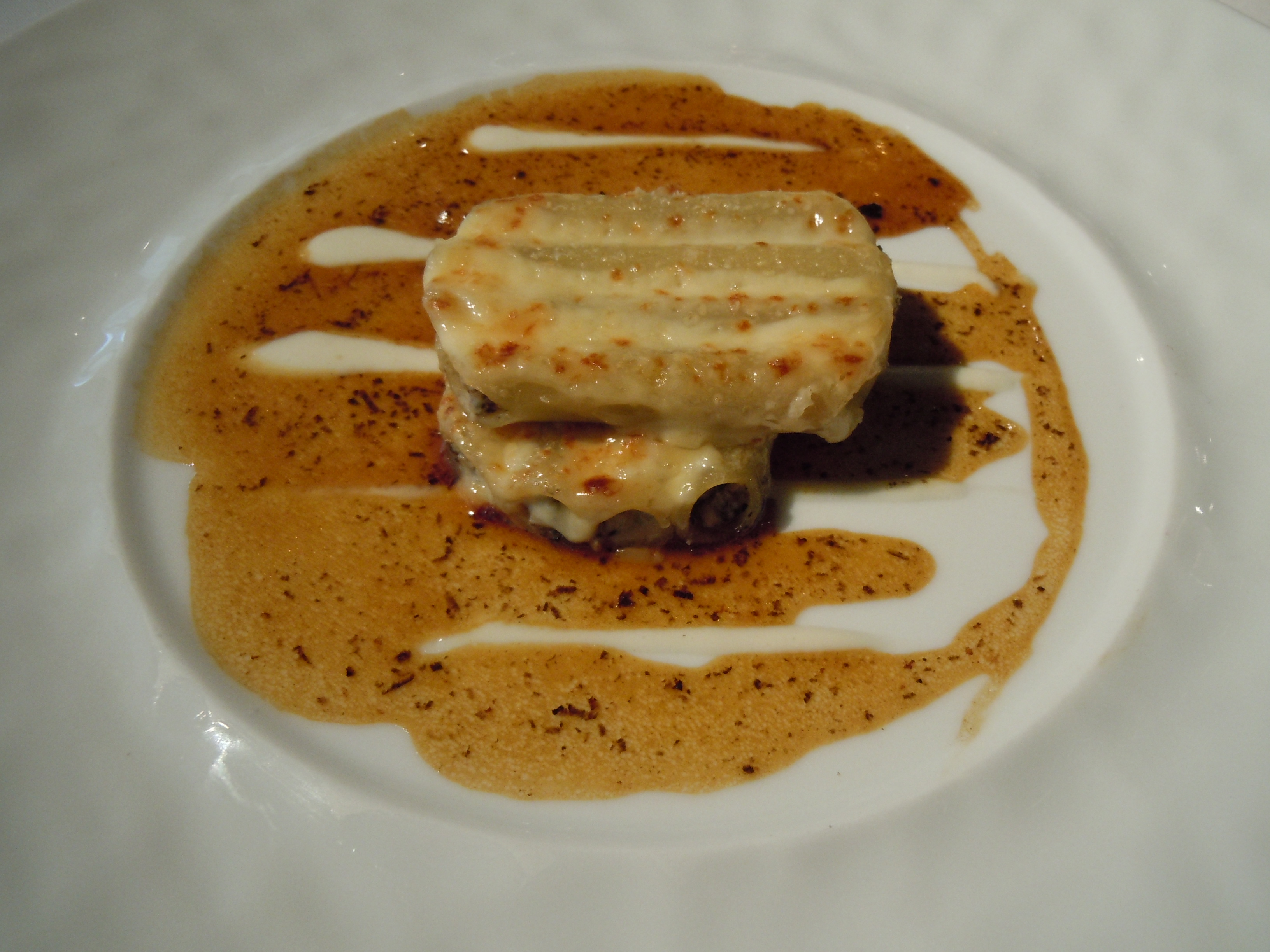 Tablettes' menu is presented in an envelope, like a love letter to clients. They'll know he loves them when they read it and they're all breathing a sigh of relief that his signature Macaroni aux truffes noires et foie gras features. The macaroni's cooked in milk, stuffed with a brunoise of celery, foie gras and truffles, drizzled with beef stock, then topped with more truffles.
"It's a 21st-century spin on a recipe by Escoffier," smiles Nomicos. 
Choose from 4 starters, and look forward to the smooth freebie royale de foie gras, émulsion de pomme de terre and warm fresh bread to scoop the last drizzles from the glass pot.
Then, at lunch last week: Velouté d'artichauts, encornets et foie gras; Foie Gras Confit, rissoles de fruits secs; Oeuf poché, purée de topinambours en vinaigrette truffée; Bar mariné au sel d'anis vert. Four mains: Noix de Saint-Jacques au beurre de truffe; Dos de cabillaud poêlé, purée de courge muscade au suc de persil; Rognon de veau à la plancha, girolles au jus; inspired by the South of France, Cailles aux olives noires et piquillos. Cheese is by Claire Donnadieu and desserts include a light and lovely Paris-Brest, glace caramel and Cremeux chocolat-café, spéculoos, glace crème brûlée.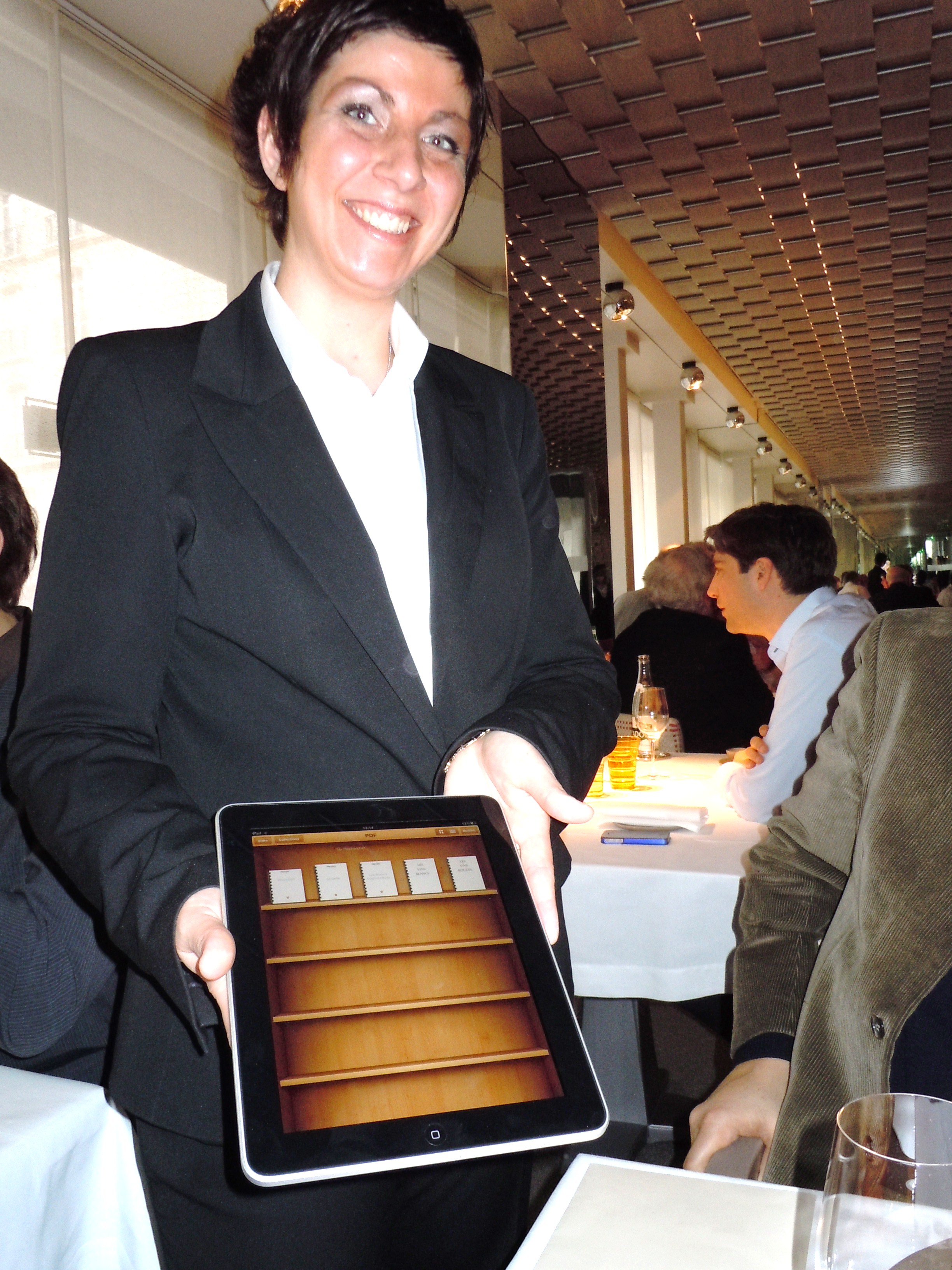 The wine list and details of Nomicos' dishes and how he cooks them are featured on an iPad, but you don't get to take that home.
Nomicos is a great technician with a light and lovely touch. The ballet of the salle is conducted by young staff, headed by sommelier Franck Hassid (ex-La Bigarrade) and Madame Nomicos. The menu-club is a terrific introduction to a fabulous maison: Nomicos' Marseilles roots will be reflected in his spring/summer menus with the aromas of bouillabaisse (his grandmother's recipe) and fennel coming from his state-of-the-art kitchen.
"We're open every day; from experience I could never find great restaurants open in Paris on weekends."
See you there.
Les Tablettes de Jean-Louis Nomicos
16 avenue Bugeaud, Paris 16th
Métro: Victor Hugo
Tél: 01 56 28 16 16
Open 7/7 Lunch & Dinner
Valet Parking
Lunch 58€ including wine
Dinner Discovery Menu 80€ with wine
Tasting Menu: 120€
Menu Prestige 150€
À la semaine prochaine!
This story is a 2011 Readers' Favorite.

Margaret Kemp is a Cordon Bleu graduate who spent a year traveling the world, working and watching in the kitchens of top chefs from Sydney, Australia via Bangkok, Hong Kong, California, New York and France. Her Sunday columns for BonjourParis premium members include the latest European trends, interviews with internationally acclaimed top chefs, and reviews of restaurants, hotels and hot spots. Please click on her name to see her weekly stories dating back to 2003 . . . et merci, Margaret.
Merci

, les abonnés

premium

,

nous vous apprécions

.

Subscribe for
FREE

weekly newsletters with subscriber-only content.
BonjourParis has been a leading France travel and French lifestyle site since 1995.
Readers' Favorites: Top 100 Books, imports & more at our Amazon store
Check out the brand new Kindle Fire, a traveler's best companion
Thank you for using our link to Amazon.com…your purchases support our free site.