Les Climats: Buddha-Bar Hotel: News From Zagat & Festival De La Gastronomie Provencale
Les Climats, Launched in April by Carole Colin and Denis Jamet (who also own Chez Monsieur near
The Madeleine
) with chef Phan Chi Tam (ex-Ritz, Mandarin Oriental with Thierry Marx, Kiku etc.) at the pianos, it's set for success. Read, chic whimsical décor by Bambi Sloane (Saint James, Paris among others). This building, with amazing volumes and secluded garden was once home to singletons who worked for the Post Office. Add exciting cuisine from the Vietnamese born chef who definitely has a unique signature. He sends out 5 entrées: 5 mains and 5 desserts which change monthly. Opera de foie gras, gènoise au pain d'epices, gelée de Mâcon Héritage Cuvée Botrytisées a perfect example of Phan Chi Tam's neo-Burgundy/Franco/Japanese style cuisine. Drink Puligny-Montrachet Village from Benjamin Leroux 2010 (glass 15€:bottle 76€) with citrus and oak notes, also good with Langoustine rôties, ravioles de navet, bouillon de verveine-citron. Mains include a picture-perfect plate of organic steamed vegetables for the ladies who do. Onglet de boeuf franҫais, gnocchi maison, jus de boeuf à la truffe d'ete, for Ashton, with a glass of Ladoix 1er cru Clou d'Orge – Chevalier Père & Fils 2009 10€. And, wild Scottish salmon à l'unilateral, sweet potato purée, froth of orange and yuzu. Simply divine. Cheese from Androuet, do try the "cloud", not hot, not cold, of fragrantly spiced Epoisse cheese, before  Sablé à la rhubarbe confite, fresh raspberries and home made vanilla ice-cream. The owners are Burgundy-o-philes who will make of this address a reference for the region. From 167 vignerons (winemakers) they have 580 references: 2,220 reds in the cave du jour and 580 whites. In the main cellar there are 8,500 bottles priced from 15-5388€. That's passion! The handsome Art-Nouveau listed building was once La Maison des Dames PTT circa 1905, Wonder what the dames would make of the transformation to The House of the Women of Telegraphs and Telephones? Certainly they'd be impressed by the elegance of Bambi Sloane's William Morris meets Sarah Bernhardt décor, the warm welcome: the outsize warm gougères with aperitifs, exquisite food and beautiful Burgundies. "What's not to like", they'd say in unison. Coming soon "Les Climats" the musical! 41 rue de Lille, 7th M: Solferino T: 01 58 62 10 08 Lunch 36-45€ A La Carte average spend: 64€ Open 7/7 lunch & dinner Garden (lunch only) Valet parking at night
Website
Get a Room: Following Prague and Budapest, George V Eatertainment, launch Buddha-Bar Hotel Paris. It's located in a magnificent Hotel Particulier, dated 1734, once owned by Augustin Blondel de Gagny, General Treasurer and Intendant in charge of royal entertainment for King Louis XV. "It combines classic French architecture with the signature neo-Asian Buddha-Bar Hotel décor." explains General Manager Loic Le Berre. The aura throughout the public spaces and 56 rooms and suites is sexy and unique, rich interior design showcases  Asian objects, Portuguese mosaics and elegant furniture covered in ethnic fabrics garnered world-wide. Le Vraymonde restaurant, asked chef Rogui Dia (ex-Petrossian) to create a menu for the 85- seater salle with dramatic gold, red/orange tones, a stunning play with mirrors and paved courtyard garden. "It's a cuisine showcasing travel, emotion and pleasure", says Ms Dia. "For Buddha-Bar I envisage a culinary invitation to exotic lands, a myriad of flavours and Oriental spices combined with western influences", explains the chef. Rogui's "Menu Snacking" (with DJ at night bien sur) is served in Bar Le Quatre with the unique electro-lounge style Buddha brand musical ambiance. Try Tokyo Cupcake apero by head mixologist Rémy Rodriguez: vodka 100% bio de chez Sevessence: fleur de sureau Saint-Germain: freshly pressed lemon: sirop d'orgeat:a touch of whipped egg white, a drizzle of Badoit, topped with rose petals, a few pomegranate seeds. Yum! Buddha-Bar's are more or less worldwide: London, Beirut, Dubai, St. Petersburg and Kiev, as well as Cairo, Mexico City, Monte Carlo and Manila. Hotels are in Prague, Budapest, and now, Paris. There are spas in Evian-Les-Bains, Doha, Dakar, Budapest and Dubai and a tiny B/Attitude space in Paris. "Buddha-Bar Hotel Paris is watched over by the signature dragon that embodies the spirit of the hotel. Our concept for guests is a journey within a journey", adds Monsieur Le Berre. Buddha-Bar Hotel, Paris, Spa b/attitude 4 rue d'Anjou, 8th T:01 83 96 88 88 Le Vraymonde open 7/7 Breakfast/Lunch/Dinner M: Concorde
Website
SUBSCRIBE
ALREADY SUBSCRIBED?
BECOME A BONJOUR PARIS MEMBER

Gain full access to our collection of over 5,000 articles and bring the City of Light into your life. Just 60 USD per year.

Find out why you should become a member here.

Sign in

Fill in your credentials below.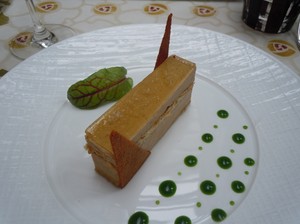 Les Climats,
Launched in April by Carole Colin and Denis Jamet (who also own Chez Monsieur near The Madeleine) with chef Phan Chi Tam (ex-Ritz, Mandarin Oriental with Thierry Marx, Kiku etc.) at the pianos, it's set for success.
Read, chic whimsical décor by Bambi Sloane (Saint James, Paris among others). This building, with amazing volumes and secluded garden was once home to singletons who worked for the Post Office.
Add exciting cuisine from the Vietnamese born chef who definitely has a unique signature. He sends out 5 entrées: 5 mains and 5 desserts which change monthly. Opera de foie gras, gènoise au pain d'epices, gelée de Mâcon Héritage Cuvée Botrytisées a perfect example of Phan Chi Tam's neo-Burgundy/Franco/Japanese style cuisine. Drink Puligny-Montrachet Village from Benjamin Leroux 2010 (glass 15€:bottle 76€) with citrus and oak notes, also good with Langoustine rôties, ravioles de navet, bouillon de verveine-citron.
Mains include a picture-perfect plate of organic steamed vegetables for the ladies who do. Onglet de boeuf franҫais, gnocchi maison, jus de boeuf à la truffe d'ete, for Ashton, with a glass of Ladoix 1er cru Clou d'Orge – Chevalier Père & Fils 2009 10€. And, wild Scottish salmon à l'unilateral, sweet potato purée, froth of orange and yuzu. Simply divine.
Cheese from Androuet, do try the "cloud", not hot, not cold, of fragrantly spiced Epoisse cheese, before  Sablé à la rhubarbe confite, fresh raspberries and home made vanilla ice-cream.
The owners are Burgundy-o-philes who will make of this address a reference for the region. From 167 vignerons (winemakers) they have 580 references: 2,220 reds in the cave du jour and 580 whites. In the main cellar there are 8,500 bottles priced from 15-5388€. That's passion!
The handsome Art-Nouveau listed building was once La Maison des Dames PTT circa 1905, Wonder what the dames would make of the transformation to The House of the Women of Telegraphs and Telephones? Certainly they'd be impressed by the elegance of Bambi Sloane's William Morris meets Sarah Bernhardt décor, the warm welcome: the outsize warm gougères with aperitifs, exquisite food and beautiful Burgundies. "What's not to like", they'd say in unison. Coming soon "Les Climats" the musical!
41 rue de Lille, 7th
M: Solferino
T: 01 58 62 10 08
Lunch 36-45€
A La Carte average spend: 64€
Open 7/7 lunch & dinner
Garden (lunch only)
Valet parking at night
Website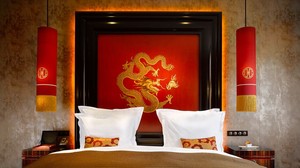 Get a Room:
Following Prague and Budapest, George V Eatertainment, launch Buddha-Bar Hotel Paris. It's located in a magnificent Hotel Particulier, dated 1734, once owned by Augustin Blondel de Gagny, General Treasurer and Intendant in charge of royal entertainment for King Louis XV. "It combines classic French architecture with the signature neo-Asian Buddha-Bar Hotel décor." explains General Manager Loic Le Berre.
The aura throughout the public spaces and 56 rooms and suites is sexy and unique, rich interior design showcases  Asian objects, Portuguese mosaics and elegant furniture covered in ethnic fabrics garnered world-wide.
Le Vraymonde restaurant, asked chef Rogui Dia (ex-Petrossian) to create a menu for the 85- seater salle with dramatic gold, red/orange tones, a stunning play with mirrors and paved courtyard garden. "It's a cuisine showcasing travel, emotion and pleasure", says Ms Dia. "For Buddha-Bar I envisage a culinary invitation to exotic lands, a myriad of flavours and Oriental spices combined with western influences", explains the chef.
Rogui's "Menu Snacking" (with DJ at night bien sur) is served in Bar Le Quatre with the unique electro-lounge style Buddha brand musical ambiance. Try Tokyo Cupcake apero by head mixologist Rémy Rodriguez: vodka 100% bio de chez Sevessence: fleur de sureau Saint-Germain: freshly pressed lemon: sirop d'orgeat:a touch of whipped egg white, a drizzle of Badoit, topped with rose petals, a few pomegranate seeds. Yum!
Buddha-Bar's are more or less worldwide: London, Beirut, Dubai, St. Petersburg and Kiev, as well as Cairo, Mexico City, Monte Carlo and Manila. Hotels are in Prague, Budapest, and now, Paris. There are spas in Evian-Les-Bains, Doha, Dakar, Budapest and Dubai and a tiny B/Attitude space in Paris.
"Buddha-Bar Hotel Paris is watched over by the signature dragon that embodies the spirit of the hotel. Our concept for guests is a journey within a journey", adds Monsieur Le Berre.
Buddha-Bar Hotel, Paris,
Spa b/attitude
4 rue d'Anjou, 8th
T:01 83 96 88 88
Le Vraymonde open 7/7
Breakfast/Lunch/Dinner
M: Concorde
Website
More in Buddha Bar Hotel, festival gastronomie, Les Climats, Paris hotels, Paris restaurants, zagat
---
---