Top 10 Tips for Planning Your Next Trip to Paris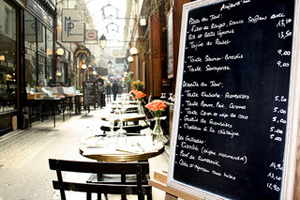 1. Check your passport Make sure your passport is valid until at least 6 months after you arrive in France.  Persons with passports expiring within 6 months of the date of arrival in a foreign country can be denied entry to that country.  Better to be on the safe side!  Make a copy of your passport, and leave it at home with someone you can contact, and put it in a different piece of your luggage than your original passport. 2. What to Pack It can rain a fair amount in Paris, even in the summer, so bring a raincoat or umbrella. Otherwise, pack as you would for a major American city: formal clothes for formal restaurants and nightclubs, casual clothes elsewhere.  Bring at least one dressy outfit for a special dinner or evening out.  Jeans are perfectly acceptable for sightseeing and informal dining. Your best bet for looking like a chic Parisian is to pack a lot of black or other neutral colored clothing.  The French are pros when it comes to making few clothes go far, and accessorize their outfits with such aplomb that most Americans cannot believe their talent. Scarves and shawls are always in – chunky necklaces and earrings will also dress up your outfit.  For men, a black or dark colored jacket dresses up any look.  It's best to pack light and plan on wearing the same clothes several times instead of having a fresh outfit for each day. 3. Transportation to your Hotel There are different options for getting in and out of the airports — bus, shuttle, bus/train combinations, taxis. Taxis are by far the easiest. There are shuttle services that are a convenient and less expensive alternative. The bus/train combinations are the most complicated, often with several transfers involved. It can be especially hard to deal with this if you have large, heavy bags.  If this is your first time in Paris, I strongly suggest you take a taxi. 4. Getting Around Paris is relatively small as capital cities go, and most of its prize monuments and museums are within easy walking distance of one another. Walking lets you participate in the French national sport of people watching and gives you an appetite (and an excuse) for that next memorable meal or decadent pastry! Be sure to bring a good map with you – they are available for free at the reception desk at most hotels. Taxis stands are generally located outside major hotels, streets corners, outside railway stations or official buildings and at airport terminals. Taxis are supposed to take no more than three passengers (although some drivers have been known to succumb to a smile and/or a small tip), and have limited space for luggage (European cars!). Tip is 10-20%. 5. Money Matters To avoid lines at airport exchange booths, change some money into Euros before you leave home – once in France, you can use your ATM card in most French ATMs (automated-teller machine).   Almost all shops accept credit cards, especially VISA and MasterCard.  American Express is less widely accepted. Most cards have a maximum cash withdrawal limit – check with your bank before departure. If you are a big spender, you might want to have more than one credit card with a PIN (personal identification number).  ATM's are everywhere you look in Paris. Any town in France with a population of more than 500 will be certain to have at least one ATM. 6. Understanding French Eateries Cafe: Cafes are primarily places to have hot or cold drinks, continental breakfast or snacks and sandwiches, and often lunch specials.  Cafes are great for a quick lunch – try a "sandwich mixte" (ham and cheese) or a "salade composee" (mixed salad – often includes meat and/or cheese in a wonderful vinaigrette dressing).  The full menu is usually available all day long. Salon de The: These are tearooms that are usually attached to a pastry shop. They are generally open from about 10am-6pm and serve beverages and pastries or small savories only. Bistro: This is a smaller, often family-run establishment, usually with paper tablecloths and simple decor. Dishes are generally traditional and home-style, although trendier bistro food is now becoming popular (and can be very good). Wine may be served by the carafe. At some bistros, diners may share longer tables. Brasserie: The French word means brewery, and beer is usually a large part of the offerings as well as Alsatian wines and choucroute, French sauerkraut with sausages and ham.  There is also often a nice selection of fresh seafood. They tend to be large, open and brightly lit, and are great for larger groups. Brasseries usually keep late hours, and snacks or full meals are generally available while it is open. Restaurants: Restaurants are available in France for all sorts of cuisine and all price ranges. Their operating hours are usually more limited than brasseries or cafes during traditional meal times (lunch approximately 12noon-2pm and dinner approximately 7:30pm-11pm) and are usually closed between the two meal services. 7. Tipping Many restaurants include tax and a 15% service charge (service compris) in their prices. If a meal or service has been particularly good, leaving another 5-10% is customary, as is leaving the waiter the small change from your bill if you pay in cash. In hotels, tip porters 1.50 Euros for each bag and chambermaids 1.50 Euros a day. Small tips of around 1 Euro are reasonable for cloakroom and washroom attendants, ushers and museum tour guides. 8. Time Difference Paris is 6 hours later North American Eastern time (noon Eastern Time = 6pm Paris time), 7 hours later than Central Time (noon Central Time = 7pm Paris time), 8 hours later than Mountain Time (noon Mountain Time = 8pm Paris time), and 9 hours later than Pacific Coast time (noon Pacific Coast Time = 9pm Paris time).  Paris is 1 hour later than London (noon Greenwich Mean Time = 1pm Paris time). 9.  Paris Museums Plan your museum visit accordingly, know when they are open. The Museums of…
SUBSCRIBE
ALREADY SUBSCRIBED?
BECOME A BONJOUR PARIS MEMBER

Gain full access to our collection of over 5,000 articles and bring the City of Light into your life. Just 60 USD per year.

Find out why you should become a member here.

Sign in

Fill in your credentials below.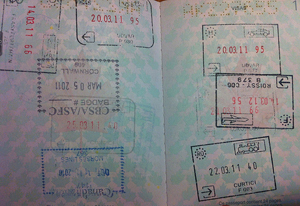 1. Check your passport
Make sure your passport is valid until at least 6 months after you arrive in France.  Persons with passports expiring within 6 months of the date of arrival in a foreign country can be denied entry to that country.  Better to be on the safe side!  Make a copy of your passport, and leave it at home with someone you can contact, and put it in a different piece of your luggage than your original passport.
2. What to Pack
It can rain a fair amount in Paris, even in the summer, so bring a raincoat or umbrella. Otherwise, pack as you would for a major American city: formal clothes for formal restaurants and nightclubs, casual clothes elsewhere.  Bring at least one dressy outfit for a special dinner or evening out.  Jeans are perfectly acceptable for sightseeing and informal dining.
Your best bet for looking like a chic Parisian is to pack a lot of black or other neutral colored clothing.  The French are pros when it comes to making few clothes go far, and accessorize their outfits with such aplomb that most Americans cannot believe their talent. Scarves and shawls are always in – chunky necklaces and earrings will also dress up your outfit.  For men, a black or dark colored jacket dresses up any look.  It's best to pack light and plan on wearing the same clothes several times instead of having a fresh outfit for each day.
3. Transportation to your Hotel
There are different options for getting in and out of the airports — bus, shuttle, bus/train combinations, taxis. Taxis are by far the easiest. There are shuttle services that are a convenient and less expensive alternative. The bus/train combinations are the most complicated, often with several transfers involved. It can be especially hard to deal with this if you have large, heavy bags.  If this is your first time in Paris, I strongly suggest you take a taxi.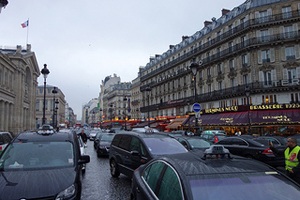 4. Getting Around
Paris is relatively small as capital cities go, and most of its prize monuments and museums are within easy walking distance of one another. Walking lets you participate in the French national sport of people watching and gives you an appetite (and an excuse) for that next memorable meal or decadent pastry! Be sure to bring a good map with you – they are available for free at the reception desk at most hotels.
Taxis stands are generally located outside major hotels, streets corners, outside railway stations or official buildings and
at airport terminals. Taxis are supposed to take no more than three passengers (although some drivers have been known to succumb to a smile and/or a small tip), and have limited space for luggage (European cars!). Tip is 10-20%.
5. Money Matters
To avoid lines at airport exchange booths, change some money into Euros before you leave home – once in France, you can use your ATM card in most French ATMs (automated-teller machine).   Almost all shops accept credit cards, especially VISA and MasterCard.  American Express is less widely accepted. Most cards have a maximum cash withdrawal limit – check with your bank before departure. If you are a big spender, you might want to have more than one credit card with a PIN (personal identification number).  ATM's are everywhere you look in Paris. Any town in France with a population of more than 500 will be certain to have at least one ATM.
6. Understanding French Eateries
Cafe:
Cafes are primarily places to have hot or cold drinks, continental breakfast or snacks and sandwiches, and often lunch specials.  Cafes are great for a quick lunch – try a "sandwich mixte" (ham and cheese) or a "salade composee" (mixed salad – often includes meat and/or cheese in a wonderful vinaigrette dressing).  The full menu is usually available all day long.
Salon de The:
These are tearooms that are usually attached to a pastry shop. They are generally open from about 10am-6pm and serve beverages and pastries or small savories only.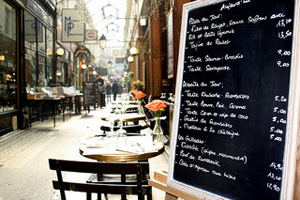 Bistro:
This is a smaller, often family-run establishment, usually with paper tablecloths and simple decor. Dishes are generally traditional and home-style, although trendier bistro food is now becoming popular (and can be very good). Wine may be served by the carafe. At some bistros, diners may share longer tables.
Brasserie:
The French word means brewery, and beer is usually a large part of the offerings as well as Alsatian wines and choucroute, French sauerkraut with sausages and ham.  There is also often a nice selection of fresh seafood. They tend to be large, open and brightly lit, and are great for larger groups. Brasseries usually keep late hours, and snacks or full meals are generally available while it is open.
Restaurants:
Restaurants are available in France for all sorts of cuisine and all price ranges. Their operating hours are usually more limited than brasseries or cafes during traditional meal times (lunch approximately 12noon-2pm and dinner approximately 7:30pm-11pm) and are usually closed between the two meal services.
7. Tipping
Many restaurants include tax and a 15% service charge (service compris) in their prices. If a meal or service has been particularly good, leaving another 5-10% is customary, as is leaving the waiter the small change from your bill if you pay in cash. In hotels, tip porters 1.50 Euros for each bag and chambermaids 1.50 Euros a day. Small tips of around 1 Euro are reasonable for cloakroom and washroom attendants, ushers and museum tour guides.
8. Time Difference
Paris is 6 hours later North American Eastern time (noon Eastern Time = 6pm Paris time), 7 hours later than Central Time (noon Central Time = 7pm Paris time), 8 hours later than Mountain Time (noon Mountain Time = 8pm Paris time), and 9 hours later than Pacific Coast time (noon Pacific Coast Time = 9pm Paris time).  Paris is 1 hour later than London (noon Greenwich Mean Time = 1pm Paris time).
9.  Paris Museums
Plan your museum visit accordingly, know when they are open. The Museums of the city of Paris are open every day except Mondays, from 10:00am to about 6pm, some even have evening hours which are great alternatives to the daytime.
The National Museums, such as the Louvre or the Pompidou Center are closed on Tuesdays; except Versailles, the Trianon, the Rodin Museum and the Orsay museum, which are closed on Mondays.
10. Enjoy the City of Light
Make sure not to over schedule your time in Paris, and give yourself the opportunity to enjoy this amazing city.  Have a stroll in a park, plan a picnic, spend time at a cafe, or discover a smaller museum or attraction.  The city is yours to explore!
Want to discover all the elegance, romance and excitement of Paris, paired with all the beauty and splendor of wine touring in Bordeaux? Then the A Taste of Paris and Bordeaux tour is perfect for you.
photo 1 by Cohen.Canada [CC BY-SA 2.0], via Flickr
photo 2 by Petit_louis [CC BY 2.0], via Flickr
photo 3 by ParisSharing [CC BY 2.0], via Flickr
photo 4 by Konstantinos Dafalias [CC BY 2.0], via Flickr
More in Paris tourist tips
---
---