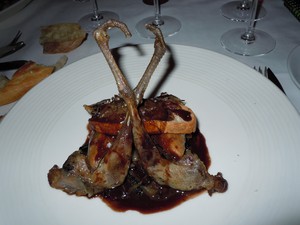 Volnay is a pretty village in the Côte de Beaune district of Burgundy's Côte d'Or, producing elegant reds from Pinot Noir grapes. More than half Volnay's vineyards, stretching from Pommard to Meursault, are of Premier Cru status. And read Premier Cru for Bistro Volnay, located in a hidden street behind the Hyatt Park Vendôme Hotel, Paris.
Owners Magali Marian and Delphine Alcover are two rare birds of paradise on the Paris restaurant scene. They've created a bistro run (except for the cooking) by capable, passionate women, frequented by a hip crowd of mostly beautiful men. It has to be said the women the mecs schlep behind them are, on the whole, lookers. Le Volnay seats about 35, plus there's a bar à vin. Magali's a savvy sommelier so there are usually some interesting types, noses in glasses, perched up there.
Le Volnay is a slick addy. Great décor, looks a bit like a library of wines. The wine book is incredible, listing lots of Volnays, say, Volnay Villages Domaine Vincent Girardin 2008 (50€), "bright fruit, depth, concentration and well-balanced finish", says Magali. She selects a Pernand-Vergelesses 1er cru Domaine Rapet "Clos du Village" 2008 (55€) to match the starter of perfect Brittany Saint Jacques, purée de laitue, truffes.
In the kitchen since last May is Thierry Dufroux. Ex-Guérard, Loiseau, Ducasse, etc., his menu is as masculine as the service is feminine. "La chasse est ouverte" menu is a joy to read and eat. Terrine de lièvre au foie gras. Marcassin (young wild boar) rôti en cocotte, fruits et légumes d'automne, sauce aux fruits rouges. Petit pâté chaud rustique de canard au foie gras, sauce rouennaise. Perdreau de chasse (partridge) rôti à la graisse de canard, échalotes et trompettes de la mort. If you don't want to play the game – plenty of choice, even a Salade iceberg, ris d'agneau à la grenobloise. For the ladies who do maybe they'll hold the ris d'agneau. If not they can have Salmon mariné "label rouge" à l'huile d'olive/citron, salade tiède de pommes de terre à la moutarde. Follow with sea bass or sole. Cheese from Marie Quatrehomme and classic Crepes Suzette, a house signature. Soufflé Grand Marnier à la minute. Warm madeleines and squishy guimauves with coffee. Don't hesitate and do book.
8 rue Volney, 2nd
T: 01 42 61 06 65
Shut Sat-Sun
3-course menu 36€
Tasting Menu 55€ for six courses
A La Carte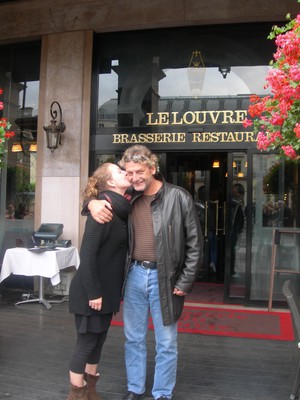 The Brasserie du Louvre is a romantic and historic address located near La Comédie Française, the Louvre and facing the contemporary necklace of Jean-Michel Othoniel at the entrance to the Palais Royal-Musée du Louvre métro. Recently the brasserie has had a complete facelift by designer Martin Hertrich. Super-chef Guy Martin, whose 2 Michelin star Grand Vefour is on the other side of the courtyard, has created an interesting neo-brasserie menu. "It's not the first time I've worked with the Hotel du Louvre; I did a menu fifteen years ago for former owner Jean Taittinger. When Groupe Concorde, who now own the hotel, contacted me I was delighted to be part of their new journey", explains Guy Martin. "Taking the history of a French brasserie into a new era is an exciting challenge", he adds.
Wines and champagnes (Taittinger) are a Tour de France of excellence. Sommelier's "La Cave Découverte" offers Château de Lascouris – Pic Saint Loup 2008 red at 28€ and the Côtes de Provence Perle de Roseline white 2009 for the same price. Nice with Guy Martin's spin on traditional onion soup which becomes a duo of red and yellow onion soups served in two glass bowls, lightly parmesan flavoured. Of course it's not Guy Martin en cuisine, but the very capable Denis Bellon. And talking Bellon, the oysters are a treat at the moment. 6 or 12 to start Fines de Claire Marennes d'Oléron No.3 or Normande Perron Isigny No. 3.
Then try Wood pigeon, roasted pink, seasoned with grains of paradise (similar to cardamom), red fruit confits and jus. Saddle of lamb is Tandoori roasted, served with mint jus and a touch of garlic. Salads and Tofu Burgers as well as a Vegetarian plate for the ladies who don't (eat meat).
All served with sides of, say, green lentils with coarse-grain mustard, french fries, mushroom polenta with Comté cheese. Sea bass is snacké drizzled with mango juice and coriander coulis. Guy Martin says he's lightened the tradi-brasserie food and it's true, a great success. Ripe cheeses to follow and for calorie counters fresh fruits marinated in green tea. For the rest Rum Baba, Mont Blanc style or Apple macaroon with pink grapefruit. "The menu changes every week and when it's warm, sit on the terrace and people-watch."
Place André Malraux, 1st
Métro: Palais Royal-Musée du Louvre,
Open 7/7
T: 01 44 58 37 21
Average Spend:
Lunch 34-38€
Patrick Roger is a hip chocolate maker with an extraordinary joie de vivre. Have a look : http://www.youtube.com/watch?v=xXH_05-ER48
And another of Bonjour Paris's favorite chocolate suppliers:
zChocolat: "World's Finest Chocolates by World-Champion Chocolatiers." zChocolat's selection is handmade by world-champion French chocolatiers following a 400-year-old tradition of passion and zealous adherence to purity. A single bite is an instant of pure seduction and sensory bliss one has never experienced before.
If you're coming to France (or for that matter anywhere) you can reserve your hotel here. To rent a car, Bonjour Paris recommends Auto Europe.