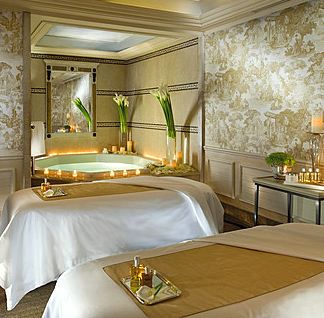 The Four Seasons George V Spa offers a range of treatments using Sodashi 100% natural products. Although based in Perth, Western Australia, I met with Sodashi founder Megan Larsen in Paris recently to learn more about her luxurious product line and services.
Ms Larsen is a soft-spoken woman and it's impossible to guess her age—she's the perfect "face" for her products made in a state-of-the-art factory overlooking the Indian Ocean. India has influenced Ms Larsen, who has bonded with various gurus who have passed secret recipes to her. A beauty therapist and aromatherapist, Ms Larsen studied biochemistry, Ayurveda, and spent time learning about plants and herbs in Provence. She then returned to Australia and opened a Natural Healthcare Centre. "In between advising customers on nutrition I was beseiged with requests for my homemade creams, and in 1999 that's how it all began", she says.
"Of course I have created amazing products that really work, but I make sure nobody around me ever loses sight of the fact that Sodashi, which means wholeness, purity, radiance in Sanskrit, cannot be attained via products alone; that takes genuine balance between mind, body, spirit. Daily meditation is the norm at the Perth factory. The facility is cleaned without recourse to any chemicals", Ms Larsen points out.
There are no hidden ingredients in Sodashi skin care. Everything is listed on the label, with not a chemical in sight. Ms Larsen says that nature has an extraordinary ability to heal through plant essences which she sources worldwide.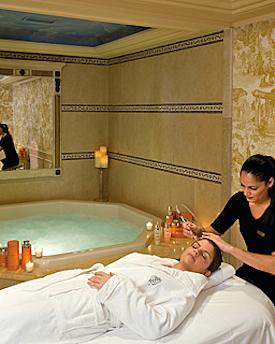 Sodashi is today a benchmark for excellence within the spa industry. At the Four Seasons George V Spa there are several Sodashi treatments available including the latest, Samadara, which translates as even skin, even consciousness of the skin, in Sanskrit. Five years in the making, it's a unique alchemy of pure plant ingredients and Madagascar rose quartz crystal water which promotes the skin's own natural healing abilities from within. There's also a treatment for the man in your life, Skin Karma Facial, using Sodashi ingredients.
Ms Larsen searched the world for ingredients to create Samadara cream: Centella Oil from India: Immortelle Oil from France, Rose Oil from Turkey, Rosehip Oil from South America. The Samadara Ultimate Age-Defying Crème pack comes with two rose quartz crystals to massage the cream into the skin. A pictogram describes the anti-aging Ayurvedic points, located beside the temple, which will gently awaken the skin's natural healing energies and stimulate energy pathways in the face, boosting circulation.
"Every day I drink a glass of water in which I've steeped rose crystal; it has a very calming effect", reveals Ms Larsen. "It's the crystals for the heart that are beneficial: when the heart is happy the skin is happy".
See the range online or at The Four Seasons George V Spa. In the USA Sodashi products are available at the Corroboree Spa, Nashville and The Spa at Jumeirah Essex House, NYC.
PRACTICAL INFORMATION:
31, avenue George V, Paris 8th
Open 6am-10pm 7/7
Spa reservations: 01 4952 7210
Margaret Kemp is a Cordon Bleu graduate who spent a year traveling the world, working and watching in the kitchens of top chefs from Sydney, Australia via Bangkok, Hong Kong, California, New York and France. She reports for BonjourParis on the latest European trends, restaurants and hot spots.
Grab your own free subscription to BonjourParis & be first to receive Wednesday & Sunday newsletters linked to 50 original stories monthly with travel tips & the latest from France. Since 1995, BonjourParis has been your most complete online France travel & Francophile lifestyle eZine. RSS feed available.
If it's at Amazon.com, you can get it at our Amazon.com Boutique with new items added weekly. Same competitive prices and speedy delivery & your purchases support costs of keeping BonjourParis your most complete online France travel resource.
Search hint: start at the back pages for the most recent stock.

Be smart! Reserve your hotel at Booking.com…then keep shopping online & if you find a better rate for the same deal, contact Booking.com for your BEST PRICE MATCH GUARANTEE.
Bookmark this link & use it everytime you shop so your preferences are stored & deals are updated when you return: Booking.com.

One-stop shopping for car rental & international air travel deals:
Car rentals at competitive rates, no drop fees & a 5% discount for BonjourParis.com readers who use this link to Auto Europe Car Rental
Don't overlook Auto Europe for international flights, click Auto Europe Flights