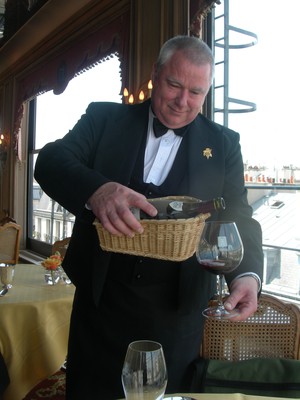 La Tour d'Argent opened in 1582, a handsome pile opposite Notre Dame, between the Seine and the Bernardins monastery. It was built using stone from the Champagne region which gave it silvery reflections, hence the name Tour d'Argent, "Silver Tower".
A high-society address from the start, Louis XIV, Mme de Sévigné, Philippe d'Orléans and the Duke of Richelieu had their favourite tables by the windows. In 1890 chef Frédéric Delair created the recipe for Duck Tour d'Argent and decided to number each bird, a terrific marketing ploy.
In 1890 Edward VII Prince of Wales ate number 328, in 1921 Thomas Rockefeller No. 51,327, in 1979 Roman Polanski enjoyed 554,711 and more recently Bill Gates No. 1079006. The millionth duck was eaten in 2003, the year Claude Terrail's son André took over the restaurant. No. 500,000 was launched from the roof with a tag on its leg that offered the finder dinner for two. And last week Buzz ate No. 1089170.
It's a spin on the original recipe by Laurent Delarbre, La Tour d'Argent's new young Executive Chef. It came in two services, the breast's fragrant sauce made with the blood and bones, passed carefully through muslin, exquisite.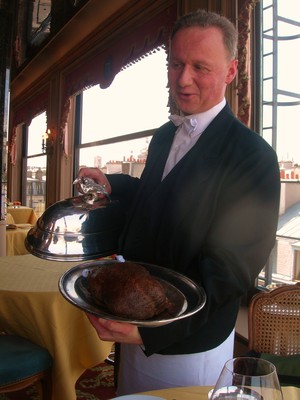 Ratatouille, the classic Pixar animated movie, is based loosely on La Tour d'Argent. It tells the story of a Paris sewer rat who takes up residence in a once-great restaurant and transforms it by inspiring the kitchen to greatness.
If Laurent Delarbre's worried about comparisons he's keeping cool and if a recent tasting was anything to go by, he and La Tour are on their way to the stars. Delarbre remembers working at La Tour for Manuel Martinez (now chef/owner of the excellent Louis XIII) in 1993 as a commis. Now 39, he's MOF (Meilleur Ouvrier de France) and has done time with great chefs, so he's got a solid technical background at The Ritz, with Guy Legay and Michel Roth, then back with Martinez at Louis XIII, the Astor Saint Honoré and Café de la Paix as weli as The Intercontinental Paris Opera.
The wine cellars, created in 1582, the year William Shakespeare married Anne Hathaway, were bricked up during WWII to save the contents from Hitler. Those lucky enough to be invited down are met by a blue-uniformed flunky and escorted through double-locked iron gates into the damp, musty warren of alleyways where 450,000 bottles of the world's rarest and costliest French vintages lie. The Master of all he surveys is suave English Head Sommelier David Ridgway. Made in England, Ridgway is one of the world's top wine mavens, so when he suggests the Rully 1er Cru who's going to argue? I ask Ridgway about his favourite wine. "The one I'm tasting tomorrow; wine is really just a product made for drinking, we mustn't make a religion of it ", he warns. And if he could be a bottle? "Oh, something white".
When owner Claude Terrail died in 2006, having run the restaurant for sixty glorious years, his son André took over. A tall, handsome, intense young man, André Terrail shut the restaurant for three months and gave it a €4 million facelift. "We concentrated on the kitchens, the offices and re-designing the menus. We feel that what goes on in the 'coulisses' (backstage) is just as important as the front of house", he explains, showing me over three floors of state-of-the-art steel-and-glass spaces where there's a special cold-room just for the ducks, bred organically at the restaurant's farm in the Challans region. There are flat-screen TV's; perhaps the ducks will try to escape? To check if Michelin Man's in the building (the restaurant had 3 stars; it has 1 at the time of writing) or someone's stealing ashtrays? "They do, they do, all the time", confirms the gentleman in the Tour's Comptoir boutique opposite. Once a solid silver duck tumbled out of a customer's mink coat. "Don't know how that happened", she said.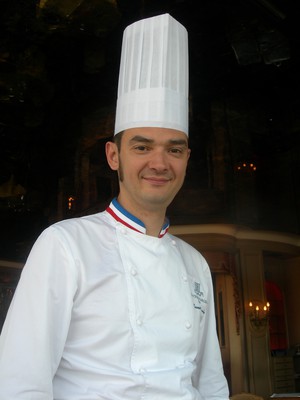 André Terrail sees his work as fine-tuning the restaurant to the needs of an ever-evolving younger clientele, working closely with Ridgway and Delarbre. Before joining the family firm he was with LVMH, New York, and top restaurants and hotels in France including Lenôtre, Paris and the Savoy Hotel, London. He has a Bachelor of Science in Business Management from Babson's Business School in MA. in the US and lives in Paris.
Terrail's latest schtick is urban beekeeping, and with the advise of bee-maven Nicolas Géant six  beehives now grace the roof of La Tour d'Argent. The honey, pesticide free because they're banned in the city, is sold in the Tour's boutique (12€ a pop) and used by Delarbre and chef patissier Guillaume Caron to concoct divine desserts.
The tough part is going back into the real world after an experience at La Tour d'Argent, down in the memorabilia-lined lift, escorted by a white-gloved flunky to the ground floor, which is now a museum, the main exhibit a table beautifully set as it was in 1867 when Tsar Alexander II and the King of Prussia dined together. Elsewhere, cabinets spill over with memorabilia and photographs punctuate the walls; there's a charming one of HM the Queen and Prince Phillip (duck No. 185,397) leaving the restaurant in May 1948. They know that special feeling. Go there to experience the history and glory of French gastronomy—because you're worth it.
15 & 17 Quai de la Tournelle, 5th
Metro: Maubert Mutualité/Pont Marie
T: 01 40 46 71 27
Lunch 65€ + wine
Tasting Menu or Menu Surprise 160€ + wine
Or A La Carte
If you're coming to France (or for that matter anywhere) you can reserve your hotel here. To rent a car, Bonjour Paris recommends Auto Europe. With their exclusive selection of handmade French chocolates, zChocolat will redefine what you consider to be chocolate.