Grape Expectations: Chateauneuf du Pape & Rhone Wines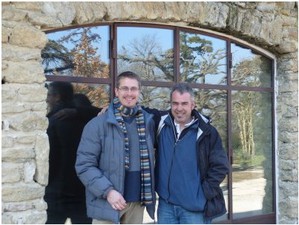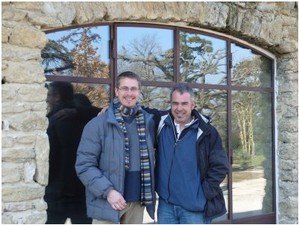 Visiting the famous wine villages of the Southern Rhone Valley— Châteauneuf-du-Pape, Gigondas, Vacqueyras and others—can be a bit daunting if you don't know the area, don't know much about wine or don't know which labels you love. Some tasting rooms are open to the public during normal hours; others require an appointment. And some vineyards offer no tasting at all. The Southern Rhône appellation is based on a four-level quality hierarchy and produces a wide range of wines from 18 grape varieties, in soil ranging from soft sand to hard rock. Where to begin and how to make the most of your time? Châteauneuf alone has 250 estates.
That's where Olivier Hickman comes in. Hickman offers half- and full-day guided visits to some of the top domains in the region, leading all property tours and tastings himself (rather than calling upon the vigneron to do it). "This allows me to focus on what's different at each domaine and to introduce wine topics in a way people can understand," he explains. "In addition, it means we can see more domaines in a short time because there is no repetition."
Bottom line? You'll get a far richer experience than if you showed up on your own.
A day out with Olivier is a crash course in the concept of terroir, the combination of soil, microclimate and topography that makes every French wine unique. Terroir is why two wines made from the same grape on adjacent properties can taste vastly different…and why the choicest parcels of grape-growing land here sell for upwards of €400,000 per hectare. Along the way, you'll discover the different aging techniques, the differences between French and New World winemaking, the subtleties of Rhône grape varieties, the basics of organic and biodynamic winemaking and why tough growing conditions can yield some of the best wines. And, of course, you'll taste some of the region's finest labels.
"Most Rhône vignerons will tell you that their wines are 'made in the vineyard and not in the cellar,'" Olivier says, "and are a product of hard work and their unique terroir. For this reason, I like to spend a good portion of my tours amongst the vines. You can only truly appreciate the soul of a great French wine by visiting the vineyard in which it has its origins."
Olivier works with a group of 30 or so different vineyards, making his selection based on the location and beauty of the domaine, the quality of the wines and how they compare and contrast.
I did a day tour with Olivier recently and found it fun and extremely worthwhile. He's a charming, knowledgeable, funny and patient guide…and he moves things along at a perfect clip. Born and raised in London (his mother was French, his father English), Olivier is fully bilingual.
Formerly an accountant with Warner Music, he and his wife chucked city life so he could pursue his passion. He trained with the WSET, a wine academy in London, but got the bulk of his knowledge from interviewing domaine owners and his own vine-growing and winemaking experience. He planted a vineyard in Valréas in 1999 and has made wine in different regions of France since 2000. He and his wife, Janet, and their two kids made the move to Provence permanent in 2003.
A half day with Olivier costs 35€ or 40€ per person (two domaines, price depends on the villages visited, minimum fee per tour is 95€). A full day (four domaines, with a break for lunch) costs €70 per person, with a 195€ per tour minimum. While Olivier normally meets you at a specified location, he can also arrange pick-up at your home, rental villa or hotel.
In addition to wine country tours, Olivier also hosts a full-day cooking class and wine tour in conjunction with Cuisine de Provence, a chauffered wine-and-culture tour and wine tastings in hotels and private homes. For tour operators, bike and walking tour companies and groups of all sizes, he'll arrange anything from a two-hour "discovery" to a full-on full-week tour. This year, he's launching a Winery Holiday with accommodation and wine activities at a domaine in the hills above Séguret and a Walking Wine holiday in collaboration with a professional mountain guide.
If you'd like to book a wine tour, be sure to reach out a few days in advance as Olivier is currently busy working on the upcoming PBS show The Winemakers.
For more info: www.wine-uncovered.com, [email protected], 06-75-10-10-01.
Photo by Julie Mautner: Olivier Hickman (left) with Bruno Gaspard, winemaker at Le Clos du Caillou in Châteauneuf.
Julie Mautner, who produces the popular blog The Provence Post is an American food, wine and travel writer living most of the year in the South of France. She was a founding editor of Food Arts Magazine in New York and was its executive editor for ten years. Since she resigned in 1998 to freelance, Julie has produced hundreds of articles for top magazines and websites in the U.S. and the U.K. Her first book, The South Beach Wine & Food Festival Cookbook, will be out in November.
If you're coming to France (or for that matter anywhere) you can reserve your hotel here. To rent a car, Bonjour Paris recommends Auto Europe.
Leave a reply
Your email address will not be published. Required fields are marked *