Chateauneuf-du-Pape: The Pope's House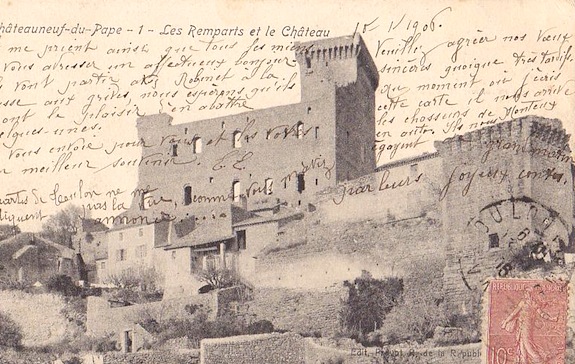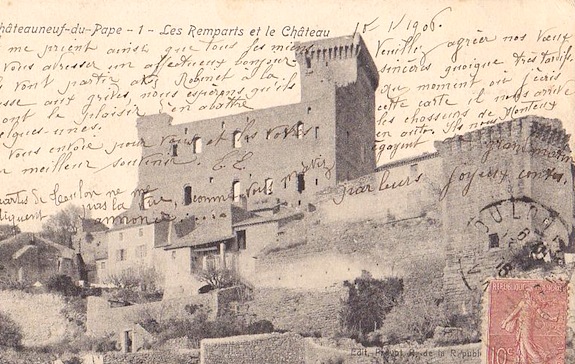 How many of you see a wine and in fact may order it but have no idea what it's all about? It is like when you were a bachelor or bachelorett and you pass by laundry dropped on the floor and not picked up for a day or two, you see it but it is just there waiting for something nice to happen. Well, say hello to my little friend, Châteauneuf-du-Pape. It translates to "New Castle of the Pope."
Châteauneuf-du-Pape is an Appellation d'origine contrôlée (AOC), which translates as "controlled designation of origin," for wine made near the village of Châteauneuf-du-Pape. Vineyards are located all over the area in villages of Bedarrides, Courthezon and Sorgues.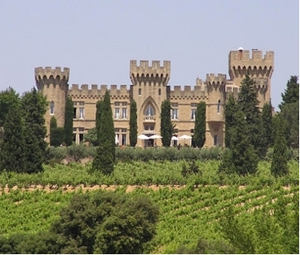 Châteauneuf-du-Pape permits thirteen different varieties of grape; the blend is usually predominantly Grenache. Other grapes include Cinsault, Counoise, Mourvèdre, Muscardin, Syrah, Terret Noir and Vaccarese. Also white grapes include Grenache Blanc, Bourboulenc, Clairette, Picardin, Roussane and Picpoul. Needless to say, putting all those grapes in a nice package helps us all.
Before any Pope hung out in the Vatican their headquarters were in Burgundy in the early 14th and 15th century, and Pope Clement V, former archbishop of Bordeaux, was a Pope who loved his wine. After Pope Clement came John XXII who did much to improve the vineyards in this area, so much so it became "Vin du Pape", only later to become Châteauneuf-du-Pape. In fact, John XXII was responsible for erecting the famous castle that stands as a symbol for the appellation.
In recent years, the trend has been to include fewer (or even none) of the allowed white varieties and rely heavily (or solely) upon the Grenache, Mourvèdre, and Syrah. One may suspect that this is a response to international wine-market trends and the desire to have this sometimes-rustic wine appeal to a broader commercial audience.
Grenache Noir is very dominant, representing around 70% of the yield, followed by Syrah at 10.5% and Mourvèdre at 7%, both of which have expanded in recent decades. Cinsaut, Clairette, Grenache Blanc, Roussanne and Bourboulenc each cover 1-2.5%, and the remaining seven varieties each account for 0.5% or less.
Before the esteemed wine critic Robert Parker began promoting the wines of Châteauneuf-du-Pape, they were considered rustic and of limited appeal in the U.S.; however, his influence increased their price more than fourfold in a decade. In gratitude, the Châteauneuf Winemakers Union pushed for his becoming an honorary citizen of the village.
The Châteauneuf-du-Pape region has a terroir that includes rocks in the north and northeast that are famous for being round like pebbles (galets) over clay soil. They keep the heat in during the day and then release it at night, getting the grapes nice and ripe a bit faster then their eastern cousins. In the east the soil is very sandy. In the south the soil is very gritty. And they call the wind "mistral" that carries away the moisture, giving an almost desert-like quality to the terroir.
Now, what does Châteauneuf-du-Pape taste like? Well, as in most French reds they have a distinct "Downtown" flavor: earthy, barnyard, wet socks with hints of tar, leather and tobacco. Tough and tannic while young, they grow to be great wines on the tongue and all surrounding areas, though in fact they could use some lay-down time to really enjoy. They are higher in alcohol then most cabs (13-15%), with no chaptalization allowed. (Chaptalization is the process of adding sugar to unfermented grape "must" in order to increase the alcohol content after fermentation. The technique is named after the French chemist Jean-Antoine-Claude Chaptal. This process is not intended to make the wine sweeter, but rather to provide more sugar for the yeast to ferment into alcohol.)
Following the traditional harvest the grape clusters are rarely "destemmed" prior to fermentation, giving the juice a delicious jammy flavor that pairs well with any hedonistic dinner you have planned.
No small oak barrel vinification is used in Châteauneuf-du-Pape due to the fact that the principal grape, Grenache, oxidizes in porous wooden barrels. Instead, large cement tanks are used for the grape.

Subscribe for
FREE

weekly newsletters with subscriber-only content.
BonjourParis has been a leading France travel and French lifestyle site since 1995.
Readers' Favorites: Top 100 Books, imports & more at our Amazon store
We daily update our selections, including the newest available with an Amazon.com pre-release discount of 30% or more. Find them by starting here at the back of the Travel section, then work backwards page by page in sections that interest you.
Support our site by clicking on this banner for all your Amazon.com browsing. Merci!
Leave a reply
Your email address will not be published. Required fields are marked *