How to Avoid Tourist Traps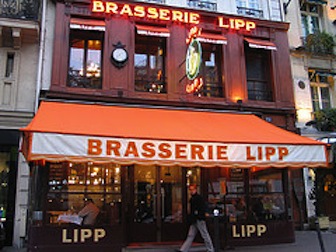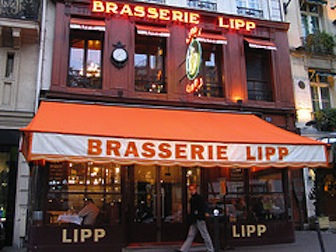 I have dear friends (French) who think that Brasserie Lipp, Flore and the Les Deux Magots are just neighborhood haunts and for them, they are. But for most of us, these are places swamped with foreigners (us) who want to see Sartre and Simone and care less about the food.
So how do you avoid such tourist traps?  Let's say you've spent 4 hours on your feet at the Louvre, in line at the Eiffel Tower, or climbing up Montmartre and now it's Miller time; where do you go to eat?  Well, first off, you do not go up and down the street reading the posted menus – come on, what does that tell you in a heavily-trafficked area?  And second, you do not plotz down in the place that has only two seats left on the sidewalk.  You come prepared.
Because, amazingly enough, in every tourist neighborhood there is one shining star that sits unheralded, where the owner does not accost you in the street, that does not scream COME IN, and the lure is not a cheap "Tourist Menu."  You don't believe me.  
Well, let's take Ribouldingue, recently opened by Yves Camdeborde's ex-second at Le Comptoir – it couldn't sit in a more touristy place situated as it is between the Quai de Montebello and the Rue de la Hachette – but inside – it's French folks only.  And not too far away and facing Notre Dame is Le Reminet.  Or on Montmartre, where thousands of eager waiters or owners beckon you – head for La Bonne Table on the Rue des Martyrs – again, an oasis in a sea of dreck.  Or, near the Eiffel Tower, walk a few blocks East to Les Anges.  Even near the Louvre, there is a lovely place in the Marche St Honore, run by Alice Bardot (of the Tours Bardots) called Le Point Bar. But these are just a few examples; if you're schlepping out to the rosarie in the Bois de Boulogne you'll find a place; ditto Versailles.  So how do you know?
(1) You bone up beforehand by reading the food guides not the guidebooks, (2) You have a fallback plan (either a second place nearby or one or two Metro stops away), (3) You look for signs on the menu that tell whether the entrée dishes bear the chef's signature, e.g. cassoulet facon Chef X, and (4) You never enter when the wines are dirt cheap.  Finally you look at the customers; if they're all toting cameras, reading guidebooks and filling the place – back off.  You want a place that at 1 PM or 8 PM is nearly empty, because the French won't even start eating 'til 1:30 or 9.
That's it.

My favorite places from among the above:
Ribouldingue
10, rue St Julien le Pauvre, 5th (Metro: St Michel)
T: 01.46.33.98.80
Closed Sat lunch and Sundays
La Bonne Table
94, rue des Martyrs, 9th (Metro: Abbesses)
T: 01.46.06.50.73
Open for dinner Monday, Wednesday-Sunday, Saturday and Sunday lunch
Chez les Anges aka Les Anges
54, Boulevard de la tour-Maubourg, 7th (Metro : La tour-Maubourg )
T : 01.47.05.89.86
Closed Saturday lunch and Sundays
Le Point Bar
40 place du Marche Saint-Honore, 1st (Metro: Tuileries, Pyramides)
T : 01.42.61.76.28
Closed Sunday and Monday
©2006 John A. Talbott
Leave a reply
Your email address will not be published. Required fields are marked *