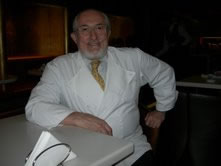 Alain Senderens sits serenly in his restaurant, Le Passage. Things have changed so fast over the last two years you may not have had time to take on board the fact that the old and slightly stuffy "Le Cercle", located above the main restaurant, has had as successful a face lift as Lucas Carton, now called simply: Alain Senderens.
"There's a new order to-day everything is done on the internet, everything moves and changes and I love it", says Senderens. He's a happy chef to-day, with the elegant Eventhia by his side he's still combining ingredients, flavours and cooking methods, creating new recipes and new formulas which tap into the zeitgeist of to-day and tomorrow.
The story goes that some years ago a woman popped her head round the kitchen door after a divine dinner: "Monsieur Senderens, to-night for the first time, j'ai un orgasme culinaire!".
Don't expect anything molecular, that's not his style. Senderens, from the South-West of France began in Paris at La Tour d'Argent, then joined Lucas Carton as a lowly sauce chef. He went on to open his own restaurant on rue de l'Exposition and later moved to a small jewel on rue de Varenne which he named L'Archestrate, in homage to the ancient Greek poet and gourmet, Archestratus. No wonder they call him the "intello des fourneaux".
Senderens also employed a promising young chef, Alain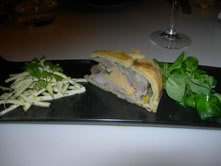 Passard. When Monsieur and Madame Senderens decided to move and take over Lucas Carton, look who took over L'Archistrate. Passard now has the only *** on the rive gauche.
So, not only is there the newly decorated downstairs restaurant, but there's "Le Passage" with minimal décor, tout Dacryl and Corian, by the talented Noe Duchaufour Lawrence (he did Sketch, London). Pop in and eat fast if you want to, more or less all day, great for the ladies who lunch and, most important of all, not expensive.
There are assiette de sushis of tuna and sea-bass or tapas which go something like: brochettes de moules – tartare au curry. Dim sum de gambas, tartare of lightly smoked salmon with horseradish and black sesame. *** . That would go down nicely with a glass of Viognier VDP des Collines Rhodaniennes 2005. The Ladies could stop there.
The traders on the next table continued (as did BUZZ) with Scallops in a frothy sauce of fennel and saffron. A tourte of plumed gibier is served cold with salad: Foie Gras de canard with toasted bread and chutney, bread's hot from the oven, service smiling and fast as you want it. 
Remember Senderens launched wine and food pairings. So with your main take a glass of Borgueil 2000, although there is a regular wine list (which the traders were getting through fast). Now you're all set for the pudds: Macaroon with lemon cream. The legendary flowing chocolate cake, SAMANA 2005, pure cacao from Saint Domingo, or ice creams and sorbets. You're eating *** food at ridiculous prices, say 32€ for three courses + wine. Your corner brasserie can't do that.
The menu, which changes all the time, says "uniquement servi en petite portions,"  not true. See for yourself, get there fast before word gets round and you can't get a table, there's no reservations – tell them BUZZ sent you. It's Royal.  
Le Passage
Alain Senderens,
9 place de la Madeleine, 8th (Metro: Madeleine)
T: 01 42 65 22 9
Open from 11.30am – 1.30 am (in the morning!)
www.senderens.fr