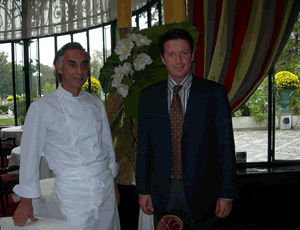 Take the "u" out of George Menut and it's obvious why he's in the business. Could you honestly think of him being anything else but a restaurant owner with a name like Menut? And, he wears it well does Menut, let's says he's written the script and stages an award winning show midi et soir.
La Grande Cascade is an expensive mistress, a high maintenance Belle Epoque folly in the heart of the Bois de Boulogne, located opposite Longchamp racetrack and the magnificent waterfalls of "La Grande Cascade".  Menut heads a team of chefs, waiters, sommeliers, butchers, bakers, candlestick makers, and now the cherry on the gateau: Frederic Robert (ex-Alain Senderens).
BUZZ: Why did you decide to leave Alain Senderens after 10 years?
I have always worked for "grand" chefs. I was at Le Grand Vefour, and even worked at La Grande Cascade in my early life as a chef. I've worked at L'Ambroisie for Bernard Pacaud (who was a disciple of Fernand Point) and at Lucas Carton/Alain Senderens for almost ten years. I was beginning to feel like I was always the bridesmaid, never the bride!
BUZZ: Did you make the decision to leave Alain Senderens because you didn't like his new concept?
In a way, yes. For the client it's wonderful that the menu has dropped from 300€ to 100€, for the chef and the equipe it's tough.
BUZZ: Why?
Because there are economies that have to be made. Less staff, one sommelier instead of 4;  sardines instead of lobster. I found the spirit changed, it's like driving around in a chauffeur driven Rolls and then one day you only have a Smart which you have to drive yourself.

BUZZ: How long did it take you to make the decision?
About forty-eight hours! I talked with George Menut and we have a great chemistry, I like working in luxury.
And I have to say I don't think it went down well with Alain Senderens, he thought I was there for life.
But I found him a good chef from Bernard Pacaud (Ambroisie) and I think he's OK with it now.
BUZZ:
Has he been here to eat?
No, not yet!
BUZZ:
When you came to Grand Cascade did you have an idea of what you wanted to do about the menus?
Yes, and I abandoned it all once I was here!
BUZZ:
Why?
I was high on the fact that I was now "leader of the pack".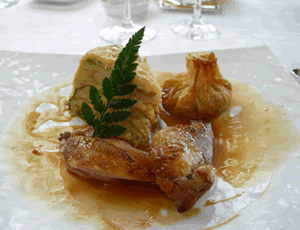 In a kitchen everyone works together. I brought 4 guys with me from Senderens and there's another 4 waiting to come here, they like working with me! I'm now testing myself to see what I'm capable of, my roots are classic I have a terrific respect for my products. Someone once said to me cuisine is a reflection
of society – I feel that very modern cooking is right for these times. I'd rather have a good dish than a beautiful one, I always add the sauce last, it's the chemistry of the dish that counts.
BUZZ:
So what will we be eating that's new?
I'm working on my interpretation of Lievre à la royale the classic dish created by Careme, mine will be rosé!  Making Boeuf Rossini with clouds of perfect pommes soufflés, a terrine of white truffles. I'm slow cooking ris de veau with olives, capers, herbs and spices, its a medieval recipe I've revised and corrected for to-day.
BUZZ:
What about the desserts?
I immediately bonded with the patissier, I sketch my ideas and although I'm a lousy artist he understands exactly what I want. La Grande Assiette de chocolat is a dream for chocoholics, it explores the textures and temperatures to perfection. Ananas (pineapple) roasted and caramelised with a touch of ginger. Feuilleté of figs with a soupe of figs in red wine, cinnamon ice cream.  
  
What is the difference between working here and in the centre of Paris?
We're all less tired. Just to step outside, jog around the Bois, it's a joy. And Menut et moi we're in perfect harmony.
BUZZ:
And where do you eat when you finally get time to go out?
When I eat out I want pasta! We go to Bellagio a great Italian close to my home. Try the risotto aux fruits de mer and the antipasti all laid out on a table in the middle of the room. I like the epaule d'agneau confite with linguine. We also love Bistro 31 which is a compromise between Italian and French cooking, there's always a warm welcome and the chef Pascal is waiting for me to find an Italian restaurant.
"When you do I'm coming to work for you", he told me one day!"
La Grande Cascade,
Allée de Longchamp, Bois de Boulogne 16th
T: 01 45 27 33 51
Metro: Port Maillot and then taxi
Average spend 160€ + wine
Menu du Marché 70€ + wine
Menu degustation 165€ + wine: 230€ with wine.
www.grandecascade.com
Bellagio,
101 Avenue des Ternes, 17th
T: 01 40 55 55 20
Open 7/7
Bistro 31,
31 Avenue Théophile Gautier 16th.
T: 01 42 24 52 31
Shut Sat lunch and Sun.