L'Hotel Thoumiex & Guy Savoy Buzz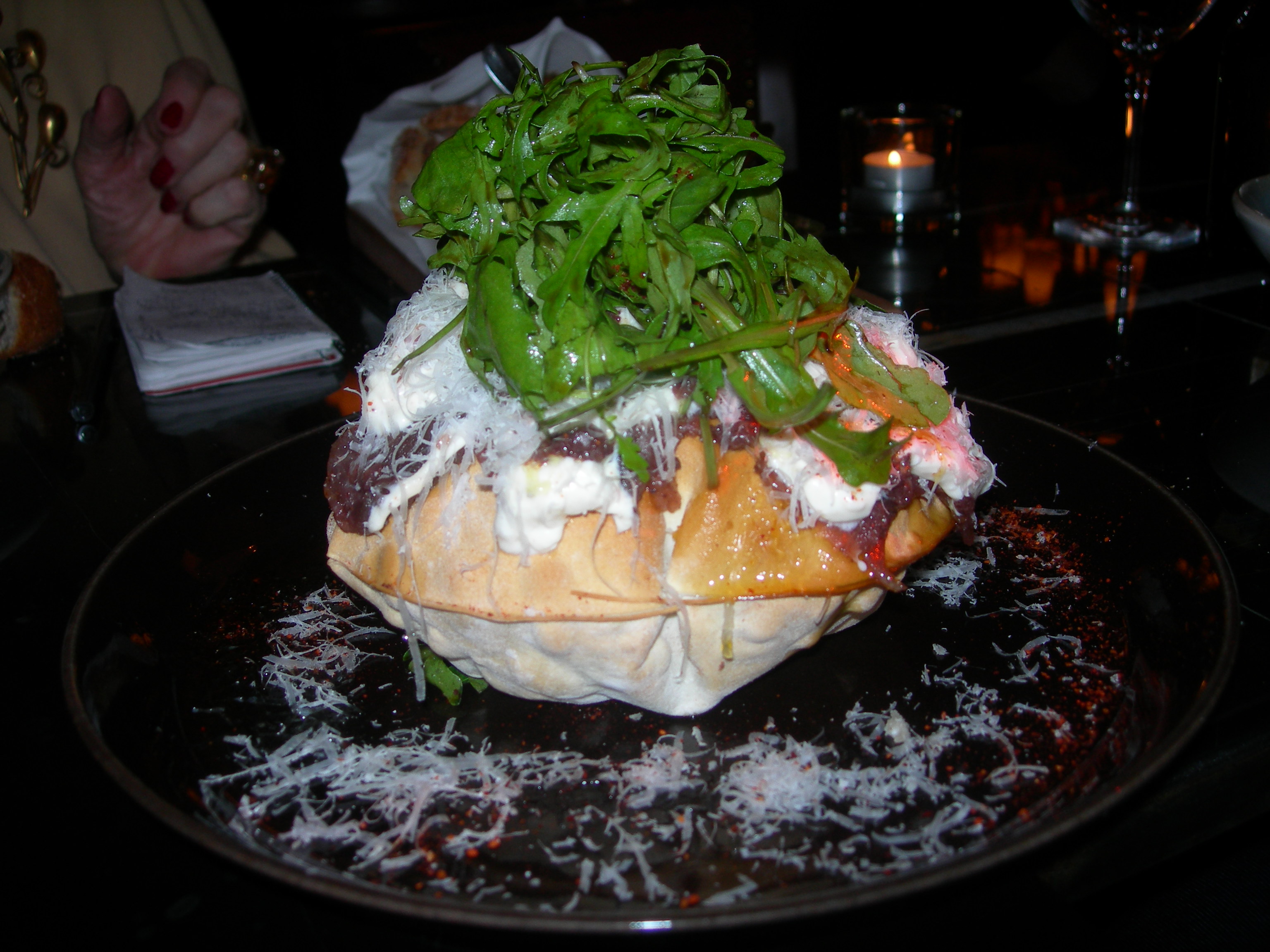 "We love the buzz in the revamped Thoumieux" is the word among foodie afficionados who rush to be first to test a new address. And Thoumieux, on the Left Bank within site ofEiffel's Tower, has history. Le tout Paris has always held this classic brasserie in high esteem since Martial Thoumieux opened the heavy doors in 1923. His solid bistro cuisine de Corréze, showcased duck foie gras terrine, pan fried dover-sole filet, grilled sardines, cassoulet, steak and crème brulée and kept the bums on the shiny red banquettes.
Now after five years, and two Michelin stars, in the kitchens of Le Crillon, Jean-Francois Piège has joined forces with Thierry Costes (Gilbert's son) and transformed the old lady into a sparkling address, buzzing with atmosphere.
"Le Crillon was a wonderful experience", says the super-chef whose parcours includes  Louis XV, Monaco and Plaza Athénee, Paris with Alain Ducasse. "I got to the point where I needed another location to evolve my ideas, express myself in different ways, I want to sit down in the salle and chat to clients who, I think, have different needs in these straightened times".
So Piège and Costes closed Thoumieux for five months of serious works, ripping everything out. The resulting l'hotel Thoumieux is astonishing, a 100 seater neo-brasserie, still in keeping with the original Art-deco theme. Dark Red banquettes, tables without cloths, comfy sofas at the entrance, because if you haven't booked……
Piège explains Thoumieux will have four faces: "In addition to the brasserie, there'll be a second more intimate "chef's" gastronomic restaurant for about 20 covers, with separate open kitchen, a salon for private dining and a 17-room hotel, decorated by India Mahdavi, scheduled to open in April. Of the first- floor restaurant Piège says: "that's my creative workshop where I'll cook, in front of clients, inspired by the morning's fresh market products.
On the menu headed Ma Cuisine all starters are 10€ and include the stunning puffed signature "De la ", warm tuna/pizza souffle with pulpe d'olive and riquette, one touch of the fork and it deflates like a car tyre (see photo). Or variation on prawn cocktail as in: Crevette vapeur de vin blanc, avocat glacée, rapée, cocktail sauce.
In true Piège style dishes are variations on themes of Thoumieux classics. Lunch is from 12h/14.30 and dinner 19/22hrs. Between the two the "Room Service" menu's available and includes Goujonettes de sole, sauce légère tartare. Lièvre à la royale, coquillettes and Boeuf Waguy burger faҫon Thoumieux. Drink Bourgogne Pinot Noir 2007 Domaine Alain Jeanniard (28€) and be tempted by la baba au rhum de chez Millet, or le rocher chocolat praliné.
Hotel Thoumieux
Jean- Francois Piège, Thierry Costes
Tél: 01 4705 4975
79, rue Saint-Dominique, Paris 7th
Métro: Ecole Militaire
Open 7/7
Average Spend 29-51€ Children's Menu 18€
Valet parking.
PHOTO CREDITS:
Thomieux exterior ©Kim Spencer
Guy Savoy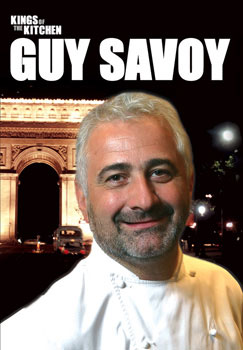 Guy Savoy, three-Michelin-star chef needs no introduction. We've followed him since his early days on rue Duret, and as the French say, il n'a pas pris une ride. Born in Burgundy, he grew up in Burgoin-Jallieu near Lyon, and was in the rugby team. Happily he decided on a culinary future rather than with le ballon ovale.
Since 2002 his flagship rue Troyon restaurant has  three Michelin stars. Stone, wood and leather décor by Jean-Michel Wilmotte is punctuated with an amazing collection of contemporary art and sculpture. Savoy's satellites, all in Paris apart from the Las Vegas Caesars Palace address, run by Franck Savoy, each have their own identities. Today, at the launch of a film dedicated to his universe, Savoy said "the keywords of my restaurants are the professionalism of the staff, the authenticity of the produce and the great surroundings".
Click on the site to view the magical 6-minute court-metrage (short film) an emotional ballet culinaire . Savoy created the bio-pic with his friend and client, composer Eric Serra (www.ericserra.com) so the music's suitably imposing (Le Grand Bleu, Leon, Atlantis). "Over dinner Eric and young film-makers Louie and Jesse Salto discussed my life and decided then and there how the film would look", explained Savoy. "At the end of the evening my parting phrase to them was, "show the house". That means  the loyal team, Carine Polito, Hubert Schwermer, Laurent Soliveres, Michel Ronciere, Clément Leroy, Serge "le voiturier" and so many more. "Cuisine is the art of instantaneously turning produce suffused with history into happiness", says Savoy, a sensitive and passionate chef/craftsman. Book on i-phone as well.
18 rue Troyon, 17th
Metro: Charles de Gaulle Etoile
T: 01 43 80 40 61
Leave a reply
Your email address will not be published. Required fields are marked *