Books Set in Paris: Gourmet Rhapsody & Elegance of the Hedgehog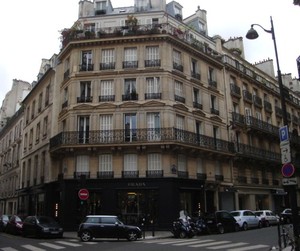 Just when I felt my obsession with The Elegance of the Hedgehog
subsiding, I found myself in Paris, in search of 7, rue de Grenelle, the hotel particuliere where the story takes place. Adding to my urgency to find that residence: en route to Paris I had read Gourmet Rhapsody
, Muriel Barbery's prequel to Hedgehog, which is set in the same place.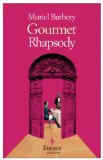 Though I found Gourmet less rhapsodic than Hedgehog, it was an enjoyable airborne read, talking about, from beginning to end, one of my favorite subjects: food. And I learned a lot more about a character I was introduced to briefly in Hedgehog, the Parisian food critic Pierre Arthens, acknowledged by cognoscenti to have the world's most talented taste buds and by those who crossed his path professionally and personally as a ruthless wrecker of lives and aspirations. As he lies dying, Monsieur Arthens, who has tasted every wonder the culinary world has to offer, desperately searches for that "singular flavor, that divine something once sampled, never forgotten," to taste once more before he dies.
Thus begins his journey back in time from childhood to old age, during which voices of unhappy relatives and thwarted associates and chefs tell how they fell in his destructive path as he tasted his way to the peak of his profession. When he finally identifies the flavor par excellence that he seeks, it comes as a surprise to the narrator as well as to the reader.
Monsieur Arthens survives the end of Rhapsody and lives long enough to make a brief appearance at the beginning of Hedgehog, then graciously succumbs, freeing his apartment for Monsieur Ozu, the hero of Hedgehog and one of the most endearing characters in contemporary fiction.
I had hoped to find 7, rue de Grenelle early in the visit, take its picture, then get on with my search for the perfect croissant. Not so. Though our hotel was only a block away from Grenelle, this main artery runs the entire length of the 7th arrondisement. and numbering is erratic. After several false starts over several days, I finally stood in front of the building that is as important to these two stories as its main characters.
Barbery, author of both, says she never sought out the actual building while writing her books and only later learned that a Prada salon was on ground level. While knowing that helped me identify the building when at last I found it—I try not to think about it as I reread Hedgehog. The haughty residents of this hotel particuliere, diplomats and captains of industry all, would not countenance the presence of a commercial establishment in their privileged world—not even one as tony as Prada.
Whichever city I'm in, San Francisco, where I live, or Paris, which I'm lucky enough to visit, I find myself comparing one to the other—their food, their fashions, their bookstores. Whenever my husband and I split up on this trip, he headed to a café and I to a bookstore. Though I find these two cities beguilingly similar, that similarity ends with their booksellers. In San Francisco, a bookstore is a place where people gather even when not looking for a book. They know they will find camaraderie among the browsers, and a warm welcome from the staff. They bring their kids and turn them loose in the children's section. There is a happy din over all.
The Parisian bookstores I visited were serious places. Clerks answered questions, but offered no unsolicited help. I was browsing quietly through a store on rue Cler one day when I heard behind me the loud bang of books hitting the floor, and a very soft, distressed, "Oh, jeez," as every clerk in the store glared at the poor guy who had tipped the books over and was on his knees trying to pick them up. I bent down and whispered, "Let me help you," and together we stacked the books back on the table. "Are you American?" he whispered. I nodded, and we both sighed in a shared longing for our back home bookstores. Those warm, friendly, happy places.
Leave a reply
Your email address will not be published. Required fields are marked *