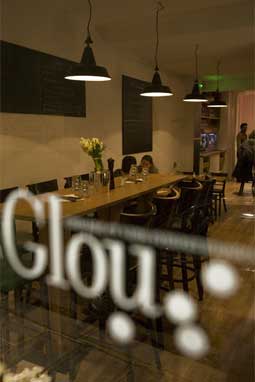 Glou, launched a few weeks ago, is one of those instant must-go bistros, "have you been to Glou, is it any good?". It's an awfully big adventure for Julien Fouin (of Cuisine TV, ex- editor of Régal magazine) and entrepreneur Ludovic Dardenay. At the pianos, Laurent Ameel and, in salle, all of them from time to time, because they're excited and there's lots of celebs/pipoles.  
On two floors, Glou, because of the glou, glou, glou wine makes when poured into a glass, is located behind the Musée Picasso, overlooking the gardens, the sign says, "no dogs", guess what? The ground floor space has an Enomatic Wine Dispenser, at the push of a button, the sleek stainless-steel machine pours you a glass of fine wine. The Italian job is a nifty gizmo that slows down oxidation, preserves the taste of open bottles, "a great way to see if you like the wine before ordering a bottle", explains Fouin. The wine list is extensive, and you can take away Vins de Méditation, d'Exception, des Coups de coeur and Vins de Copains (friends). Prices start from 18€ upwards, and by Enomatic, depends what you choose from 4€50. "Enomatic is the future", grins Fouin. 
From the blackboard, beef cheeks with carrots and onions. Carpaccio of Saint Jacques. Filets de smoked rouget, wasabi crème. Dishes change daily and theres a grand selection of Bellota hams and charcuterie. Or, 6 oysters No.4 Utah Beach from Monsieur Jean Paul (9€). "Not threatened" smoked Ile d'Yeu white tuna. Pavé de saumon bio, snaké au grains de sesame, spinach leaves. Follow with 24 month hyper-fruity Comté and finish with Le Yaourt Glou, or addictive caramel tart by Jacques Genin, who just opened his "Charley & the Chocolate factory" boutique/ laboratoire at 133 rue de Turenne just down the road. Finish with a verre of Gewutztraminer, then take time to pop into the Musée Picasso, where artist Daniel Buren has carte blanche, his work in progress is programmed in several stages, part of an exciting evolution at the museum. "We're open every day except Tuesday", says Fouin. "That's when the museum is closed".
101 rue Vieille du Temple, 3rd
Metro: Saint Sebastian Froissart
T: 01 42 74 44 32
Lunch from 17€ 
Closed Tuesday
"There's not many genuine chroniclers like Pudlo", said Jean-Luc Petitrenaud, journalist and gasto-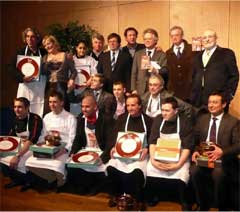 broadcaster. The launch of Bistrots & Brasseries 2009 was at the handsome Maison de la Mutualité. "Table of the Year", Geoffroy Maillard's La Table de Eugene 18th. "Annexe of the year": La Cantine de Troquet, Christian Etchebest (14th). Stand up Le Café Tournon for "Wine Bistro of the Year" (6th). "Top quality gastro": Senderens (8th). "Top quality bistro": L'Evasion (8th). "Transformation of the year" Les Terrines de Gerard Vié (6th) (see last weeks' BUZZ). "Warmest welcome" to the gregarious Jean-Paul Arabian, Cameleon (6th). "Best bistro du quartier": Le Beaujolais d'Auteuil (16th) "most Parisian in the 'burbs": Le Gorgeon (Boulogne-Billancourt).
Le Pudlo Paris Brasseries et Bistrots 2009 
500 Addreses (9€).
Ming Chen, owner of "Zen Garden" the Chinese palace (ex-Nobu) just off the Champs Elysées, has two passions: la cuisine et la decoration. The welcome's elegant, walk through the door you're on holiday, in another land. The ground, designed by architect Sheng Tang Guoyl is a faithful copy of a wealthy Chinese home, "so our guests feel as if they are visiting a well to do family", explains Ming Chen. On the first floor, authentic décor with discreet private rooms behind screens. That looks like Mireille Mathieu tucked in the corner.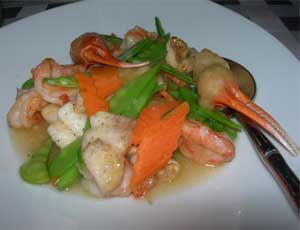 The cuisine is Chinese/French fusion with plenty for vegetarians, soothing teas and famous beers to accompany. Ming Chen invites chefs from different regions to come cook and harmonise flavours with him, say, Sichuan, Shanghai, Canton, Pekin. The menu is comprehensive, you'll get a tennis elbow lifting it. Take time to choose Crab claws stuffed with shrimps. Chicken soup, cabbage, chili and noodles. Caramel sesame chicken, a touch of lemon. Wok cooked beef filet. Noisettes of sole, cooked in the wok with crispy mange tout and crunchy carrots.  
To keep on the cutting edge Ming Chen enters culinary competitions, so you may find yourself ordering No 11 Douceurs épicées du Mont Wutai, a smooth tasty cream of thin sliced duck, young bamboo shoots and black and enoki mushrooms. Médaille d'argent Shanghai 2006. Or the 1998 Gold Medal Seven Treasures of the Lotus Flower, a seafood and vegetable basket, tender Saint Jacques and cashews. For Aiguillettes of grilled duck, Sichuan pepper sauce, order ahead, Ming Chen only makes 15 portions per day. "It's a healthy cuisine", insists Ming Chen. "No fat, lots of steaming and grilling". The ladies who do will adore seaweed salad, followed by tartare of sea-bream with ginger, to finish, plateau de fruits sculptés. It's all good, don't hesitate. See you there, it really is very zen. 
15 rue Marbeuf, 8th
(Metro: Franklin Roosevelt)
T: 01 53 23 82 82
Open 7/7
Lunch formula from 17.50
Average spend 40€ + wine