Dinner by Heston Blumenthal, Brunch in Deauville & Les Vedettes de Paris Buzz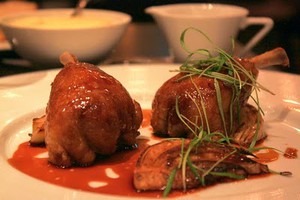 Dinner: (noun) The main meal of the day, taken either around mid-day, or in the evening. From old French disner.
So, let's start with dessert, because a giant spitjack is the focal point of Heston Blumenthal's new London concept, Dinner. The dessert is Tipsy Cake, cinnamon-cream-infused brioche cooked in a cast-iron pot with 2-hour spit-roasted pineapple. The unique mechanism, by Ebel watchmakers, may herald a new era in culinary art. Anyway, you need to know that each dish at Dinner is the result of Heston's sifting through six centuries of British cookery. Now don't be like that, there's nothing wrong with Brit-cuisine, for some reason people love to bash it.
Now, let's go back to the beginning. Dinner is located in The Mandarin Oriental, a vast Victorian-style edifice in Knightsbridge, London, with red-coated flunkies outside and lots of marble inside. Adam D Tihany's done the Dinner décor, even raising the floor so that you have a good view of leafy Hyde Park and all the Queen's horses thundering by. The look's minimal; jelly moulds disguised as wall-lights, blue apothecary jars, glass-walled kitchen and wine racks, a vast machine for eating, heads down, thumbs up, for the delicious food.
None of Heston's molecular here. You have to hand it to him, the guy's an artist, think Picasso with all his different periods, but you know bottom line that at the base there's craft, knowledge and talent. The heads-down brigade came up from time to time to look around and ask, "When's Heston coming?" Like small kids at a party waiting for the conjurer to arrive. But there was no sign of him last Thursday, which was disappointing. Ashley Palmer-Watts heads the open kitchen but doesn't have the same charisma. "No matter, it may be Heston's name above the door, but there's no doubting that it's Ashley's kitchen," explains Tom Parker Bowles.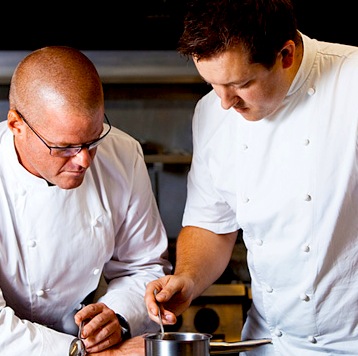 The food's witty, read back to the future, brings a smile to the face as it comes to the wooden table, no tablecloths. The menu is inspired by historic British gastronomy, and the name of each dish is accompanied by the era in which it was created. Begin with Meat Fruit (circa 1500), Mandarin, chicken liver parfait, grilled bread. Bone Marrow, from a recipe in The Cook's and Confectioner's Dictionary by John Nott or Salamagundy, tender chicken oysters, bone marrow and horseradish cream, from the same tome. Savoury Porridge (c. 1660) is cod cheeks, pickled beetroot, garlic and parsley. Rice and Flesh (c. 1390), creamy saffron rice, calf tail and red wine. Wine's by the glass or bottle and there's a young team of keen sommeliers on hand for advise, or to mix cocktails, say, the Chelsea Gardener, in the buzzing bar.
Mains include tender Spiced Pigeon, sourced from The Ladies' Assistant and Complete System of Cookery by Charlotte Mason (c. 1777), as tasted, and approved, by Alain Ducasse c.2011. Eyewatering Rib and Sirloin of Beef with Mushroom Ketchup and thrice-fried golden fat chips. Powdered Duck, (c. 1672) from the Queene-like Closet or Rich Cabinet by Hannah Wolley, cooked nine hours, still pink, plump and juicy. Exciting! Even a veggie option, as in Braised Celery (c. 1730) from The Complete Cook by Charles Cook.
Add a selection of English and Irish Cheeses, and just to let you know there's not only the Tipsy Cake dessert but also Rhubarb and Rosehip, Baked Lemon Suet Pudding, Taffety Tart, Chocolate Win, Millionaire Tart (c. 1710) and freebie Earl Grey mousse. Teas include rose petal and Silver Needle white.
Historic. Heston, even without you, hats off to a great chef. Book now, there's no tables until the end of July, unless you look on eBay.
Where: Mandarin Oriental, Hyde Park,
66 Knightsbridge, London SW1X 7LA
T: +44 20 7235 2000
Underground: Knightsbridge
Price: Lunch £28 Dinner about £60 for three courses + wine and service
12.5% Service Charge goes to the staff
Open 7/7.
10 place Private dining room & Chef's Table for six
Reserve the Heston Blumethal Hoterl package, guaranteed table at Dinner.
Need to Know: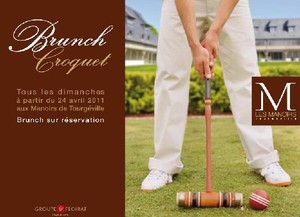 Film director Claude (A Man and a Woman) Lelouch created Les Manoirs de Tourgéville, Deauville, as a country house retreat, with cinema and plenty of space for the Ford Mustangs. Recently acquired by Groupe Floirat, it's a happening address, just a short hop from Paris, Gare Saint Lazare. Chef Emmanuel Andrieu's doing Sunday Brunch-Croquet, Barefoot in the Grass style. 60€ with drinks. Stay in one of the new luxurious timber-front houses. Daba daba da….he
La Terrasse des Vedettes at Port de Suffren is open until October.
All aboard daily from 11am-23hrs, eat, drink, admire the Seine, the Eiffel Tower, take-away burgers.
Eat in menus from 22-30€ – Reservations: 06 17 61 52 07
A Paris hotel we think you should know about . . .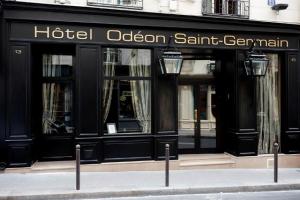 Hotel Odéon Saint Germain is a charming boutique hotel (just 27 suites) located in chic St-Germain-des-Prés district. The 6th arrondissement is central Left Bank, where you'll find Café de Flore, Café Deux Magots, shopping, Buci Market, Notre Dame Cathedral, multiple cinemas, clubs and restaurants. The hotel's elegant, soundproof rooms are equipped with free Wi-Fi, flat-screen TVs and air conditioning. A complimentary buffet breakfast is offered every morning. Métro: Odéon. Please consider booking your hotel stay through our partner, Booking.com, part of Priceline–-if you find the same room for less, Booking.com guarantees to match the price!  Booking.com with your guaranteed lowest price.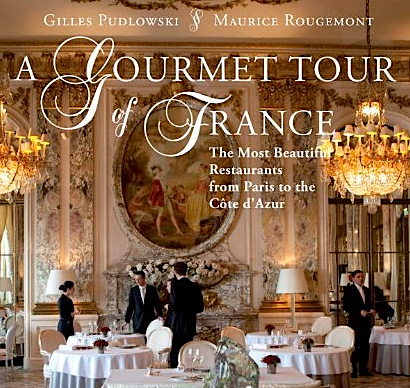 A Gourmet Tour of France: Legendary Restaurants from Paris to the Côte d'Azur
is a one-of-a-kind collection of splendid restaurants, creative chefs, succulent dishes, harmonious odes to tradition and hymns to the art of living well. Prominent restaurant critic Gilles Pudlowski leads the reader on a gourmet tour of France, sharing menu selections from his favorite restaurants along with the stories behind the accomplished chefs and their kitchens. The book comes out on May 17th–order your advance copy at the BonjourParis Marketplace (an Amazon.com affiliate).
Leave a reply
Your email address will not be published. Required fields are marked *