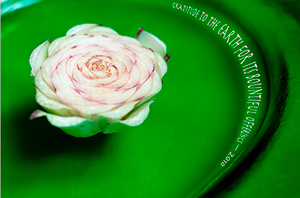 First of all blessed holidays… and thoughtful and savory and gentle and effervescent…. May acts of generosity and courage toward all sentient beings and the Earth color each our New Years.

Following up on the announcement, last month, of my Bay Area cooking class series in March 2010, I wanted to let you know that you can check out the menus and view the different dishes we'll be stirring up.
And again, I hope to see some of you at the classes! You might even think of offering a gift certificate for a class as a Christmas present to someone dear.
I was reading Le Monde newspaper on line this morning and was attracted by an article on food waste in the US citing a paper from a peer-viewed science journal: Plos 1. So I went to their site to read the original article.
Here are a few excerpts from it.
"Food waste contributes to excess consumption of freshwater and fossil fuels which, along with methane and CO2 emissions from decomposing food, impacts global climate change…"
"Recent spikes in food prices have led to increasing concern about global food shortages and the apparent need to increase agricultural production. Surprisingly little discussion has been devoted to the issue of food waste.."
"The calculated progressive increase of food waste suggests that the US obesity epidemic has been the result of a "push effect" of increased food availability and marketing with Americans being unable to match their food intake with the increased supply of cheap, readily available food. Thus, addressing the oversupply of food energy in the US may help curb the obesity epidemic as well as decrease food waste, which has profound environmental consequences."
Food for thought—not for waste.
As for December's recipe… I was thinking of the morning of the 25th, Saint Nicholas' midnight gifting stint accomplished, young and old congregating around the decorated pine, all the swirl of excitement… And how nice it would be to wake up to the scent of fresh warm pastry baking in the oven. Hmmmm.
Here's a recipe for Zaleti, a traditional pastry from Italy's Veneto region. Enjoyed during carnavale back in the Renaissance period, it fits right into the festive spirit of the holidays.
The name Zaleti means "little yellow things" in the Venetian dialect and quite aptly describes the tasty sweet, yellow from the main ingredient: corn flour. I make them soft and crumbly; they somewhat remind me of Irish scones, which I miss terribly in France.
So why not get up an hour ahead of time on the 25th and grab a few extra hands to help you whip up a batch.
Put a pot of water on to boil, sit down with a nicely steeped cup of tea, some creamy butter and orange marmalade, and delight your palate while watching the wrapping paper and ribbons fly; or the birds out the window tracing the hem of morning; or your thoughts, hopes, aspirations, the corners dark and lofty in their inner choreography.

Zaleti – makes 15 – 20
350 gr corn flour
250 gr all-purpose flour (I use brown rice flour – it adds to the crumbly texture)
1-1/4 teaspoons Aluminum–free baking powder
100 gr cane sugar
150 gr cold organic sweet butter, cut into pieces
90 gr Sultana raisins (softened in warm water or Grappa for 20 minutes and drained)
70 gr pine nuts (or slivered blanched almonds)
2 fresh cage-free, free-range eggs (lightly beaten)
250 – 300 ml fresh organic milk (feel free to use rice milk)
Zest of 1 organic lemon (scrubbed well and dried)
Pinch of vanilla sugar (or 1/8 tsp vanilla extract)
Preheat the oven to 160 ˚C (350 ˚F).
Lightly butter a baking sheet and set aside.
Combine the two flours, baking powder, and salt. Add the sugar and butter and mix, rubbing with your hands until the butter is incorporated and the mixture nice and grainy. Add the raisins, pine nuts, and lemon zest.
Mix the milk with the eggs and vanilla. Combine with the dried ingredients and mix well. The batter should be just short of runny.
You'll need 2 tablespoons to form the batter into quenelles. Scoop up a tablespoonful of the batter with one tablespoon, then work it back and forth against the second tablespoon to form an oblong, oval shape.
Place each on the buttered baking sheet, 1-inch apart. Bake in the oven for 15 – 20 minutes, until just beginning to turn golden.
Remove from the oven and transfer to a plate. When cool, sprinkle them with powdered or cane sugar.
Wine note: Wonderful with a glass of Prosecco della Valdobbiadene, or even a nice steaming cup of Darjeeling tea.
Before moving to Paris 15 years ago, Theresa Murphy flitted and combed the couloirs, dining rooms and wine menus of San Francisco's restaurant world from La Mediterranée to South Park Café, along the way jumping onboard Albert Tordjman's delectable Flying Saucer. Over the years she has roamed Paris with her camera and studied the art of risotto making with Toni Vianello of l'Osteria in the Marais district. She recently created La Cucina di Terresa offering plant-based cooking classes and sustainable food tours to tourists and locals alike. Each month, Bonjour Paris posts her Conscious Palate newsletter.