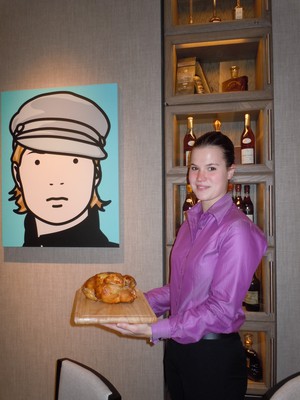 Alert readers have already met Marlon Abela, the food-loving CEO of MARC Restaurants, who grew up between London and France via the USA. His father Albert Abela owned hotels and sold them to Sodexho, so it's hardly surprising that Abela's a gastronaut. But why not open in France? "Because it's difficult to balance a great restaurant with the 35-hour working week, and France has become very expensive", he reflects.
This week Marlon (named after guess who? a family friend) opened Cassis, five minutes from Harrods, across the road from the Victoria & Albert Museum. It's his fourth London restaurant, a Provence-inspired bar/brasserie with stunning bold and chunky design by Target Living, the hip happening team headed by Tara Bernerd. The walls are punctuated with contemporary original artworks by the likes of Matisse, Julian Opie, Gary Hume. Wines, a particular fetish with Marlon, are displayed in glass floor-to-ceiling cabinets. The barman Arthur shakes up Cassis Cocktails, say Toulon Fizz, Cassis Matinée and non-alcoholic flutes of La Provence, Riviera Sunset. "It's great to have the Michelin star restaurants, but Cassis is my "Pret-A-Porter", Abela explains.
At the pianos is the beefy Bourguignon-born David Escobar who's cheffed for Marlon in Belgium and with Jacques Lameloise at 3-star Lameloise, in the bucolic Burgundy village of Chagny. The savvy General Manager is Jean-Marie Mioranda, who hails from Fréjus, loves London and brings the warmth of his region to South Kensington.
Choose from Cassis Bouillabaisse for two, made with fresh market fish. Share crispy whitebait, octopus cocotte, garlic pastis flambéed snails, pissaladière starters "petites bouchées" , provence-style tapas, or more copious starters such as Globe Artichoke, faҫon petits farcis" chorizo or Cassis Salad for the ladies who do. Try Escobar's pâtés or his Pumpkin soup, chestnut and Provenҫal goat's cheese.
Daily specials (grouse and venison last week) are noted on a blackboard. Mains include Roast Farmhouse (the farm's in Somerset) Chicken, puntalette pasta gratin, to share. Herb-crusted rack of lamb, polenta, chorizo and chestnuts. Veal kidney, violet mustard sauce and raisins. About six types of home-baked warm breads are offered, just like in France, not usual in London where you usually pay a supplement. Black Angus rib-eye steak is grilled (28 day matured) pepped with a pepper sauce. Red mullet is pan fried, paired with fregola sarda pasta and brown shrimp. Provence cheeses and epic desserts, Vanilla or Grand Marnier Souffle, Oreillette Provenҫal, homemade jams. Salted Crème caramel and Chocolate Rocher, almond nougatine, hazelnut chocolate mousse. Sensational products, lovely service, beautiful décor—all it needs is a few rooms upstairs, please think about it Marlon…..
232-236 Brompton Road, SW3. 2BB
T: 00 44 207 581 1101
Open 7/7
Lunch – £17-£20 + A La Carte
Dinner – Average Spend £33 + wine
Brunch Sat & sun A La Carte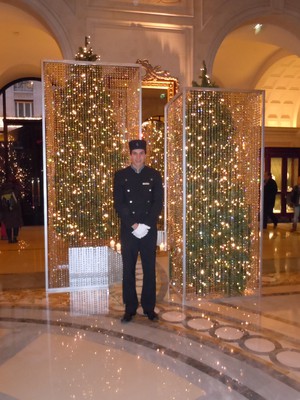 The Four Seasons George V, Paris is having a Swarovski Crystal Palace moment, actually a bit more than a moment, but you know what I mean. Through 15th Janaury Swarovski crystals will sparkle throughout the hotel as it becomes a winter wonderland of white lights and diamanté. Jeff Leatham, the genius Artistic Director, is composing flowers. A marquee covers the marble courtyard showcasing unique chandeliers, hosting receptions and parties.
Don't miss the shimmering crystal curtains used for the Oscars or the majestic Christmas Trees set up in the lobby transformed into a forest hung with crystal curtains, made to order for the George V.
Now in its eighth year, Swarovski's Crystal Palace project was created by Nadia Swarovski in 2002. Combining art and design, it was launched to further the tradition of large crystal chandelier making, its aim to create signature interpretations of light and design using cut crystal. Swarovski intends to break codes, open new chapters in the history of lighting and design by commissioning designers such as Zaha Hadid, Ron Arad, Matali Crasset, Yves Béhar, Jeff Leatham and Tom Dixon to strut their stuff.
The Four Seasons Hotel George V
Reservations for La Galérie:
01 49 52 70 06
Afternoon Tea Daily from 3pm-6pm
As one door closes for 25-Michelin-star superchef Joel Robuchon and he hands over La Table de Joel Robuchon, avenue Bugeaud, 16th, to Jean-Louis Nomicos (ex-Lasserre), another opens at publicisdrugstore.
Located in the basement of the Drugstore (carry straight on after Pierre Hermé's corner and a browse through the books) with red and black décor by Pierre Yves Rochon, it launches seven years after the Atelier at Saint Germain des Prés. Same rules for booking – only for the 18.30 service, otherwise it's first come first served.
And what are they serving?
Tapas with a Japo/Spano/Franco twist. Mini-Burgers: Ris de Veau, foie gras, oursins, Saint-Pierre, veau, caille, l'Agneau de lait. All served in bite-sized portions from about 14€. Eat A La Carte: Homard Bleu: Le Thon: Le Jambon "Iberica de Bellota" : Saint-Jacques: Les Spaghettis. Or normal-size dishes which include joues de Lotte: La Caille: Le Boeuf: Poulet Fermier. Robuchon created L'Atelier to bring the public closer to the kitchen, so choose from the counter or a table. A great choice with about sixty menu choices, all cooked à la minute. The tasting menu includes all the above plus desserts such as Le Parfum des Iles and La Symphonie Chocolate. Wines are carefully chosen and reasonably priced: 2008 Château Puech-Haut is 38€. Be interesting to see if it works—considering the location, you'll either love it or loathe it.
L'Atelier Etoile,
133 Avenue des Champs Elysées, 8th
Metro: Charles de Gaulle Etoile,
T: 01 47 23 75 75
Open 7/7 Lunch & Dinner
Valet Parking
Menu Découverte de Saison 150€ + wine
A La Carte about 60€ + wine
Please visit our Amazon affiliate store for your shopping. Bonjour Paris has hand-selected some of our favorite travel gifts and gadgets for our readers… plus many Paris- and France-related books for children, travelers, scholars, and dreamers.

zChocolat: "World's Finest Chocolates by World-Champion Chocolatiers." zChocolat's selection is handmade by world-champion French chocolatiers following a 400-year-old tradition of passion and zealous adherence to purity. A single bite is an instant of pure seduction and sensory bliss one has never experienced before.
Wine.com has one of the biggest selections of wine on the internet, with everything on offer at a great price!