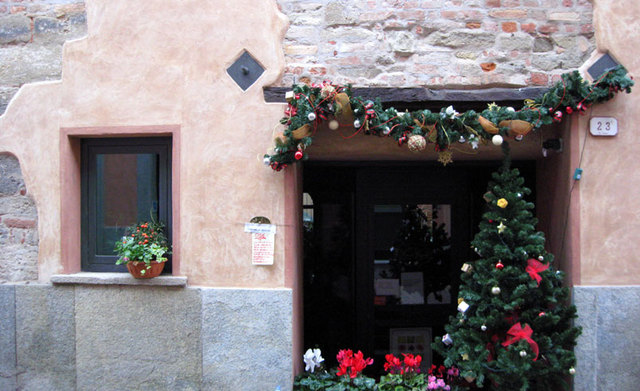 When my 9-year-old came running out to the garden, all teeth and waving an Advent calendar as if it were a winning Loto ticket, I had yet another mère indigne moment. Where had I stashed that one? I wondered, of the calendrier.
"I found it in the bottom of the armoire," my daughter answered, eyes still glued to the colorful Christmas countdown. Jackie didn't seem to mind that we'd missed opening so many of those little portes beneath the calendar dates. I would soon understand pourquoi….
Still feeling coupable about the misplaced calendrier (which I vaguely remember receiving in the mail a few years back after it had been lost in transit) I set aside my book, sprang from the garden chair and its patch of winter sun, and followed my daughter into the kitchen to help put together the pop-up structure.
With the assembly instructions, or mode d'emploi, located beneath the calendar's base, I had to hold the cardboard unit above my head and assemble it mid-air. When all sides were taped we stood staring at a Nativity scene. Jackie finished the Three Wise Men cut-outs and we taped their feet to the cardboard base, beneath which twenty-four pieces of stale chocolate were hidden.
With the help of Jackie's friend, Manuella, we began "setting" the calendrier to the correct date, a process involving the piercing of cardboard, the opening of numbered portes, the tearing of foil, and the gobbling up of le chocolat. Jackie reached behind the door for December 1st and I noticed the dark candy was faded. When it was my turn to eat December 3rd, I discovered the chocolates were a bit fade but that didn't stop me from eating December 6th and 9th. At this point the girls were popping open the portes and handing me my chocolats. It wasn't until I sat there with December 12th melting on my tongue that I realized….
"Quelle horreur! J'ai mangé ma belle-mère!" The girls looked stunned.
"I mean I ate my mother-in-law's birthday!" The girls looked amused.
"I mean I ate December 12th — which WAS Granny's birthday!"
Panicked, I looked over to Jackie who was busy eating The Day After Grandma's Birthday (December 13th). That meant it was too late to call Jean-Marc's mother on her anniversaire. I could now slap the words belle-fille indigne across my forehead.
Feeling worthless and dumb as the cardboard pop-up I'd just assembled, I dialed my belle-mère in Marseilles. As the phone rang, I looked over at the three cardboard Wise Men for encouragement. Two of them had tumbled over from the faulty tape job.
"We're not perfect either," they seemed to admit.
***
French Vocabulary
Loto = French lottery
une mère indigne = unfit mother
le calendrier = calender
une porte = door
pourquoi = why
coupable = guilty
le mode d'emploi = instructions leaflet
fade = tasteless, bland
Quelle horreur! J'ai mangé ma belle-mère! = How awful! I ate my mother-in-law!
l'anniversaire = birthday
la belle-fille indigne = unworthy daughter-in-law
la belle-mère = mother-in-law
Kristin Espinasse is the author of Words in a French Life. Her blog, French Word-A-Day, began in 2002.  She photographs the villages around her wine farm in Provence, where she lives with two Goldens, a Marseillais, and their Franco-American kids.
zChocolat: "World's Finest Chocolates by World-Champion Chocolatiers." zChocolat's selection is handmade by world-champion French chocolatiers following a 400-year-old tradition of passion and zealous adherence to purity. A single bite is an instant of pure seduction and sensory bliss one has never experienced before.
Readers are constantly asking for authentic and out of the ordinary experiences when they come to Paris. Experience Paris – our newest travel partner – can arrange unique experiences in Paris and throughout France. When you contact Larry, please use the code BJ001.