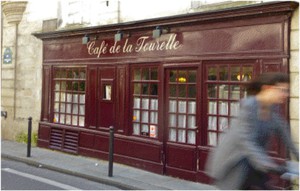 For more than 100 years, Café de la Tourelle has been a small neighborhood restaurant for hungry working Parisians, and while the place may have changed hands a few times (most recently in 2000) nothing much has changed. There is nothing hip about La Tourelle. No trendy menu, no cute server, no towering floral arrangement. Even the address, though in a terminally hip quartier, is on a quiet side street off the busy Blvd. St Germain. From the outside, it looks staid and forgotten but once in the door, all bets are off.
When entering La Tourelle, it seems as though time has stood still: bentwood chairs (the sort we admire at the flea markets but can't afford), white marble table tops on black iron bases, art nouveau brown tile floor and a most charming zinc bar furnish an intimate, cleverly divided room. Ceilings are quite low, intensifying the feeling of "small" (low enough that a 6-foot-something person might feel a tad uncomfortable). Everything about the place is diminutive, harking to a time when people were smaller. Even the menu is small, literally. There are only 4 seasonal items in each category (entrée, plat & dessert); it seems management didn't feel the need to make a menu any larger than the 4 x 5 card it is printed on: food on one side, beverages on the other, including the wine list. Do not expect a deep wine selection as you will only find regional, reasonably priced, non-vintage varietals which go very well, actually, with the foods they are intended to accompany.
I selected the entrée du jour, a house-made duck rillettes, followed by blood sausage served with les deux pommes or sautéed potatoes (pommes de terre) and baked apple (pomme) with a glass of perfectly acceptable Graves (their wine of the month). The rillettes arrived quickly accompanied with a basket of very fresh baguette and a green salad. The rillettes was delicious, more like a foie gras in flavor and texture than a traditional rillettes, while the accompanying salad was a bit overdressed.
Service is pleasant, very quick and efficient—something often lacking in Parisian food establishments. While eavesdropping on the various conversations around the room, I was surprised to hear only French being spoken—a rarity these days, especially in the 6th. Two ladies sitting at the table next to mine also ordered the boudin noir though followed by dessert instead of having a starter. We laughed that "boudin with potatoes and apple" is such a grandmother dish—which boudin is—and it was everything my grandmother would have wanted it to be: rich, moist and crispy skinned. The potatoes looked inviting and were very tasty, but lacked the crunch and heat a freshly sauteed potato dish would have. Apparently these spuds had been waiting, which was really too bad. The baked apple was peeled, sliced and delicious in its simplicity, particularly coupled with the richness of the boudin. There was more of the overdressed green salad as well, which I ignored.
All around me people were happily eating dessert—nothing fancy mind you, just a fruit compote, crème caramel, panna cotta with fruit or chocolate mousse, all fait maison. I had a coffee, which, had it been just a little warmer, would have been really quite good.
My lunch, with a glass of wine and espresso, came to 18.50 Euro. The bill for two ladies next to me (who drank no wine or coffee) was 22 Euro! Total time spent having lunch? 40 minutes . . . and I lingered. Would I return? Yes. La Tourelle is clean and tidy, utterly charming and exactly what it professes to be: a no-fuss place to enjoy an old-school French meal at old-school prices. The hip need not apply.
Café de la Tourelle (no website)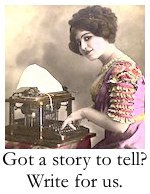 Tél: 01.46.33.12.47
5, rue Hautefeuille, Paris 6th

Marie Z. Johnston was taught well by her Parisienne maman to appreciate good food, good wine and the good people who nurture it, sell it and serve it at restaurants around the world. Click on her name to learn more about the French Market Maven and a list of other stories she's written for BonjourParis.

Subscribe for
FREE

weekly newsletters with subscriber-only content.
BonjourParis has been a leading France travel and French lifestyle site since 1995.
Readers' Favorites: Top 100 Books, imports & more at our Amazon store


You just need to know where to start, right? These current favorites will help…please click on an image for details.
Thank you for using our link to Amazon.com…we appreciate your support of our site.