Around and About Paris: Book Review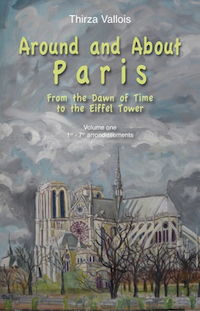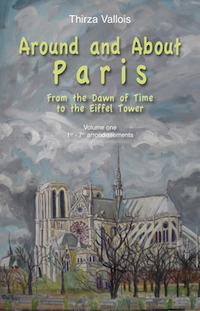 Did you ever read a book so remarkable that you can recall the moment it first grabbed you?
Upon learning that the updated Volume 1 of Thirza Vallois' three-volume Around and About Paris was available for the Kindle, my mind flashed back to the day I discovered the printed book at Shakespeare & Company in Paris. Minutes later I stood with book in hand behind Notre Dame on the quiet corner of rues des Chantres and Chanoinesse near where medieval lovers Héloïse and Abélard lived and loved. Their tragic story was revealed in those pages.
Around and About Paris: Volume I is not only a Paris walking guide, but it's also an engrossing read. Vallois brings Paris streets to life by blending history, personal impressions and literary quotations.
One example that illustrates this is the section about Île de la Cité in the fourth arrondissement. Following Vallois' directions, I continued to 10, rue des Chantres and then to 9, Quai aux Fleurs where Canon Fulbert's home and grounds stood in the year 1118. It was then Fulbert hired 39-year-old teacher Pierre Abélard to teach his 17-year-old niece Héloïse, a member of the Montmorency family. Described as a "great master of rhetoric and dialectics," Abélard was also a poet and accomplished musician who lured throngs of rapt medieval students to the Left Bank of Paris. Héloïse fell in love with the handsome and charismatic Abélard and soon became pregnant. She was sent to Brittany to bear Abélard's son and a vengeful Fulbert castrated Abélard. Coincidentally both died years later at age 63.
Other guidebooks merely note that two medallions placed at 9, Quai aux Fleurs represent the famous medieval lovers.
The book added details about how Héloïse and Abélard were reunited after his death. Héloïse secretly recovered his body and kept it a private chapel she founded. After her death, they were buried together for over 200 years until a prudish nun reburied them separately in 1497. In 1792 they were again reunited in one coffin separated by a lead partition ordered by authorities. Finally, I read that their current resting place is Père Lachaise cemetery. I closed the book and raced there to visit this couple I had come to know, at rest today in elaborately carved adjoining tombs.
All versions of Around and About Paris are perfect pocket guides for exploring Paris on foot and Volume I in digital reader format makes that even more convenient.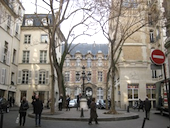 Each of the three volumes covers about a third of the city, grouped by arrondissement in the order of Paris development. Each book introduces the featured arrondissements and their connection to each other and the rest of the city. Every arrondissement is further defined in historic and geographic detail, with maps and text to guide the reader on foot.
The new digital version of Volume One covers arrondissements 1 to 7. You may also wish to download free walking maps you can download and print at Thirza Vallois.com.
Even those who know Paris well will discover fascinating details about otherwise familiar streets and buildings.
Michele Kurlander has written many stories for BonjourParis, most recently Daytrip to Monet's Giverny Spring Gardens.
Sign up now for your own free subscription to BonjourParis & we'll send you Wednesday & Sunday newsletters that link to original France travel stories, news, recipes and travel photography. 50 original stories monthly from your most complete online France travel & Francophile lifestyle eZine. RSS feed available.
Did you know you can buy anything from Amazon.com at our store? Anything a Francophile or traveler needs: books, digital readers & cameras, imported food & beauty products, movies & music, cooks' essentials, plus imported gifts at our BonjourParis Amazon.com Boutique? You benefit from competitive pricing and speedy delivery as your purchases support costs of keeping BonjourParis your most complete online France travel resource. Merci in advance for your support, we appreciate everycentime.
Search hint: start at the back pages for the most recent stock.

One-stop shopping for car rental & international air travel deals:
Car rentals at competitive rates, no drop fees & a 5% discount for BonjourParis.com readers who use this link to Auto Europe Car Rental
Don't overlook Auto Europe for international flights, click Auto Europe Flights
Leave a reply
Your email address will not be published. Required fields are marked *