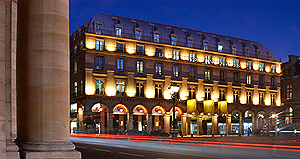 Take a deep, glorious breath in because spring is in the air this month! The cherry blossoms will be come out and shower the City of Light in cascades of pink. There is nothing like springtime in Paris! As well, there are some fantastic events this month in Paris! I'm pulling for nice weather for the 40,000 runners taking to the streets for the Paris marathon – be sure to get out there and root them on! The highly anticipated Manet exhibit opens at the Musée d'Orsay this month, not to mention the Stanley Kubrick retrospective at the Cinémathèque. There are great events to keep you both indoors – and out – this month! Opera, Ballet and Theatre Performances
Palais Garnier
Mats Ek, Choreographer Mats Ek, April 20th – 29th Kátia Kabanová, Conductor Tomas Netopil, through April 5th
Opéra Bastille
Romeo and Juliet, Choreographer Rudolf Nureyev, April 11th – 30th Akhmatova, Conductor Pascal Rophé, through April 13th Tosca, Conductor Renato Palumbo, April 20th through May 18th Le Nozze de Figaro, Conductor Philippe Jordan (A) and Dan Ettinger (B), through June 11th 2011
Royal Opera House of Versailles
Racine, Berenice, April 1st – 3rd Mozart, Haffner Symphony, April 5th Gounod, April 29th and 30th Art Exhibitions in April
The Louvre
Tony Cragg – Figure Out, Figure In, through April 25thFranz Xaver Messerschmidt, through April 25th
Musée d'Orsay
A Ballad of Love and Death: Pre-Raphaelite Photography in Great Britain, 1848-1875, through May29thGustav Mahler, through May 29thManet: The Man who Invented Modern Art, opens April 5th through July 3rd
Grand Palais
Nature et Idéal: Le Paysage à Rome, through June 6thAimé Césaire, Lam, Picasso, through June 6thOdilon Redon, through June 20th Palais de la Découverte Les Survivants de l'Extrème, through August 28thEnergy Island, Palais de la Découverte, through May 15th
Musée du Luxembourg
Cranach, In his Time, through May 23rd
Musée de l'Armée
Armour of the Princes of Europe, through June 25th
Petit Palais -Musée des Beaux-Arts de la Ville de Paris
Jean-Louis Forain 1852 – 1931, La Comédie Parisienne, through June 5th
Musée d'Art et d'Histoire du Judaïsme
Chagall et la Bible, through June 5th
Mémorial de la Shoah
Juger Eichmann – Jerusalem 1961, opens April 8th through September 28th
Château de Versailles
Science and the Curiosities at the Court of Versailles, through April 3rdThrones in Majesty, through June 19th
Musée du Quai Branly
Le Fabrique des Images, through July 17thL'Orient des Femmes, a Vision by Christian Lacroix, through May 15th
Centre Georges Pompidou
Francois Morellet, through July 4thMy Way, Jean-Michel Othoniel, through May 23rd
Musée des Arts Décoratifs
Les Années 1990-2000 History of Contemporary Fashion, through May 8thMichal Batory, artisan de l'affiche, through April 30thVilac, 100 Years of Wooden Toys, through May 8thAnimal, through November 30th
Musée Jacquemardt André
Dans l'Intimité des Frères Caillebotte, through July 11th
La Maison Rouge
Tous Cannibales, through May 15thChiharu Shiota, Home of Memory, through May 15th
La Maison Européenne de la Photographie
Marc Trivier, through April 3rdHenri Huet: Vietnam, through April 10thHervé Guibert, through April 10thCollages by Jacques Prévert, through April 10th Vincent Rosenblatt, through April 10th
Musée Maillol
Miró Sculpteur, through July 31st
Mona Bismark Foundation
Gustave Corbet and the Love of Nature, through June 4th
Muséum National d'Histoire Naturelle
Parcours à la Ménagerie, through December 31stDans l'Ombres des Dinosaures, through June 13thIn the Wake of Sharks, through May 8th
Foundation Cartier
Vaudou, opens April 5th through September 25th
Musée d'Art Moderne de la Ville de Paris
Inci Eviner, through April 3rdHaute Culture, through April 30thApartès, through May 7thVan Dongen, through July 17th
Pinacothèque
Le Voyage Imaginaire de Hugo Pratt, through August 21st
Cinémathèque
Stanley Kubrick Retrospective, through July 11th Australian Embassy / 4, rue Jean Rois, Paris 15thDennis Nona, Entre Ciel, Terre et Mer, ou le Mythe Revisité, through May 20th
Ateliers d'Art et Design
An exhibition displaying the work of many talented artists in conjunction with the Mairie de ParisThrough May 28th Music Venues – Highlights of April
Bercy
30 Gospel of 100 Voices
Salle Pleyel
1 Orchestre Philharmonique de Radio France – Bedford – Radulovic – Thomas – Gubisch – Begley –Lemalu2 Herbie Hancock – Lang Lang – Orchestre National des Pays-de-la-Loire – John AxelrodCarte blanche Lang Lang3 Orchestre Colonne – Laurent PetitgirardConcert éveil6 Orchestre de Paris – Prélude au concertAcadémie de l'Orchestre de Paris – Conservatoire de Paris CNSM6,7 Orchestre de Paris – Sakari Oramo – Gil Shaham8 Orchestre Philharmonique de Radio France – Lionel Bringuier – Nelson Freire 10 Orchestre National d'Île-de-France – Enrique Mazzola – Philippe CassardExtase11 Nelson Freire15 Ariane et Barbe Bleue – Orchestre Philharmonique de Radio France – DeroyerDe Negri – Wilson – Haidan – Cavallier17 Dave Holland19 Orchestre de l'Opéra National de Paris – Georges Prêtre21 Mariza26 Anna Netrebko27, 28 Orchestre de Paris – Paavo Järvi – Lars Vogt
L'Olympia
2, 3 Anne Roumanoff4 Avishai Cohen5, 6 ZAZ7 Raggasonic8 Best of Floyd9 – 17 Nicolas Canteloup18 Jeff Dunham19 – 24 Nicolas Canteloup25 Ratatat26,…
SUBSCRIBE
ALREADY SUBSCRIBED?
BECOME A BONJOUR PARIS MEMBER

Gain full access to our collection of over 5,000 articles and bring the City of Light into your life. Just 60 USD per year.

Find out why you should become a member here.

Sign in

Fill in your credentials below.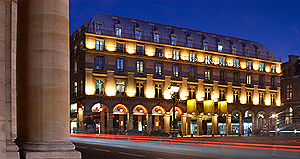 Take a deep, glorious breath in because spring is in the air this month! The cherry blossoms will be come out and shower the City of Light in cascades of pink. There is nothing like springtime in Paris!
As well, there are some fantastic events this month in Paris! I'm pulling for nice weather for the 40,000 runners taking to the streets for the Paris marathon – be sure to get out there and root them on! The highly anticipated Manet exhibit opens at the Musée d'Orsay this month, not to mention the Stanley Kubrick retrospective at the Cinémathèque. There are great events to keep you both indoors – and out – this month!
Opera, Ballet and Theatre Performances
Mats Ek, Choreographer Mats Ek, April 20th – 29th
Kátia Kabanová, Conductor Tomas Netopil, through April 5th

Opéra Bastille
Romeo and Juliet, Choreographer Rudolf Nureyev, April 11th – 30th
Akhmatova, Conductor Pascal Rophé, through April 13th
Tosca, Conductor Renato Palumbo, April 20th through May 18th
Le Nozze de Figaro, Conductor Philippe Jordan (A) and Dan Ettinger (B), through June 11th 2011

Royal Opera House of Versailles
Racine, Berenice, April 1st – 3rd
Mozart, Haffner Symphony, April 5th
Gounod, April 29th and 30th
Art Exhibitions in April
The Louvre
Tony Cragg – Figure Out, Figure In, through April 25th
Franz Xaver Messerschmidt, through April 25th
A Ballad of Love and Death: Pre-Raphaelite Photography in Great Britain, 1848-1875, through May
29th
Gustav Mahler, through May 29th
Manet: The Man who Invented Modern Art, opens April 5th through July 3rd
Nature et Idéal: Le Paysage à Rome, through June 6th
Aimé Césaire, Lam, Picasso, through June 6th
Odilon Redon, through June 20th
Palais de la Découverte
Les Survivants de l'Extrème, through August 28th
Energy Island, Palais de la Découverte, through May 15th

Musée du Luxembourg
Cranach, In his Time, through May 23rd

Musée de l'Armée
Armour of the Princes of Europe, through June 25th
Petit Palais -Musée des Beaux-Arts de la Ville de Paris
Jean-Louis Forain 1852 – 1931, La Comédie Parisienne, through June 5th

Musée d'Art et d'Histoire du Judaïsme
Chagall et la Bible, through June 5th
Mémorial de la Shoah
Juger Eichmann – Jerusalem 1961, opens April 8th through September 28th

Château de Versailles
Science and the Curiosities at the Court of Versailles, through April 3rd
Thrones in Majesty, through June 19th
Musée du Quai Branly
Le Fabrique des Images, through July 17th
L'Orient des Femmes, a Vision by Christian Lacroix, through May 15th
Centre Georges Pompidou
Francois Morellet, through July 4th
My Way, Jean-Michel Othoniel, through May 23rd

Musée des Arts Décoratifs
Les Années 1990-2000 History of Contemporary Fashion, through May 8th
Michal Batory, artisan de l'affiche, through April 30th
Vilac, 100 Years of Wooden Toys, through May 8th
Animal, through November 30th
Musée Jacquemardt André
Dans l'Intimité des Frères Caillebotte, through July 11th
La Maison Rouge
Tous Cannibales, through May 15th
Chiharu Shiota, Home of Memory, through May 15th
La Maison Européenne de la Photographie
Marc Trivier, through April 3rd
Henri Huet: Vietnam, through April 10th
Hervé Guibert, through April 10th
Collages by Jacques Prévert, through April 10th
Vincent Rosenblatt, through April 10th
Musée Maillol
Miró Sculpteur, through July 31st
Mona Bismark Foundation
Gustave Corbet and the Love of Nature, through June 4th
Muséum National d'Histoire Naturelle
Parcours à la Ménagerie, through December 31st
Dans l'Ombres des Dinosaures, through June 13th
In the Wake of Sharks, through May 8th
Foundation Cartier
Vaudou, opens April 5th through September 25th
Musée d'Art Moderne de la Ville de Paris
Inci Eviner, through April 3rd
Haute Culture, through April 30th
Apartès, through May 7th
Van Dongen, through July 17th
Pinacothèque
Le Voyage Imaginaire de Hugo Pratt, through August 21st
Cinémathèque
Stanley Kubrick Retrospective, through July 11th
Australian Embassy / 4, rue Jean Rois, Paris 15th
Dennis Nona, Entre Ciel, Terre et Mer, ou le Mythe Revisité, through May 20th
Ateliers d'Art et Design
An exhibition displaying the work of many talented artists in conjunction with the Mairie de Paris
Through May 28th
Music Venues – Highlights of April
Bercy
30 Gospel of 100 Voices
Salle Pleyel
1 Orchestre Philharmonique de Radio France – Bedford – Radulovic – Thomas – Gubisch – Begley –
Lemalu
2 Herbie Hancock – Lang Lang – Orchestre National des Pays-de-la-Loire – John Axelrod
Carte blanche Lang Lang
3 Orchestre Colonne – Laurent Petitgirard
Concert éveil
6 Orchestre de Paris – Prélude au concert
Académie de l'Orchestre de Paris – Conservatoire de Paris CNSM
6,7 Orchestre de Paris – Sakari Oramo – Gil Shaham
8 Orchestre Philharmonique de Radio France – Lionel Bringuier – Nelson Freire
10 Orchestre National d'Île-de-France – Enrique Mazzola – Philippe Cassard
Extase
11 Nelson Freire
15 Ariane et Barbe Bleue – Orchestre Philharmonique de Radio France – Deroyer
De Negri – Wilson – Haidan – Cavallier
17 Dave Holland
19 Orchestre de l'Opéra National de Paris – Georges Prêtre
21 Mariza
26 Anna Netrebko
27, 28 Orchestre de Paris – Paavo Järvi – Lars Vogt
L'Olympia
2, 3 Anne Roumanoff
4 Avishai Cohen
5, 6 ZAZ
7 Raggasonic
8 Best of Floyd
9 – 17 Nicolas Canteloup
18 Jeff Dunham
19 – 24 Nicolas Canteloup
25 Ratatat
26, 27 Cocoon
30 Patson
Le Zénith
2 Enrique Iglesias
4 Aaron
5 Nas & Damian Marley
6 Gaeten Roussel
8 Ben l'Oncle Soul
9 George Wassouf
10 Wisin Y Yandel
14 Alpha Blondy / Alborosie / Gentleman
16 Tarkan
23 Tunisie en Fete
25 Rockers Festival
28 – 30 Jean-Louis Aubert
La Cigale
1 Beat Torrent
2 Cee lo Green
4 Adele
5 Asaf Avidan & The Mojos
6 Frederika Stahl
7 Selah Sue
8 Bertrand Belin
9 Les Forbans
15, 16 Rohff
20 Le Tout Puissant Orchestre
21 Lykke LI
26 – 30 Thomas Fersen
Jazz Concert – Grand Foyer du Chatelet
6 Soirée Classique, featuring Liat Cohen, Jean-Louis Beaumadier & Christelle Abinasr
7 Soirée Classique and Jazz, featuring Michel Bourdoncle & Ryoko
Paris Events in April
Art Paris at the Grand Palais
Through April 3rd This event includes more than 120 galleries, from 17 different countries to be
enjoyed by almost 50,000 people when all is said and done.
Centre Pompidou Events
7, 8 Test Pattern Live, Japanese composer Ryoji Ikeda
15 Lignes – Surface, Unsuk Chin
20 – 22 Gisèle Vienne, This is How You Will Disappear
Salon de la Mort
8 – 10 Yes. This is a salon focused entirely on all aspects of dying; psychological, philosophical and
spiritual.
Paris-Roubaix Bicycle Race
9 Dubbed l'Enfer du Nord, this race dates back to 1896 and many people consider this to be one of
the toughest bicycle races to do.
Paris Marathon
10 The 35th annual Paris marathon sold out within days – filled to capacity with 40,000 runners
taking to the streets
Réalités Nouvelles
10 – 17 Held in the Parc Floral this abstract art festival features over 400 artists
Grand Crus Tea Tasting
Monthly Tea-Tastings in English, the first Tuesday of every month at 18H30-20H30, and the last
Thursday morning of every month from 10am-12 noon. 20€/person.
Grands crus commented, with information about impact of tea utensils, type of cup & teapot for tea
type, information about taste, health benefits & tea components. Inscriptions (required 24 hrs in
advance) sent to [email protected] or call 01 53 30 05 24 for more information.
En Attendant le Petit Poucet / Marrionette Theatre
13 – 20 Object and puppet theatre inspired by the story of Tom Thumb.
Foire de Paris
28 April – 8 May Everything you could possibly imagine in the realm of interior design
American Library in Paris
6 Evenings with an Author: Jennifer Butler
13 Evenings with an Author: Marie de Hennezel
Village Voice Bookshop
12 Jeffrey Greene discusses his latest book, The Golden Bristled Bear: The Last Ferocious Beast of
the Forest
14 Gabriel Josipovici reads from his novel, Moo Pak
27 Nicole Krauss reads from her novel, Great House
28 Joseph Mcelroy reads from his collection of short stories, Night Soul and Other Stories
Lisa Buros-Hutchins
www.YourParisExperience.com
If you know of other special events in Paris, or if you would like to have your event featured in this monthly column, please send an email to Lisa at:  [email protected]
Your Paris Experience is pleased to offer the Premium Members of BonjourParis.com offer a 10% discount on the public price of all services.
Please spread the word about Bonjour Paris and send an invitation to your friends to receive the newsletter.   In advance, thank you.
Please visit our Amazon affiliate store for your shopping. Bonjour Paris has hand-selected some of our favorite travel gifts and gadgets for our readers… plus many Paris- and France-related books for children, travelers, scholars, and dreamers.
More in Bonjour Paris, Paris events
---
---