Cafe Richelieu, Maison Blanche, Crillon Patio, Bistro Des Gastronomes & Foodstock Buzz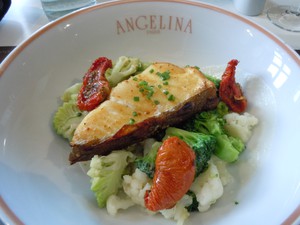 Café Richelieu: the new address

Located in the former offices of the Ministry of Economy and Finance, Café Richelieu is the new address with large sun-drenched terrace, all set for the long hot summer. Add the essential Eiffel Tower views and that of La Pyramide du Louvre, a comprehensive menu by Angelina, some works by Daniel Buren and Jean-Pierre Raynaud, et voilà.
"The Groupe Eliance asked us to create something special," explains architect Patrick Mauger. So Mauger got together with designer Jean-Marie Wilmotte (Guy Savoy's chou-chou) and, together with the above-named artists, they created a pure, contemporary, functional space, open during museum hours.
Only catch is you must buy a ticket at the desk of the Richelieu Wing to have access, except the first Sunday of each month when you get the run of the Louvre gratuitement.
"But that's good," says Jean-Pierre Feller, a Louvre maven who was guiding me around Napoleon's Apartments. "It's right next door to the newly launched Café. Napoleon knew a good meal, he was often at Le Grand Véfour with Josephine, so he'd love Angelina," reasons Feller.
Angelina's Paris flagship on rue de Rivoli is often hidden by long lines of aficionados waiting for tables. It was opened in 1903 by Austrian confectioner Antoine Rumpelmeyer, and the lines have been there since then. Coco Chanel and Proust adored the hot chocolate and wicked Mont-Blanc, made to a carefully guarded secret recipe, both of which are available at Le Louvre Angelina. Tactile screens outside the space translate the menu into seven languages. So pop in for Club Sandwiches, or Tartare de Boeuf Angelina, parmesan, tomates confites, frites, salade verte. Les Grandes Salades for the ladies who do, perfect with a glass of St-Emilion Grand Cru, Château Lamour. Dos de Cabillaud Rôti with cauliflower and lemongrass, a glass of Côtes de Provence, the sunny terrace, Le Louvre, Paris, perfect. Choose from a mouthwatering selection of Angelina desserts, including new additions such as Religieuse Griotte Pistache.
Groupe Elior have taken eighteen months to re-look the high-end Louvre restaurants in the Richelieu wing."It's interesting to note that restaurants in museums wordwide are now of a very high standard; they have become destinations in their own right. We research new ideas all the time," the management explain.
Le Café Richelieu—Salon de thé Angelina
Tel: 01 4927 9331 
Louvre, 1st Floor-Richelieu Wing 
rue de Rivoli, Paris 1st
Métro: Palais Royal, Musée du Louvre
Hours: Open from 9AM-6PM, Shut Tuesday; 9AM-10PM Wednesdays & Fridays
La Maison Blanche opens Terrace, Montaigne with Seine and Eiffel Tower views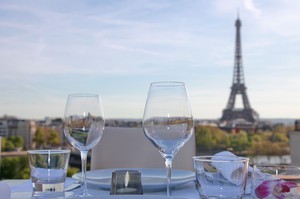 La Maison Blanche, perched on top of the Théâtre des Champs-Elysées, just opened the new "Terrace, Montaigne." With wonderful views over the Seine as far as Les Invalides and the Eiffel Tower, it's a dream address for lunch or dinner. Young chef Sylvain Ruffenach comes from the Alsace region, says his menus are influenced by the Mediterranean of the Pourcel brothers (executive chefs at Maison Blanche). Expect Encornets grillés à la provenҫale, Carpaccio de Wagyu et fine roquette au parmesan Reggiano, Saint-Pierre aux asperges vertes de Saint-Vincent. Mignon de veau au thym-citron et morilles, petits pois et fevettes. Fraises des bois de Malaga et blanc manger à la vanille.
Wines are by glass or bottle, with the sommeliers presenting choices of the day with their "casier de dégustation" wine baskets, for tasting "not the label, but the terroir." From Touraine, Moulin à Vent, Languedoc, Provence, etc. The terrace, revised and corrected by L'Agence, is listed as a Monument Historique, as is the handsome building. The original theatre and terrace, designed by architect Auguste Perret, were inaugurated in 1913. Terrace Montaigne has to feature in BUZZ's top addresses for les amoureux de l'été 2011 de haute voltige. There's space for 40, so book ahead.
Maison Blanche, Terrace Montaigne
Tel: 01 4723 5599
15, avenue Montaigne, Paris 8th
Métro: Alma Marceau
Valet Parking
Shut Sat-Sun
Sky Bar from 6:30PM Tues through Sat.
Lunch 48-58€
Dinner 69-110€
Wines by the glass 8-12€
New Cédric Lefévre bistro on Left Bank
You'll have tasted Cédric Lefèvre's talent at Chez Casimir, Christian Constant and Bistro Volnay. Now he's created his own Left Bank bistro. If you're in the 'hood it's definitely worth a visit for his market-fresh products cooked in neo-tradi style. Poêlée de couteaux (razor clams) en persillade et croustillant de pommes de terre. Saint-Jacques d'Erquy rôties entieres, relevées au jambon d'Auvergne, purée de céleri. Tarte au citron, with soft meringue, yum!
Bistro des Gastronomes
Tel: 01 4354 6240
10, rue du Cardinal-Lemoine, Paris 5th
Métro: Maubert-Mutualité, Jussieu
Shut Sat lunch-Mon
Sunday Buffet Campagnard from 11AM-9PM
Lunch 22-26€
Dinner about 35€
Summer patio dining at l'Hôtel de Crillon
The Crillon Summer Patio is a delightful oasis, in an elegant designer setting of statues, sundial and sunshine, a pause from the ardours of serious shopping on the Golden Triangle. Pop in from 10am for light snacks, delicious salads, a glass of champagne or wine, club sandwiches. You're in the country in the heart of the city.  Afternoon tea from 3.30-6pm, from May-September.
Hôtel de Crillon
Tel: 01 4471 1615
10, place de la Concorde, Paris 8th
Métro: Concorde
Open 7/7
Diary Date: Les Veillées Foodstock
Where? In the gardens of the wacky Mac/Val museum d'art contemporain of Val-de-Marne at sunset.  When? 7th and 21st May with food (carrot starter, gaspacho printanier with irish crab, main: Irish beef, marinated in Jameson by Grégory Marchand (Frenchie) and dessert crème brûlée Haagen-Daz by the wunderkid patissier of Le Meurice, Camille Lesceq. How much? 30€ donated to Les Enfants du Congo Béthanie.
Animation by Brigitte Black Minou and Benjamin Biolay. Access to museum included.
Sign up on: Le Fooding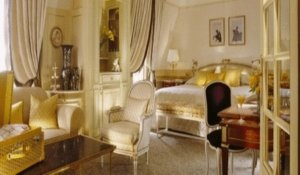 Le Meurice is an elegant 5-star Right Bank hotel near many of the dining options mentioned above. Suites are divine beyond words. The vibe is classy without being stuffy; staff is welcoming and service-oriented. Restaurant Le Meurice overlooks the Jardin des Tuileries and Bar 228 is a favorite for relaxing after a day of sightseeing, shopping or sampling the pleasures of Paris. Métro: Tuileries out the door; doormen always on-duty to summon taxi or private car. In the area you have rue St. Honoré boutiques, Place de la Concorde, the Louvre Museum, Opera Garnier, the Seine banks, Galerie Vivienne, the Champs-Elysées, etc. More about Le Meurice Hotel from our partner, Booking.com, part of Priceline.com, the world's leading online hotel reservations agency. Remember: if you find the same room for less, Booking.com guarantees to match the rate.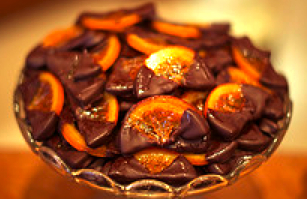 Would you like to meet some of the world's best chocolate makers and sellers? Don't squander a minute of your precious vacation, go right to the chocolate experts with our partner, Context Travel. Join their Chocolate Walk to learn the magical secrets of chocolate making at upscale Left Bank shops. Meet expert confectioners and sample their contrasting flavors of chocolate, macarons, merengues and tartes—click here to read more about this tantalizing walk lead by one of Context's professional gastronomes: Chocolate Walk by Context Travel.
Leave a reply
Your email address will not be published. Required fields are marked *