France News Daily: May 2-8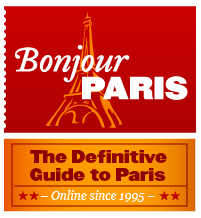 France's Lacoste updates stores and fashions in search of females and youth
BonjourParis France News Daily
Dali Wiederhoft
PARIS, May 5— Last week in Paris Lacoste dedicated its first renovated "alligator" brand flagship store in a hunt for chic females and hip youth who shunned the brand's familiar polo shirts popular with preppy males around the world.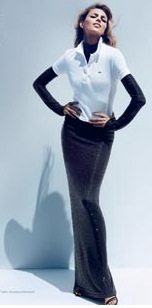 French-based international brand Lacoste, represented by an alligator, is marketing its Spring 2011 contemporary fashion lines to women and young hipsters.
In a press release, Lacoste said the changes are a response to current fashion trends of "simplicity, elegance and durability" over "rigid luxury." The smaller Paris boutique in the Marais district will be changed to attract the branché (hip) youth and a "Lacoste Kids" children's store also just opened.
Over the next two years Lacoste plans to update or completely redo its 1,200 boutiques and new stores are planned for Hamburg, Montreal, New York and Shanghai. Smaller shops in Marais neighborhood in Paris, Carnaby Street in London and Soho in New York will be renovated and restocked with "Lacoste Live" fashions for younger consumers.
The company is also developing jewelry, bags, eyewear and a Citroën-Lacoste concept car.
Lacoste will continue its signature cotton polo shirt and sport attire for men, which adds up to about 80% of their revenue. Source:  LeMonde & company press release
Hong Kong-based Shangri-La Hotels and Resorts banking on Paris
PARIS, May 2—Hong Kong-based owners of luxury hotel chain Shangri-La Hotels and Resorts opened their first European hotel in Paris last December with affluent business and Francophile travelers in mind.
Prestigious French design team
Esteemed French experts were hired to ensure no French details were overlooked in restoring the former palace built in 1896 for Prince Roland Bonaparte of "that" Bonaparte family. French architect Richard Martinet and interior designer Pierre-Yves Rochon restored the classic French Empire exteriors and interiors. French landscape architect Louis Benech created a garden terrace as good or better than found at other Paris luxury hotels. Most of the Shangri-La's rooms and suites offer Seine or Eiffel Tower views, as expected by guests with the means to buy them. The hotel's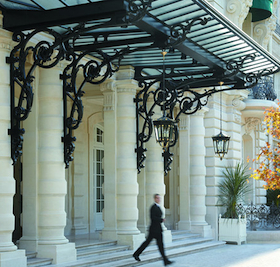 Right Bank perch is surrounded by global designer boutiques and world-class museums. But subtle touches and service features have been added to specifically appeal to the highest-spending non-European visitors to France: Chinese travelers.
Chinese tourists spend more than all non-European France visitors

Well-to-do guests of any origin are welcome, of course, but the hotel's target market is Chinese tourists who spend more than any other non-European tourists in France. Savvy French department stores and upscale brands like Hermès retain Mandarin-speaking staff. Chinese-language audio and printed guides are available at major museums. The Shangri-La Paris website is available in a Chinese language version and every department employs Chinese-speaking staff. Chinese temporary workers and consultants are hired to serve as lobby greeters during Chinese festivals and to lead private shopping excursions. Asian gourmet dining is part of the Shangri-la experience at two restaurants that serve both French and Chinese gourmet meals.
To date the majority of the hotel's guests have been European, but the hotel continues its Chinese-targeted marketing program as the Chinese economy continues to grow. [source: Wall Street Journal]

MedjetAssist is a medical evacuation membership program that arranges medical transfer to the hospital of your choice should you require hospitalization when more than 150 miles from home. When your emergency meets transport criteria, MedjetAssist will arrange medical transfer to the hospital of your choice at no additional cost beyond your membership fee. Vacation coverage starts at $95—please take trips, not chances by traveling with Medjet Assist.
Leave a reply
Your email address will not be published. Required fields are marked *