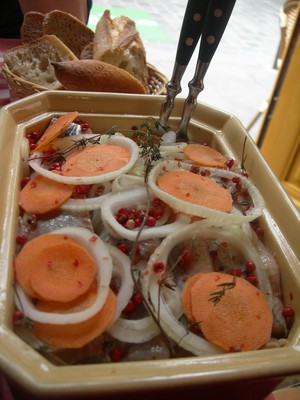 Restaurant Astier ticks all the bistro boxes, red-check tablecloths, zinc bar, superb wines, a bit of history, traditional dishes that really taste of terroir. A corner bistro in the leafy 11th arrondissement, Astier was given a new lease of life by the enthusiastic and passionate Fréderick Hubig-Schall, who also owns the excellent Café Moderne near the Bourse.
The elegant and gregarious Hubig-Schall is front-of-house and wines. His chef, the delightful Christophe Kestler, says his néo-bistrotière dishes are inspired by products grown within the Ile de France region. "Canaille et grands classiques", he says. "My suppliers are my best friends, butcher Queyson, Charcuterie Bobosse, Boulangerie Kayser".
Begin with one of the grands classiques, say, Harengs fumés marinés, pommes Rosevalt au vinaigrette. A flavour-packed Terrine de Sanglier à l'Armagnac et aux pruneaux d'Agen, emincé de chou vert.
Côté wine, Robert Henry (Trophée Ruinart 1990) works with Hubig-Schall on the savvy list which boasts great buys (400 references). They also put on tastings and blind tastings for small groups. Look for Domaine Puig-Parahy, Côtes du Roussillon "Mes Amis" (around 25€) up to the Romanée Conti, Montrachet at 1550€.
Continue with Filet de Lisette à la plancha, risotto d'épeautre, jus de viande. The menu changes daily, and choices are tough to make because the dishes are so interesting. Poulet pattes noires rôtis, jus au thym, tartines aux foies blondes et lard fumé. Trady pudds include a sensational rum-soaked Baba and wicked Tarte Tatin et crème fraiche. But before the pudd you'll want to taste some of the 15 cheeses sitting proudly in a big basket, with delicious bread by Eric Kayser. If you're six people, why not book the pretty first floor salon.
And next door you'll find Jeanne A, (named after Madame Astier who, together with Monsieur, created this welcoming spot in 1956). It's an exciting, cutting-edge address. Neo–Epicerie Fin/Rotisserie/Table d'Hôte/fresh juices. Just what Paris needs—a bit of young attitude.
44, rue Jean-Pierre Timbaud, 11th
T: 01 43 57 16 35
Metro: Republique/Parmentier
Open 7/7
Lunch 19€50 or 25€50
Complementary still or sparkling water
Jeanne A
42 rue Jean-Pierre Timbaud, 11
Open 9.30 am-'til late, there's always something to enjoy
Superb Sunday Brunch 23€ – Wine/cheese/charcuterie tastings – Rotisserie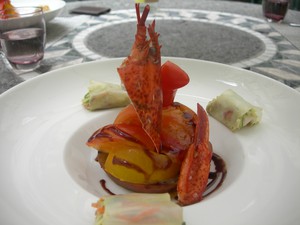 When a chef has Maison Blanche, the creation of the Pourcel twins, on his CV you know you're going to get a fantastic deal of a meal. Young Thierry Vaissière, who began his career with the Pourcels at "Le Jardin des Sens, Montpelier", recently helped the brothers launch their edgy Christopher Pillet-designed Maison Blanche, Fez, restaurant. He's also worked with Alain Senderens, Yannick Alleno and at La Tour d'Argent. Fascinated by America, Tel-boy grabbed the opportunity to open the Eiffel Tower restaurant at the Hotel Paris, Las Vegas, where he stayed for two years, adored every minute and hopes to return one day. French chef Pierre Koffman noted the other day he's sick of French chefs, they no longer know how to graft. Not all of them chef K, this boy's a gift to a kitchen. Not only has he learned from the greats, he's developed a "cooking personality" that sings of textures, flavours, and perks up the five senses, sensually.
In brown and gold décor by Pierre-Yves Rochon, the Café Faubourg is an interesting hommage to fashion, through a fabulous collection of original lithos from famous French couture houses. Nice touch. Café Faubourg sits on the edge of the most luxurious retail therapy streets in the world.
In season, you can eat on the sheltered terrace, dotted with pretty trees and a fountain, last year open through October. Among the offerings: an exceptional variation on a theme of rare tomatoes, topped with juicy lobster nems, a light bright acidic Modena balsamic dressing. For mains of fragrant slow-cooked cod with Monsieur Clot's Agria potatoes, or bright red mullet on the bone and barigoule of vegetables, a dish that reflects chef's time in the South of France. As does breast of organic chicken, with stuffed courgette flowers (who could be bothered, life's too short, but if someone else's doing the stuffing, take it.
Wash down with something exceptional by the glass from the Enomatic system or, say, a dry aromatic white. Sancerre 2008 Domaine Mellot, Sauvignon, Loire Valley (49€) or the punchy red 2007 Chinon Baronnie Madeleine.
Look at the menu—all is not what it seems. Take the BUZZ "Pudd of the Year" for example. Billed as Lemon Tart, you'll think BORING, who needs another Lemon Tart, I can get that anywhere. WRONG. Vaissière's is an outsize plump lemon confit filled with a heavenly light lemon mousse concoction sitting on a bed of crushed meringue, by its side a zinger of sorbet yuzu-basilic—paradise. Chatting to Vaissière about it, I asked him why he didn't call it something else. "Well, if you read the menu it does say 2010 version", he grins a sexy grin. OK Tel-Boy, got it. Can't wait to return.
Cafe Faubourg,
15 rue Boissy d'Anglas, 8th
Metro: Concorde
T: 01 44 94 14 24
Open 7/7 Lunch & Dinner
Average Spend – 58€ + wine
Valet Parking
LONDON BUZZ:
If you like the above you'll enjoy these: There's a big scene.
Comptoir Gascon bistro and deli with Southwest France attitude, daily specials written on a blackboard. The "French" fries cooked as they should be in duck fat. Gascony pie, Toulouse Cassoulet, excellent wines. All good, but difficult to adjust to the £1.50 supplement for bread! Puhleese.
Caravan, with aromas of freshly roasted coffee is located on Exmouth Market, chef Miles Kirby serves an all-day menu, including brunch and small dishes, in scrubbed rusticity. Trencherman dishes include: Salt beef fritters, green beans and mustard. Char-grilled spiced mutton chop with mint, yogurt, peas. Nice with a breakfast martini (gin, vermouth, OJ, bitters, Seville orange marmalade) with a chunk of sourdough toast.
Wright Brothers Oyster and Porter House in the heart of Borough Market, "From sea to table and everything in between." Watch the shuckers shucking juicy bivalves from Duchy Oyster Farms and order, say, smoked haddock fish pie and smoked salmon.
More About Travel in France:
If you're coming to France (or for that matter anywhere) you can reserve your hotel here. To rent a car, Bonjour Paris recommends Auto Europe.
Would you like a private shopper and a driver? Lisa Buros-Hutchins of Your Paris Experience can arrange one. Do you feel like taking a walking or an art tour? If so, contact [email protected] of Context and she'll arrange something special for you.