Back in 1982 or so I noticed a sign at Mustards restaurant in Napa Valley reading "The Bitch is back." When I inquired as to the meaning, I was told that after an absence of six months, Veuve Clicquot Champagne was once again available in stock. That was my introduction into "Widow" Clicquot's wine.
Now leap-frog a few months: I was watching the movie Casablanca for the thousandth time when, low and behold, I focused on this scene: Claude Rains, playing Captain Louis Renault invites Paul Henreid playing Victor Laszlo to sit at a table with Conrad Veidt playing German Major Strasser…Captain Renault orders for the table…."Waiter, a bottle of Veuve Clicquot, 26." Now, champagne that stars in one of the greatest movies ever needs to be taken seriously.
But let's digress for a moment. Champagne can only be called Champagne if it is from Champagne, France, period; all others are wines with their "noses" pressed firmly against the window overlooking the wine wishing well. Grapes from Corinth grapes from the Champagne region are not used for making Champagne. Corinth grapes are small seedless grapes that were tagged Champagne grapes because they were once depicted in a photo alongside a Champagne glass.
Generally the grapes used to make Champagne are Pinot Noir or Chardonnay. Champagne grapes are never used for making champagne.
Now, back to Veuve Clicquot. As you might have gathered veuve is French for "widow," and Ms. Clicquot, maiden name Barbe-Nicole Ponsardin, became a widow in 1805 after her husband François Clicquot went to the great vineyard in the sky.
Madame Clicquot made strides in establishing her wine in royal courts throughout Europe, notably that of Imperial Russia. By the time she died in 1866 Veuve Clicquot had become both a substantial champagne house and a respected brand easily recognized by its distinctive bright yellow labels.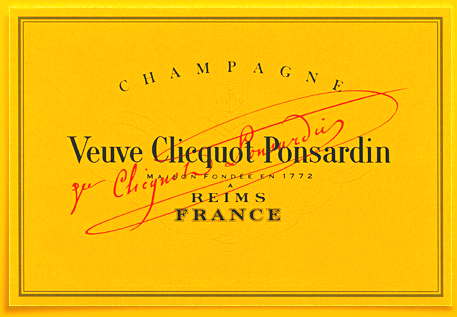 Since 1987 the Veuve Clicquot company has been part of the Louis Vuitton Moët Hennessy group of luxury brands and today owns a controlling interest in New Zealand's Cloudy Bay Vineyards.
But with so much fine Champagne waiting for me to open, why I am focusing on Veuve Clicquot? Easy, for without her input we might never have had champagne. Widow Clicquot is credited with the process of disgorgement refinement that made Champagne-making both efficient and economic. Allez, the riddling rack was born. This allowed collecting the spent yeast and sediments in the neck of the bottle.
The riddling rack was on an angle with circular holes, and the rack allowed a bottle of wine to be stuck sur point or upside down. Every day a cellar assistant would gently shake and twist the bottle (a process called remuage) to encourage wine solids to settle to the bottom. When this was completed, the cork was carefully removed, the sediments ejected, and a small replacement dose of sweetened wine added.
Now, along with that fine Bordeaux in my ever-expanding picnic, pack an ice chest with a great bottle of the Widow's labor and I can only hope you have 2 glasses…
Until we drink again.
(c) Mo Sussman