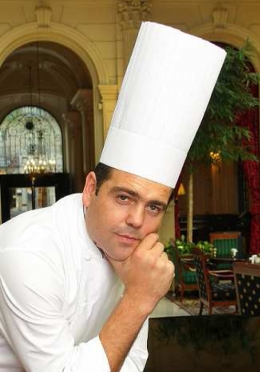 Café de la Paix inaugurated in 1862 by the Empress Eugénie, has been part of the chic café society Paris scene ever since. A delicious address for terrace gazing and grazing deep in the heart of conspicuous consumption. 

Since October 2009, Christophe Raoux, from the Vendée region of France has been Executive Chef at the Interncontinental Paris Le Grand.  The hotel's head honchos have a habit of finding X-factor culinary talent; such as in Christian LeSquer now at the 3-star  Ledoyen. Remember Laurent Delarbre? He's just signed on with Andre Terrail as La Tour d'Argent's top toque. So Raoux, with a prestigious "Compagnon-Cuisinier du Tour de France" award tucked under his toque has tough acts to follow. BUZZ met him:
How does it feel to be leading such a large team?
Awesome! The Intercontinental Paris Le Grand has 110 cooks, there are 21 meeting rooms, room service, receptions and two restaurants, the beautiful glass-domed La Verrière and the legendary Café de la Paix.
What qualities are needed to handle such a team?
I learned from Guy Krenzer at Lenôtre to be flexible and adaptable. Also, you need to listen to every member of the team. I feel I can learn more from them than I can teach.
Where did you learn your craft?
I began at a small hotel-restaurant "L'Ecritoire" near Chartres. I wanted to see if the life of a chef was for me. After confirming my passion, I went to Divonne-les-Bains where a promising young chef called Guy Martin was heading the kitchens. Michel de Matteis, Meilleur Ouvrier de France were working with him.  At their sides, I learned all about the real tough world of gastronomy and the importance of rigour. Then I did military service and was posted to the Ministry of Defence. From there, I went on to The Ritz and learned so much from Guy Legay and his then second, Michel Roth. It was an extraordinary time.
I also worked with Manuel Martinez at Relais Louis X111, with Gérard Besson, the game maven, and then with Alain Ducasse. I kept Monsieur Ducasse's telephone message on my cell-phone because I was so proud this extraordinary man had called me. Not only that, he commissioned me to launch Le Marcel, the gastronomic restaurant at Le Drugstore, Champs Elysées. I have worked on many of his projects and eventually become Executive Chef of the Alain Ducasse Group. I consider him a visionary and a perfectionist.
How would you describe your style of cuisine?
Simple, tasty and unpretentious, with the emphasis on the best seasonal products, sourced from suppliers who have become my friends.
Can you name a few dishes you're serving now?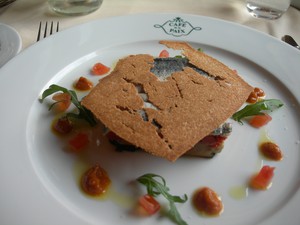 A very popular starter is Fresh Sardines from Sables d'Oleron, marinated and lightly cooked with aubergines and a tasty confit of tomatoes. Salmon, which I lightly smoke and serve with asparagus, crispy potatoes and tonato vitello vinaigrette. As a brasserie, our seafood and plump oyster platters are very popular. Main courses include Organic Spring lamb pastilla with lemon condiments and dried fruits. Plump scallops are roasted and paired with ravioli of spinach and Dashi (Japanese soup stock) broth. And there's a delicious thick cut from the butcher, grilled as you like it and served with Bearnaise sauce and French fries. Our designer desserts are very popular as is the classic Millefeuille, all beautifully prepared by pastry-chef Guillaume Caron.
Cafe de la Paix,
5 place de l'Opera, 9th
Metro. Opera
T: 01 40 07 36 36
Open 7/7
Menus: At 33€-45€ – one dish 25€
Tasting Menu 79€ – Seasonal Seafood Platters from 25€
Book on the outside or inside terraces or a window table with views of Garnier's Opera House.
If you're coming to France (or for that matter anywhere) you can reserve your hotel here. To rent a car, Bonjour Paris recommends Auto Europe.