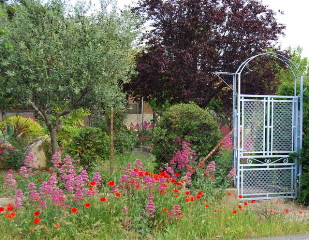 On a Saturday morning promenade en voiture, the kids and I cruise past fields of coquelicots, canals choked with irises, and plenty of roadside perennials—including my favorite: les roses trémières. 
I am on my way to the annual plant and flower expo in the town of Malaucène. If my children are with me, that is because I have bribed them with blé and not because they are eager to learn the common name for "valériane"* (which would be "lily of Spain" or even "l'herbe aux chats"*—something I just found out myself last week).
When we pass the town of Vaison-la-Romaine and still haven't noticed a sign for Malaucène, I grow concerned. "But where is Malaucène?" I wonder aloud. "Why haven't we seen a signpost yet?"
Just then I hear snickering coming from the backseat.
"Hey you two. Keep it down!" I tell the kids, "and keep your eyes peeled for a sign that readsMalaucène!"
(More snickering from the back seat…).
I recognize these snickers. It is the sound of "Malaucène"—as pronounced by a lazy learner of French—that has my Francophone children in stitches again.
"Mal-oh-seNNNNN!" Max enunciates, correcting my pronunciation, "and not 'mal-oh-SEH(N)'!"
"Sen" and "seh(n)": the one is suitable pronunciation for un fleuve flowing through Paris, but the other one, uttered, utterly means "bosom"!
Come to think of it, the name "Malaucène" did seem a bit risqué… especially when breaking down the word into its individual components: mal + au + cène (sehn). Then again, that a town might be called "Ache-In-The-Breast" didn't surprise me too much. After all, the French aren't prudes when it comes to place-names (case in point: the French town of "Condom"*… and never mind that Condom doesn't mean condom* in English, the town's name still causes tourists to blush (or snicker like the kids in the back seat of my car).
A few kilometers later, when I still haven't located any signs to Malaucène, I see a flickering croix verte: a pharmacy! "I'm going to pull over and ask for directions to "Malaucène," I explain to the kids.
My son and my daughter exchange amused looks. That's when Max finally offers some direction: "Mom," he warns, "just don't ask the pharmacist where 'Boob Ache' is located."
***
French Vocabulary
une promenade en voiture = a leisure drive
le coquelicot = poppy
Malaucène = town in the Vaucluse
du blé = cash, mula (also "wheat")
la valériane (f) = valerian (valeriana officinalis, Valerianaceae) a.k.a. "St. George's herb"
l'herbe (f) aux chats = cat mint herb (for its effect, similar to catnip, on cats)
un fleuve = river (here, the River Seine)
Condom = town in the Gers region of France
condom = the French word for condom is "un préservatif"
la croix = cross
verte (vert) = green
boob ache = (the French term "mal au sein"–here, the faulty pronunciation for the village "Malaucène"–translates to "pain in the breast"
Kristin Espinasse is the author of "Words in a French Life" and a blog, French Word-A-Day. She photographs the villages around her wine farm in Provence, where she lives with two Goldens, a Marseillais, and their Franco-American kids.
Grab your own free subscription to BonjourParis & be first to receive Wednesday & Sunday newsletters linked to 50 original stories monthly with travel tips & the latest from France. Since 1995, BonjourParis has been your most complete online France travel & Francophile lifestyle eZine. RSS feed available.
If it's at Amazon.com, you can get it at our Amazon.com Boutique with new items added weekly. Same competitive prices and speedy delivery & your purchases support costs of keeping BonjourParis your most complete online France travel resource.
Search hint: start at the back pages for the most recent stock.

Be smart! Reserve your hotel at Booking.com…then keep shopping online & if you find a better rate for the same deal, contact Booking.com for your BEST PRICE MATCH GUARANTEE.
Bookmark this link & use it everytime you shop so your preferences are stored & deals are updated when you return: Booking.com.

One-stop shopping for car rental & international air travel deals:
Car rentals at competitive rates, no drop fees & a 5% discount for BonjourParis.com readers who use this link to Auto Europe Car Rental
Don't overlook Auto Europe for international flights, click Auto Europe Flights