BUZZ: MaSa Launches, L'Hotel has Zen Ideas, Mavrommatis & Ducasse at Ecclestone Wedding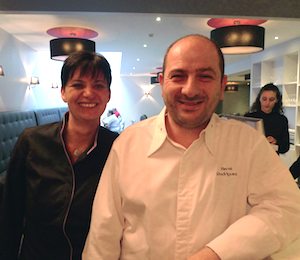 MaSa, Paris 17th
They call chef Hervé Rodriguez "Masa," meaning "manipulateur de saveurs," so that's what he's named his latest restaurant. MaSa is located on the ground floor of L'Edmond, a chic new 24-room boutique hotel in the Paris 17th.
Rodriguez, his wife Sophie and second-chef Anthony Detemmermann decided to set up in Paris because "my cuisine is so way out they didn't really get it when I was cooking outside Paris." A graduate of Hotel School, Dijon, he counts among his addresses Lameloise at Chagny; La Chouette, Dijon; La Mère Bourgeois in the Ain region; and Domaine de la Corniche in the Yvelines, so you can see he's been edging closer and closer to the City of Light for some time.
His space is contemporary; some may find it a little cold, they'll take warmth from the welcome and the rather nice wine list, say, St. Peray Version Franҫois Villard 2009 crisp and fruity at 33€. Aurélie will decode the menu (her fiancé Anthony Detemmermann is in the kitchen) and she'll bring the freebie starter of crevette Obsiblue en tartare et en bouillon.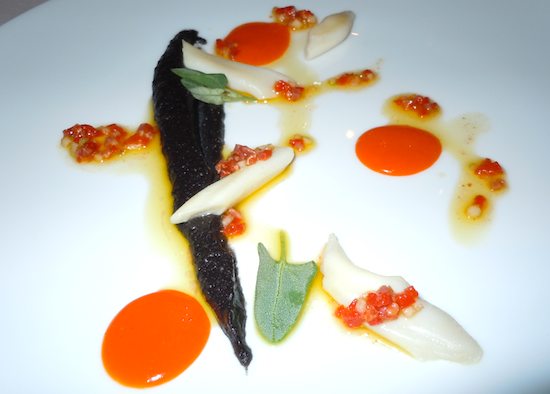 Masa: Merou en sashimi avec yuzu, tarama & mains de bouddha herb. Photo: M Kemp
Begin with mérou jaune en sashimi avec yuzu tarama de son ventre, mains de Bouddha et yaourt citronnelle. Jambon Iberico Aljomar 24 mois. On the menu this opening week were: Tofu soyeux avec topinambour; Quasi de veau à la plancha avec burrata, truffes d'été, artichaut et citron jaune or dos de cabillaud et beurre de Kombu, courgette, cornichon, concombre et kaki. Desserts include la framboise sauvage en petit sablé; le chocolat amer et poivrons; la fraise charlotte au basilic thai absinthe, guimauve et céleri, or mojito citron fizz avec Perrier et rhum.
Lunch is a shorter version, rapid and spontaneous. Breakfast promises excitement with chef's spin on, say, Fife Scottish Oats, or molecular Bacon & Eggs, en homage to happy times spent cooking in Scottish castles. "No bagpipes," chef promises.
Tél: 01 4622 0610
22, avenue de Villiers, Paris 17th
Métro: Villiers
Shut Sat-Sun
Lunch formula: 28-35€ including water and coffee
Dinner: Menus at 48-68€ + A La Carte average spend from 45-70€
Need to know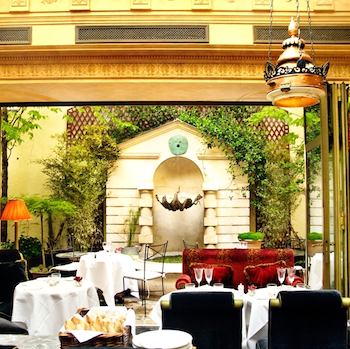 "I can resist everything except temptation," said Oscar Wilde in 1900. A frequent guest at L'Hotel (then a seedy spot called L'Hotel d'Alsace) on Paris's Left Bank, he even commented on the awful curtains with his last breath. The old boy would love it now, since it was acquired by Curious Group. The sympa décor by Jacques Garcia and services are beyond luxurious. The latest offer is "Awaken the Senses" consisting of a 3-course lunch by chef Julian Montbatut (ex-La Grande Cascade) in the Empire-style restaurant, a massage before or after, and a goodie bag stuffed with Green & Spring products. And if the weather's fine, eat on the patio. Available from Tuesday-Saturday for 190€ per person or 260€ for two, contact hotel directly.
Tél: 01 4441 9900
13, rue des Beaux-Arts, Paris 6th
Métro: Saint Germain-des-Prés
In Paris, the brothers Mavrommátis have been feeding heads of state, diplomats, artists and the likes of us since 1981. Greek/ Mediterranean cuisine is their speciality, every meal or take-away a journey of discovery. To celebrate 30 years of mouth-watering Keftédes and Houmous, Moussaka and Souvlaki, and to continue the journey, you can win a dream trip to Cyprus. All you do is rock up, enter the draw and, if your name is picked, bingo, you're off on an all-expenses-paid trip to Four Seasons Limassol. Other prizes include invites to various Mavro establishments and it's all fair and square "sous contrôle d'huissier." You've got until October 21st to enter and note they're participating in Tous au Restaurant in September. Mama Mia, this is too good to miss. Good luck!
The Black Eyed Peas warbled "I Got a Feeling" when Petra wed James at the 15th century Castello Odescalchi di Bracciano, Italy, yesterday. The daughter of Formula 1 boss Bernie Ecclestone looked stunning in a Vera Wang dress. No peas on Alain Ducasse's dinner menu for the happy couple and 300 close personals: Calamari, spinach ravioli, lamb and chocolate pudding with gelati. All was washed down with Louis Roederer Champagne and Château Petrus. Then the band played on accompanied by Alicia Keys, Rihanna, Eric Clapton and they danced into the night with music by David Guetta. Bernie's bill? A cool 5 million euros—ex-Formula 1 driver Jean Alesi was behind the wheel of the nuptial Rolls. Nice touch, eh!
Margaret Kemp is a Cordon Bleu graduate who spent a year traveling the world, working and watching in the kitchens of top chefs from Sydney, Australia via Bangkok, Hong Kong, California, New York and France. She reports for BonjourParis on the latest European trends, restaurants and hot spots.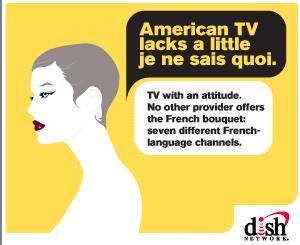 Only the DISH Network offers the "French Bouquet" programming package with 7 French channels, including:
France24 News,
TV5 Monde,
Radio France Intl (RFI),
Eurochannel & more.
Add French news, culture, documentaries, movies & more to your life!
For more, click: "French Bouquet" by DISH Network.
If it's at Amazon.com, you can get it at our Amazon.com Boutique with new items added weekly. Same competitive prices and speedy delivery & your purchases support costs of keeping BonjourParis your most complete online France travel resource.
Search hint: start at the back pages for the most recent stock.
Current food & wine books at our
Amazon.com Boutique
with new listings below: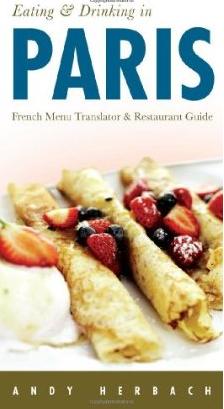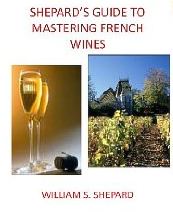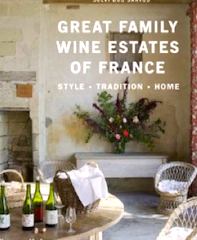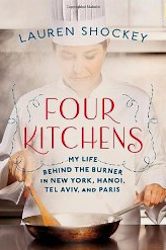 Eating & Drinking in Paris (5th Edition): French Menu Translator & Restaurant Guide [Aug 2011]
Shepard's Guide to Mastering French Wines by former BonjourParis wine writer Bill Shepard [July 2011]
Great Family Wine Estates of France [Nov 2010]
Four Kitchens: My Life Behind the Burner in New York, Hanoi, Tel Aviv, & Paris [July 2011, many positive reviews]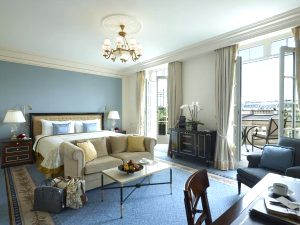 Former Bonaparte palace, now a 5-star hotel:
The 5-star Shangri-La Hotel is a lush, elegant hotel opened in Dec. 2010 in former palace residence of Prince Roland Bonaparte. Only 81 beautifully decorated suites loaded with amenities, some with romantic views of the Eiffel Tower. On-site French & Asian cuisine at La Bauhinia or gastronomic French cuisine at L'Abeille. Located less than half a mile from the Eiffel Tower & the Seiner. Breakfast, lunch & dinner served in the glass-roofed dining room. Le Bar offers guests private lounges. Fitness center w/ optional personal trainer. In-room relaxing spa experiences also available. 1700 ft from the steps of the hotel is the famous Place du Trocadéro. Past Booking.com guests rated it 8.6 of 10.
*** Eligible for the Booking.com best price guarantee.

Be smart! Reserve your hotel at Booking.com…then keep shopping online & if you find a better rate for the same deal, contact Booking.com for your BEST PRICE MATCH GUARANTEE.
Bookmark this link & use it everytime you shop so your preferences are stored & deals are updated when you return: Booking.com.
Leave a reply
Your email address will not be published. Required fields are marked *