Our bistro menu today features a few dishes à la bretonne. That means that they will be prepared or garnished with white navy beans. One of Brittany's gourmet products is a small white bean, the Coco de Paimpol. The bean was recently recognized with an AOC (Appellation d'Origine Contrôlée) which will guarantee its quality. In fact, the whole region is mobilized during the harvest because the beans must be gathered by hand. Et voilà:
Cabillaud aux Haricots Blancs ~ Cod with White Beans and Tomatoes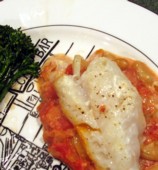 This dish from Brittany combines two of the region's best products: fish and beans.
Make the beans one or two days ahead of time. On the day you plan to serve this meal, all you need to do is add the fish and bake for about 15 minutes. An easy, quick dinner for a busy weekday.
INGREDIENTS:
1-1/4 cups cannellini beans (1 19-oz can), drained
3 Tablespoons butter
2 medium onions, chopped
3 garlic cloves, chopped
1-1/2 cups chopped Italian tomatoes and their juice
3/4 cup crème fraîche or heavy cream
1 branch fresh thyme
1-1/2 lbs. skinned cod fillet
PREPARATION:
1. Melt the butter in a large saucepan. Add the onions and garlic and stir until well-coated with the butter.
2. Turn heat to low, cover and cook about 10 minutes, stirring occasionally.
3. Add the tomatoes with their juice and the thyme. Partially cover and cook for 30 minutes, stirring once in a while.
4. Heat the oven to 450F.
5. Stir the beans into the tomatoes and add half of the cream. Taste and season with some pepper. (Can be made ahead up to this point and chilled.)
6. Spoon the beans into a gratin dish.
7. Season the fish with salt and pepper and nestle them into the beans.
8. Spread the remaining cream evenly over the top and bake 10 to 15 minutes until lightly browned and bubbly.
To serve:
Serve hot from the oven. Makes 4 generous servings.