Christophe Moret at Lasserre, Villa Spicy, Swinging "T" at Le Meurice & L'Atelier du Regard Buzz
This is Christophe Moret's first spring at Lasserre. He's got the menu sorted: there's his variations on themes of the season's finest such as Green Piolenc asparagus, served warm, with a light Maltaise Bitter Orange sauce; Brittany prawns bathed in ginger-lime flavoured broth; and a crunchy crown of turnips, pumpkin, salsify, parsnip, chicory, Swiss chard drizzled with vegetable jus. Mains include Brill, asparagus and black truffles (see photo). Glazed veal sweetbreads with French peas. Claire Heitzler, the talented pastry chef, plays with the classics as in her spin on Tarte Tatin, a delicate creation of Tentation apples with Granny Smith sorbet and a side of moist Bergamot cake.
Moret knows regular clients want the classics they've been eating since René Lasserre first created them and le tout Hollywood gazed in wonder at his opening roof. "Les Classiques Lasserre" is an hommage, including plump Sole Grand Palais, truffled quenelles, crayfish and spinach. Or the epic Pigeon Andrè Malraux. And, if restaurant is theatre, who will deny Ms. Heitzler's spin on Crêpes Suzette, flamed at table, a starring role.
With the return from Les Ambassadeurs, Hotel de Crillon, of Antoine Pétrus as Restaurant Director and Chef Sommelier (he was Chef Sommelier from 2004-2006) and the appointment of Guillaume Crampon as Director General, this elegant mansion evolves to the music of time. Monsieur Lasserre, looking down from that great restaurant in the sky, must be beaming.
17 avenue Franklin Roosevelt, 8th
T: 01 43 59 02 13
Valet Parking
Lunch 75€-185€ Thurs-Fri only
Dinner: 150-185€
Internet Offers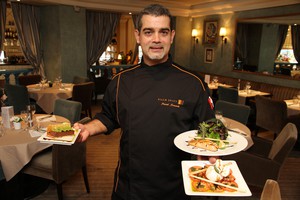 The ladies who do are blissfully happy, their prayers are answered. They can shop 'til they drop on the Golden Triangle and then flop. Flop into Weleda, a cutting-edge spa right next door to their favourite restaurant, Villa Spicy. "Sustainability, that's what it's all about", says Spicy manager Franck Paci (see photo). He's talking, as is le tout Paris, about his Menu Detox, which involves organic ingredients and, if you want, a massage at and by Weleda.
Spicy chef Pascal Jounault trained with Jean Montagard, guru of vegetarian and organic cuisine who still teaches in Nice. "Don't think because the restaurant's called Spicy it's very spicy", chef says. "I'm using herbs, small amounts of spice, your palate will not suffer", he promises.
Certainly for the excellent Menu Detox, the seasonings are well-balanced and tasty.
He sends out Emincé de tomate bio et burrata pugliese au pistou as a starter, with organic bread. Pascal explains there's vitamin C in the tomatoes, also beta-carotene and lycopene to protect the skin. The burrata is plump and juicy, full of linoleic acid (CLA), bon for the metabolism. The main, Filet de bar bio rôti au sel, citron, gingembre, chutney de fenouil, has Omega 3 in the fish, perfectly flash fried, crispy skin, and various vitamins in the vegetables and, of course, the ginger.
Of course the dessert has calories, but at least you know it's organic. Mille-feuilles poire et chocolat bio "Madirofolo" de Madagascar. Worth the calories—run home afterwards, run up the stairs, don't use the lift. The coco beans in the chocolate are high in polyphenols, which have an antioxydant effect. There's fibre in the pear and resveratrol in the glass of excellent Coronas, Torres Cateluna, melts all the fat, cholesterol, whatever. It's the French Paradox. Looking around the packed restaurant of chic thin people, who are we to argue? Tell Franck Paci you enjoyed it, he's a real pro.
8 Avenue Franklin Roosevelt, 8th
T: 01 56 59 62 59
Menu Bio-Detox 36€
With 35-minute massage: 77€
Lunch Formula 18€-20€
Dinner 29€ – 3 courses
Open 7/7
Need to know:
Sometimes a wine bar is not what you need—you can't get your brows fixed at Ȏ Chateau! You need Neuilly-born Florence Temim who's lived, loved, studied and worked in the USA. Her fluent English, and her designer brow and eyelash bar, bring touches of Hollywood to the 16th arrondissement. While in LA Florence spotted a niche market for high-end brow and eyelash bars in Paris. The décor (by Florence, bien sûr) is a pink and grey fantasy boudoir complete with chandeliers and designer furniture—but not so feminine that men don't take advantage of her precision.
Florence is an eyebrow and eyelash artist, with a celebrity clientele, schhh no names—she'll study your face and tell you exactly what's necessary to achieve that "Jennifer Aniston" look. Or, for him, "Brad Pitt". "Sometimes, I refuse if I see that people have had really bad eyebrow tattoos and I know I can't give them a perfect look", she admits.
"You'll be amazed at how we can improve your overall appearance. Eyebrow shaping is a great way to get a quick makeover", explains Alison, Florence's assistant.
Florence dreams of leaving Alison in charge and settting up L'Atelier du Regard in, say, NYC or LA. So if there's an alert reader looking for a sure-fire investment, do give her a call. Or, swing by the atelier—because you're worth it.
Bar à Cils, Bar à Sourcils,
146 rue de la Pompe, 16th
Metro Victor Hugo
T: 01 47 27 07 16
Prices from 25-200€
Diary Date:
15-17th April, 2011
Olaf Olsen Quartet at Le Dali
From 4pm.
Glamour at tea-time, reviving the days when Coco Chanel and Salvador Dali popped in for a cup of Earl Grey.
Afternoon "Swinging Meurice"
Reservations: 01 44 58 10 44
Congratulations to Thomas Keller, dubbed Chévalier of the Légion d'Honneur with due ceremony at Per Se, his NYC restaurant. "Chef Keller has worked to promote French cuisine in America", said Paul Bocuse, pinning on his medal. Meanwhile, Bocuse (3 Michelin stars since 1965) got a standing NYC ovation and was awarded "Chef of the Century" by the CIA (Culinary Institute of America). "I've got some American blood in my veins", he admitted. Apparently, during WWII, as a wounded soldier, he received a transfusion at an American hospital space in Alsace.
Explore the city:
Context is a critically acclaimed network of scholars and experts who organize small group and private walking seminars in Paris on art, history, architecture and gastronomy. All of our walks are capped at 6 people, providing an intimate and in-depth learning experience.
More in celebrity chef, Dining in Paris, Eating in Paris, Food Wine, France restaurants, French chefs, Paris restaurants
---
---