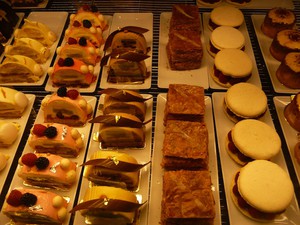 Bread and Roses is a hip, exceptional bakery that you'll find nestled in the tony St.-Honoré neighborhood in Paris, next to Hermès and a short walk from L'Eclaireur, Buddha Bar and Hôtel de Crillon. This is where the affluent locals and fortunate expats come for fantastic baked goods each morning. At lunchtime original sandwiches and incredible quiches with gourmet ingredients like girolle mushrooms and pine nuts are impossible to resist. As the lunch crowd thins, weary shoppers can come in for afternoon tea, with scrumptious scones as well as more-traditional French pastries like lemon tarts and Mont Blancs. Finally, those in the mood for a relaxing cocktail made from the finest liquors are well served, with no lack of savory snacks to accompany their personal happy hour. And as you sit, enjoying an international people-watching scene par excellence, you may seriously begin to wonder if a rose by any other name would truly smell as sweet.
www.breadandroses.fr/
62 Rue Madame  75006 Paris, France
01 42 22 06 06

Subscribe for
FREE

weekly newsletters.
BonjourParis has been a leading France travel and French lifestyle site since 1995.