Bistro du Sommelier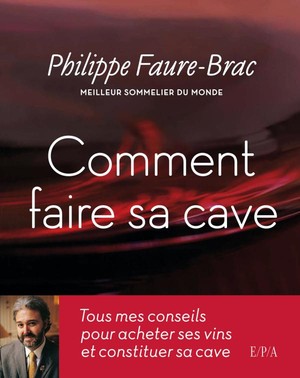 Le Bistrot du Sommelier blow out thirty candles this year. Icing on the cake is that the bistro's had a complete makeover orchestrated by its' owner, creator and uber-wine master, Philippe Faure-Brac with, help from architect Franck Dupuy.
The new generation wine bistro sports clean lines, contemporary furniture, bright colors, punctuated with wood and tones of « lie de vin ». State-of-the-art lighting enhances the wine-tasting experience. All the bells and whistles for aficionadoes of the grape then.
Wearing the whites Guillaume Saluel has created savours and flavours to match the new decor. « We change the dishes each week according to the market and the season », he says.
In his private dining room, beneath the restaurant Faure-Brac's Friday « Vigneron » lunches are convivial sessions to meet the faces behind the great wines.
"Le vin est la partie intellectuelle d'un repas, les viandes et les légumes n'en sont que la partie matérielle  "Alexandre Dumas".
Book now for:
21/03/2014 : Daniel-Etienne Defaix, Chablis en Bourgogne :
28/03/2014 : Laurent Delaunay, Abbots & Delaunay, Vins du Languedoc :
04/04/2014 : Rémy Gresser, Domaine Gresser, Alsace :
16/05/2014 : Philippe Modat, Domaine Modat, Côtes du Roussillon :
23/05/2014 : Françis Jourdan, Domaine Jourdan, Chinon en Val de Loire :
20/06/2014 : Soirée Coupe du Monde de Football, France/Suisse (soir seulement :
Bistro du Sommelier,
97 Boulevard Haussmann, 8th
Shut Sat-Sun,
M : St. Augustin
T : 01 42 65 24 85
Lunch menus Merlot/Chardonnay/Sauvignon/Chenin
From 34-55€ + A La Carte
« Exquisite Matches » Menus from 70-118€
Book the Fridays Meet the Winemakers (see above)
What is Milk Factory?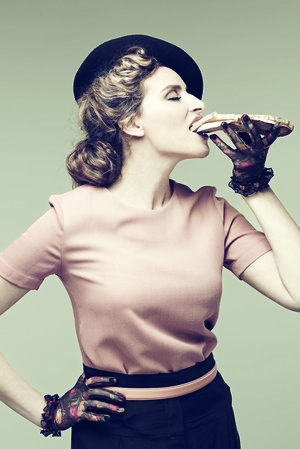 The new multi-disciplinary space for creative research into cheese and dairy products. Showcasing hip and exciting events and exhibitions, read, a forum for all kinds of artists, chefs, visual artists, photographers, designers etc. to create, invent, share.
But, how Sexy is cheese?
Bien sur it's sexy, just ask the girls at Les Filles á Fromage.
Who doesn't dream of Fourme d'Ambert with a sliver of pain d'epices, a belle bleu de Termignan, Saint-Marcellin a teaspoon of caviar, a beau Stilton au porto?
The Sexy Expo at Milk Factory
Les Filles á Fromage – Un Certain Charme á la Française,
Photos by Thomas Laisné,
Thru' 26 April 2014
5 rue Paul Bert 75011,
M: Faidherbe-Chaligny
Be Mine Truffled Valentine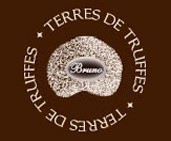 Terres de Truffes, originally created by Clément Bruno of Lorgues, the uncrowned King of Truffes, have created, together with their director Viviane Savoye,  a mouthwatering Valentine dinner:  
On the menu:
Flûte de Champagne Roederer with Amuse bouche: Duo de saumon et daurade royale en tartare: Fondue d'artichauts aux truffes Estivum et huile de gingembre: Foie gras de canard à la truffe Mélanosporum et son toast de pain de champagne: "The house signature" pomme de terre cuite en robe des champs et sa crème aux 2 truffes, Estivum et Mélanosporum:
Follow with a refreshing Sorbet pèche de vignes au marc à l'arôme de truffes: Selle d'agneau rôtie aux asperges vertes et morilles en sauce: Truffes Estivum râpées: Brie de Meaux à la truffe Estivum et la salade de roquette: Moelleux au chocolat et sa glace au gingembre: Caramel à la Truffe Estivum: Les mignardises:
How much? With Truffe Estivum 120€ or Truffe Mélanosporum 170€
21, rue Vignon, 8th
M: Madeleine
Boutique open from 10am
T: 01 53 43 80 44
Available Friday 14th and Saturday 15th February
E-Mail
Chez Viola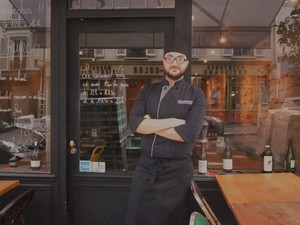 Before, or after lunch Friday, Saturday & Sunday, discover Les Marché the covered market was created in 1846.
Then, suitably starving, swing by and see Charles Teboul who you know from Vino e Cucina and L'Improvista. The inveterate and passionate foodie has transformed Le Bistral, quartier Batignolles, into Viola, his mother's name, serving Italian bistro food, revised and corrected by the talented Italian chef Vincenzo Patruno.
Patruno's mouthwatering dishes are references to his childhood in the Pouilles region and from his experience at Café Armani, Milan & Paris and Hotel Monaco & Grand Canal, Venice.
Gambas frites aux cheveux d'anges. Soothing vegetable velouté/cumin/beetroot topped with peppery artichoke chips. Patruno's fresh pappardelle with oursins and cherry tomatoes, worth crossing Paris: Conchiglioni and stuffed beef cheeks: Filet de Thon/Shitake/Trevise:
Wash down with natural, organic and biodynamic Italian wines from young producers: Rosé: Cavalchina 2013 Bardolino Chiaretto (26€/5€) Red: Saint Christofore Tuscany 2011 which Teboul tips as the Sassicaia of the future) (37€). And the delicious white natural unfiltered Dinavolino 2012 (36€/6.50€ glass).
Delicious desserts with freshly turbined ice cream, include: Cheesecake, banana, Cacao 90%/arachide:  Semifreddo/ginger/mint: Clementine & vanilla Pannacotta: Roasted pineapple/mascarpone/Granny Smith.
80 rue Lemercier, 17th
T:01 42 63 59 61
M: Brochant
Lunch 13€-22€ + A la Carte
Dinner 45€-60€
Open 7/7 Sunday Brunch 26€
Horoscope of the month by Eric Frechon :
Verseau (Aquarius)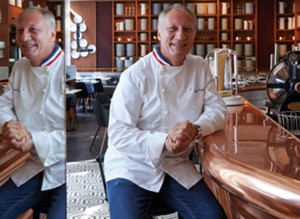 Superstar chef at Le Bristol and Scorpio by birth (November 16th, 1963).
Chef predicts the following for you if you're born between 20 Jan-19 Feb :
Following an intensive year, it's time to plan ahead, it's the moment to relax, enjoy a soothing lunch together with your family around a « Dejeuner de Grand-Mere » chez Lazare (39€). It's going to be a delicious year. Trust Me !