Two passionate collectors, Guillamuse Lèvy-Lambert and Mark Goh, have opened the  musée MgGMA in Singapore. Their collection consists primarily of Asian contemporary art in different media. Lèvy-Lambert and Goh recently organized a traveling exhibition that tells a story through the chronology of a calendar. The Calendar Story had been adapted for the Paris public by Pascal Payen-Appenzeller, the exhibition curator. The Calendar Story was exhibited at Sotheby's France. This very interesting and special event confirms Sotheby's role in France with its growing involvement in the development of the contemporary Asian scene in Paris. In 1999, while at the Los Angeles Museum of Contemporary Art, the two collectors had a profound and life-changing encounter with Roy Lichtenstein's 1962 black and white painting, Desk Calendar. These two men were brought together and subsequently built a contemporary art collection meant to leave a legacy of their personal story. Each work that is part of this exhibit has been associated with an episode in the lives of Mark Goh and Guillaume Lèvy-Lambert. Each piece is accompanied by a poem in both English and in French. The poems are playful, witty and open a window into the lives of the collectors. For those who are bilingual, having the poems in two languages gives depth to the poems. Direct translations of poetry are always difficult. The result of having each poem in two languages offers the reader a larger picture into the messages of the words assembled. The exhibit at Sotheby's France this January was the first stop for this exhibit in Europe. Having the opportunity to share the highlights of this uniquely personal adventure through art and poems was memorable. Mark Goh and Guillaume Lèvy-Lambert present a novel approach to collecting, presentation and story telling through art. Art is a powerful media and the message of this exhibit is that the power of the art can and does transform lives. If you are lucky enough to be in Singapore be sure to visit musée MgGMA. Otherwise, check their
website
regularly for information on future exhibits. photos by Loui Franke Loui Franke is author of
Parisian Postcards: Snapshots of Life in Paris
.
SUBSCRIBE
ALREADY SUBSCRIBED?
BECOME A BONJOUR PARIS MEMBER

Gain full access to our collection of over 5,000 articles and bring the City of Light into your life. Just 60 USD per year.

Find out why you should become a member here.

Sign in

Fill in your credentials below.

Two passionate collectors, Guillamuse Lèvy-Lambert and Mark Goh, have opened the  musée MgGMA in Singapore. Their collection consists primarily of Asian contemporary art in different media. Lèvy-Lambert and Goh recently organized a traveling exhibition that tells a story through the chronology of a calendar. The Calendar Story had been adapted for the Paris public by Pascal Payen-Appenzeller, the exhibition curator. The Calendar Story was exhibited at Sotheby's France. This very interesting and special event confirms Sotheby's role in France with its growing involvement in the development of the contemporary Asian scene in Paris.
In 1999, while at the Los Angeles Museum of Contemporary Art, the two collectors had a profound and life-changing encounter with Roy Lichtenstein's 1962 black and white painting, Desk Calendar. These two men were brought together and subsequently built a contemporary art collection meant to leave a legacy of their personal story.
Each work that is part of this exhibit has been associated with an episode in the lives of Mark Goh and Guillaume Lèvy-Lambert. Each piece is accompanied by a poem in both English and in French. The poems are playful, witty and open a window into the lives of the collectors. For those who are bilingual, having the poems in two languages gives depth to the poems. Direct translations of poetry are always difficult. The result of having each poem in two languages offers the reader a larger picture into the messages of the words assembled.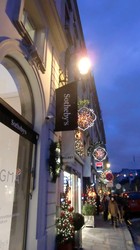 The exhibit at Sotheby's France this January was the first stop for this exhibit in Europe. Having the opportunity to share the highlights of this uniquely personal adventure through art and poems was memorable. Mark Goh and Guillaume Lèvy-Lambert present a novel approach to collecting, presentation and story telling through art.
Art is a powerful media and the message of this exhibit is that the power of the art can and does transform lives. If you are lucky enough to be in Singapore be sure to visit musée MgGMA. Otherwise, check their website regularly for information on future exhibits.
photos by Loui Franke
Loui Franke is author of Parisian Postcards: Snapshots of Life in Paris.
More in Guillamuse Lèvy-Lamb, Mark Goh, musée MgGMA, Museum, The Calendar Story
---
---