Bask in Biarritz: Pays Basque in Southwest France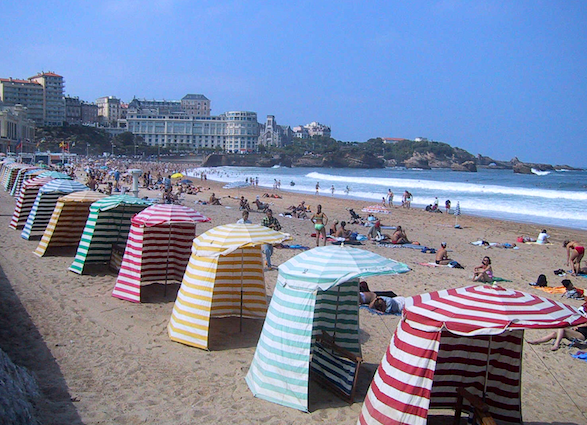 Biarritz beach. Photo by tourisme64.
Though popular with the Brits and Spanish, le Pays basque français is a magical part of southwest France unfamiliar to most Americans and even many Francophiles. That's a pity, because rewards for travel to Bayonne, Anglet and Biarritz (often shortened as BAB) near the France-Spain border are many. Its mild winter weather makes it an ideal winter break destination. Make Biarritz your base and you'll find plenty to do over a week . . . and even more reasons to return to explore the rest of the department.
Travel to Biarritz by jet or rail
International flights to Biarritz arrive at l'aéroport de Biarritz-Anglet-Bayonne. Trains from Paris reach Gare Biarritz in about five hours from Paris Gare Montparnasse via TGV fast rail. Rent a car (reserved in advance) so you can explore the coast on seaside drives.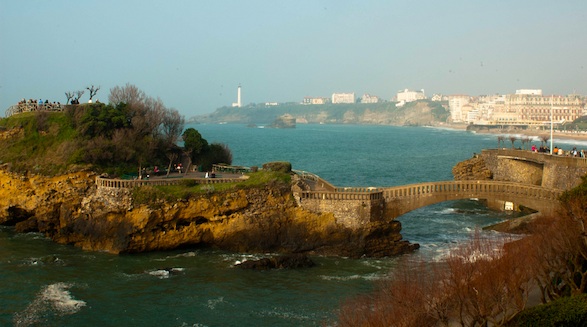 Biarritz. Photo by lopsydopsy.
What to see and do in Biarritz
Biarritz offers plenty of pleasures to keep the first-time visitor occupied, which is why we suggest saving an extended road trip for your return visit. Biarritz is an international resort destination with every possible recreational activity, from sailing along the sandy Basque coast to golf to spas to shopping at upscale boutiques or simply soaking up the rays on la Plage des Basques.
Biarritz alone has 10 golf courses and several accredited agencies that teach surfing skills to visitors.

Hôtel du Palais. Photo by eurodestination.
Where to stay and dine like royals
Even if you can't swing a week at the five-star hotel designated one of precious few French "Super Palace" hotels, at least stop at Hôtel du Palais Biarritz Imperial Resort & Spa. Treat yourself to lunch or splurge for dinner in the elegant restaurant La Villa Eugénie where Napoléon III met Empress Eugénie for trysts. At least have a nightcap at Le Bar Impérial, known for its well-stocked bar with a large selection of Armagnac and Cognac brandies.

Sunset from la Santa Maria. Photo by lù22.
A casual bar with million-dollar panoramic sunset views
If you prefer something more casual, hit La Santa Maria Restaurant on Esplanade du Port Vieux. It's open very late (definitely a Spanish influence) and don't forget your camera—watching a sunset over Port Vieux beach and Rocher de la Vierge (Virgin's Rock) makes for "pinch me" moments.
Casino gaming and horse racing
Casino Barrière de Biarritz is a large casino with several restaurants and a showroom. If you'll be in Biarritz in October, you might enjoy observing high-stakes gaming action at the World Series of Poker Europe Texas Hold 'Em tournaments. Hippodrome des Fleurs has world-class horse racing.
Museums and family activities
There are several museums in Biarritz, all great options for families traveling with children. Musée de la Mer overlooks Rocher de la Vierge and its theme is whaling that once sustained the coastal town. In spring 2011 it completed a renovation that doubled its size. You'll find a large aquarium and water zoo. Musée Historique de Biarritz reveals the seaside town's history and the Planète Musée du Chocolat Biarritz got our attention with its chocolate sculptures exhibition made by master chocolatier Serge Couzigou. There is a chocolate tasting room, display of vintage advertising posters for chocolate and a gift shop.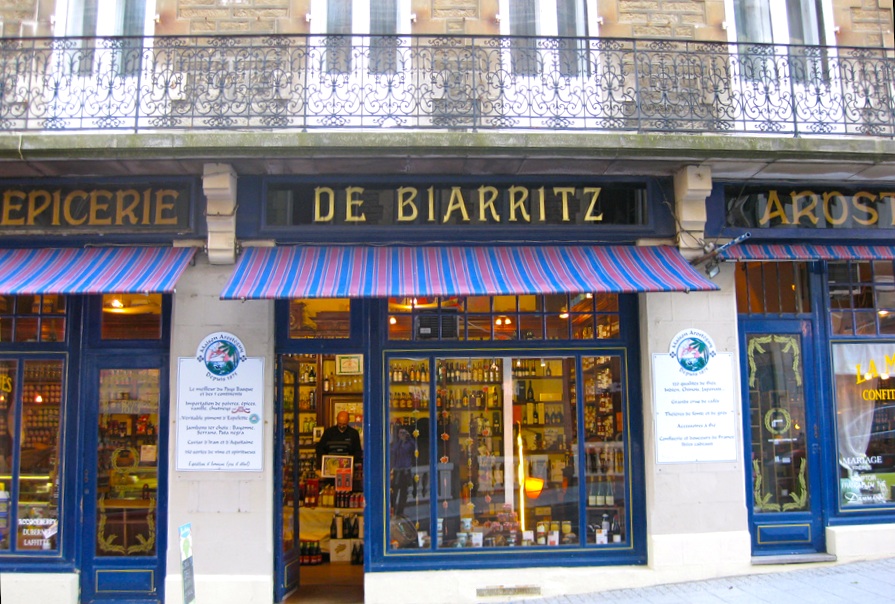 Maison Arostéguy Epicerie Fine Cave. Photo by andrewfindlater.
For foodies and culinary travelers
At some point you must make a beeline and step back in time at Maison Arostéguy Epicerie Fine Cave. For five generations, the Arostéguy family has operated this gourmet grocery chock-full of imported tea, spices, chocolate, wine and spirits. Sample chocolate, wine, Scotch whiskey, cognacs or whatever local delicacies are being served during your visit.
There are spas . . . and then there is the Hôtel du Palais Biarritz deLuxe Spa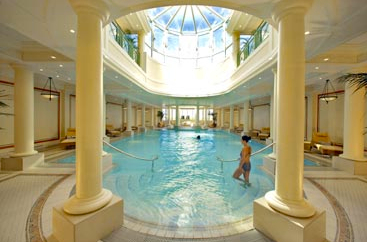 After all that recreating and shopping, pampering at a seaside spa seems practical. Saltwater and sea mud treatments have been around for hundreds of years, but thalassotherapy is said to have originated on the northern coast in Brittany in the 19th century. There are many spas to choose from, such as Biarritz Thalasso Resort locations in Biarritz or Anglet or Thalmar Biarritz. Relax and enjoy therapeutic mineral and seawater treatments in soaking tubs, saunas or slabbed on as body paste scrubs and mud wraps. By far the most deluxe and largest spa is at Hôtel du Palais Biarritz Spa, with pool, Jacuzzi, hammam, Guerlain salon and more spread over five stories.
That's just a start, but hopefully you've found reasons enough to build your own Biarritz holiday with just the right blend of rest and recreation to inspire a return to explore the rest of le Pays basque in southwest France.
Practical information
Links within the story offer complete information to help you plan your own Biarritz trip
PHOTO CREDITS: Flickr photos published per Creative Commons 3.0 license with photographer credit in captions
©Dali Wiederhoft 2011

Dali Wiederhoft is the executive editor of BonjourParis. Please click on her name to read more of her stories published in BonjourParis.

Subscribe for
FREE

weekly newsletters with subscriber-only content.

BonjourParis has been a leading France travel and French lifestyle site since 1995.

 
Readers' Favorites: Top 100 Books, imports & more at our Amazon store
We daily update our selections, including the newest available with an Amazon.com pre-release discount of 30% or more. Find them by starting here at the back of the Travel section, then work backwards page by page in sections that interest you.
Click on image for more info about these favorites.
Support our site by clicking on this banner for all your Amazon.com browsing. Merci!
Leave a reply
Your email address will not be published. Required fields are marked *